Online Tool Calculates Risk of COVID Exposure at Thanksgiving Gatherings
As people across the country gather for Thanksgiving, an online tool can calculate the likelihood of attending an event with someone infected with COVID-19.
The interactive dashboard was created by several researchers at the Georgia Institute of Technology along with partners at Duke University, Stanford University and the Applied Bioinformatics Laboratory.
The website offers an interactive map broken down at the county level. Users can locate their county and plug-in details about the event they are considering going to, including the number of people in attendance.
The resulting calculated risk level, which is presented from zero percent to 100 percent, is the estimated chance that at least one individual infected with COVID-19 will be present.
"You can reduce the risk that one case becomes many by wearing a mask, distancing, and gathering outdoors in smaller groups," the dashboard reads. "For vaccinated individuals, preventative steps can reduce the risk of breakthrough infections that spread to vulnerable individuals. For unvaccinated individuals, preventative steps before vaccination can reduce the risk of breakthrough disease, including potentially severe cases, hospitalizations, and fatalities."
The tool comes as vaccinated Americans have been given the OK by health experts to gather for Thanksgiving. Dr. Anthony Fauci, the nation's top infectious disease expert, said on Sunday that inoculated individuals should enjoy the holiday season with friends and family.
"Obviously, if you're not vaccinated, you're in a situation where you're more vulnerable to getting infected," Fauci said during an appearance on CNN's State of the Union. "But for the people who are vaccinated, the people who can get boosted, enjoy your holiday season with your family, indoors, grandparents, children. Do it."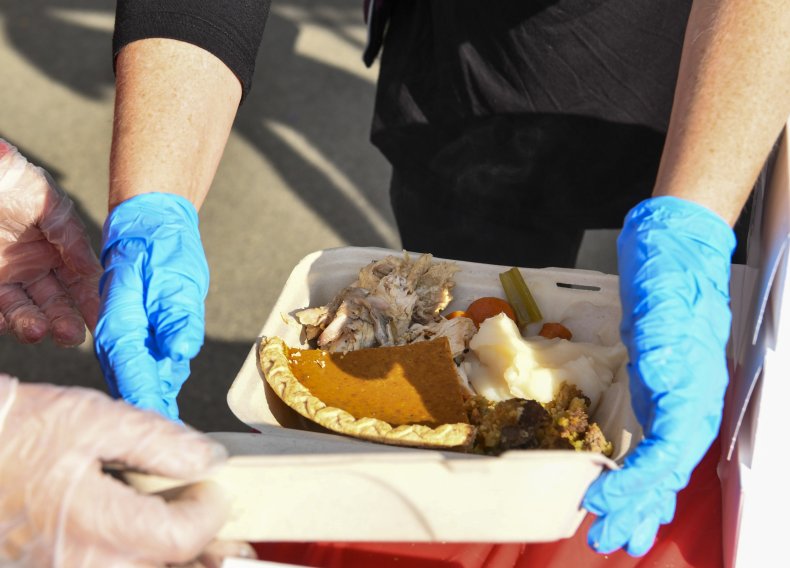 Coronavirus cases have been on the rise again after dropping significantly from the surge the country experienced over the summer driven by the highly contagious Delta variant of the virus.
The U.S. is averaging about 95,000 new cases each day, according to data from Johns Hopkins University, which is a 9 percent jump from just a week ago. Cases are especially rising in the upper Midwest.
Over 80 percent of hospital beds in Michigan are occupied, as well as 83.68 percent of the state's total ICU beds. Detroit Mayor Mike Duggan said that the number of city residents that were hospitalized with the coronavirus has doubled from two to three weeks ago, warning that if the trend continues they will have the "most serious problem we've had since the spring of 2020."
Newsweek reached out to the Georgia Institute of Technology for additional comment but didn't receive a response before publication.