Online Trolls 'Pranking' Homeless By Listing YouTuber's Mansion as a Shelter on Google Maps
Homeless people in the Los Angeles area have been flocking to the "Ice Poseidon Homeless Shelter" in Tarzana. There's just one problem—it doesn't exist.
Yesterday, Google Maps removed the listing for the shelter, which more than 70 reviews touted as a "luxury" homeless shelter. In reality, the address is a Tarzana mansion that was previously home to YouTuber Paul Denino, better known as Ice Poseidon.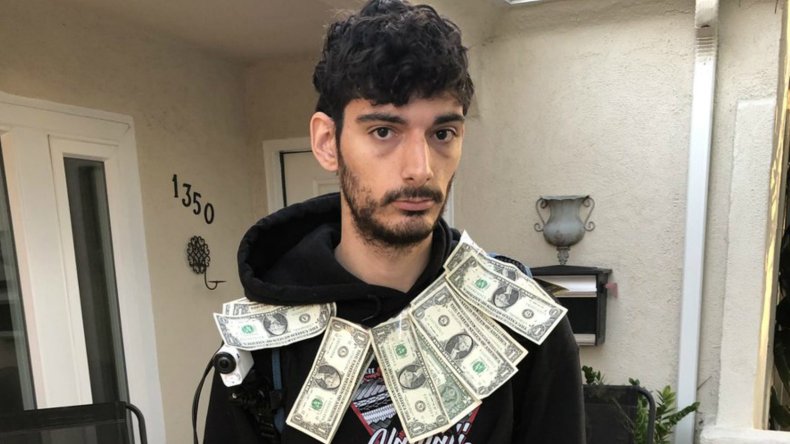 According to the Los Angeles Daily News, dozens of unsuspecting people have shown up at the faux-shelter, looking for a place to say.
"It's crazy stuff," homeless advocate Paul Read told the Daily News. "It upsets me that our homeless friends are being misled that something is going on when it's not. It's the difference between sleeping on cold concrete or getting a bed, a shower and a hot meal ... I find it really disturbing."
Though he got his start streaming video games, Denino, 24, became a top IRL ("in real life") streamer—an influencer who has a live webcam on them as they go about their day, whether undertaking adventures or performing mundane chores.
In Denino's case, his followers often dare him to take on various challenges, sometimes for money. They also enjoy pranking him on camera just to see what happens. These antics run from the mundane—like ordering pizzas to his house—to the more severe: In a 2017 incident, Denino was "swatted" on an airplane by a follower who told police he brought a bomb on the flight. Authorities boarded the plane as soon as it landed and took Denino and a companion off the flight. That incident led to the popular gaming streaming platform Twitch banning Denino, who now streams only on YouTube.
The swatting was not a one-time incident, though, and the harassment Denino receives has led him to be evicted from several homes across the Los Angeles area.
In May, he announced on Twitter he was moving to Texas.
Los Angeles is in the middle of a homeless crisis: According to The New York Times, homelessness in L.A. County has grown by 12 percent over last year—some 16 percent in the city itself, where there are more than 36,000 homeless people.
The "Ice Poseidon Homeless Shelter" prank started in February, when Denino first moved to the mansion in Tarzana. Investors hoped to turn the residence into a "streamer house," where various online personalities would live and interact, much like a reality-TV show.
Homeless people started coming to the mansion, looking for shelter, but were turned away. Some pitched tents on the sidewalk in front, angering neighbors.
"People would come, with all their bags and ask 'Is this the homeless shelter at the mansion?' And I'm like no, that's not real," Denino told the Daily Times, adding that some people had taken two-hour bus rides to get to Tarzana.
"It's already depressing enough out here," Rita Dunn told The Guardian. "It is sad that people would waste their time in such a malicious way." Dunn is a homeless person living in a tent near train tracks close to the mansion.
The "streamer house" idea didn't work out, and the mansion was rented to new tenants. Though Denino isn't there anymore—he moved to Texas in May—homeless people are still showing up.
The current residents also told the Daily News that restaurants still won't deliver to the address, assuming they're being pranked.