Only 0.19 Percent of Anti-Vax Health Care Workers Quit Maine Hospital Over Mandate Protests
Only 0.19 percent of anti-vaccination health care workers in one Maine hospital have quit amid protests against the state's vaccine mandate for such workers.
On August 21, Maine's Democratic Governor Janet Mills announced that all health care workers in the state would have to receive a COVID-19 vaccine in order to continue working. Mills' order will start being enforced on October 29.
In opposition to Mills' mandate, 45 staff members from Maine Health, the state's largest health care provider, have quit, The Maine Beacon reported. The 45 individuals represent roughly 0.19 percent of the provider's 23,000-person staff.
Similarly, 20 staff members have quit Northern Light, the state's second-largest health care provider, over the mandate, the publication reported. The 20 people represent roughly 0.2 percent of the provider's 10,000-person staff.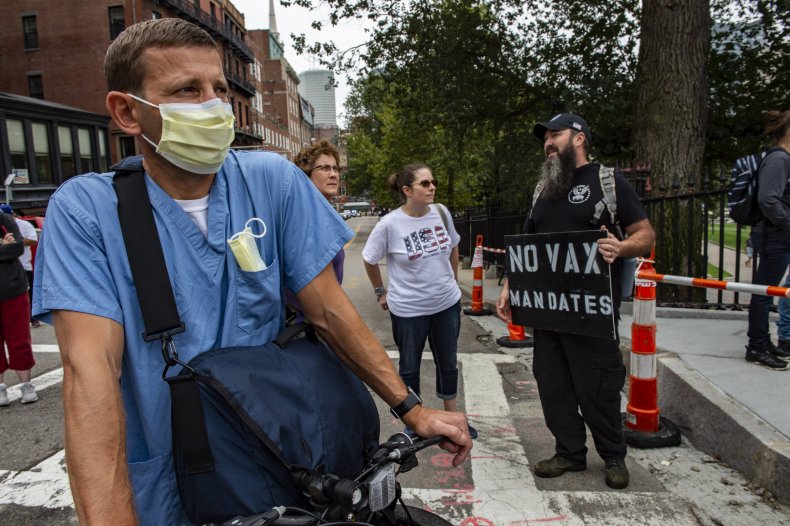 "Many more staff workers have had to leave their jobs after catching COVID, and unvaccinated workers are more susceptible to that outcome," a representative from Northern Light told the Beacon. Approximately 88 percent of the provider's total staff are vaccinated.
After issuing her mandate, Mills said in a statement, "My goal is that every health care worker in Maine is vaccinated. Anyone who is placed in the care of a health care worker has the right to expect—as do their families—that they will receive high-quality, safe care from fully vaccinated staff."
However, resistance to Mills' vaccine mandate has been propelled by the state's Republican politicians.
Republican state Representatives Shelley Rudnicki, Dick Campbell and Mike Perkins all spoke against vaccine mandates at a September 11 rally outside the state Capitol building.
"Republicans have submitted bill after bill to stop the government mandates only to have Democrats kill those bills in the process. Like LD798, which would have banned the vaccine mandate for five years," Rudnicki said at the rally. "They're killing your God-given rights. And now they're coming for your jobs. Thank God there are still freedom-loving Mainers to stand up and speak out. Stand up for your freedoms!"
In an August 17 rally, Republican state Representative Laurel Libby told the crowd of 400 people that the healthcare vaccine mandates were a step towards losing individual freedoms.
"Are we willing to lose our jobs? Are we willing to leave health care? Are we willing to walk out in a coordinated effort? That goes counter to everything I ever learned as a nurse," Libby said, according to Maine Public.
The rallies and protests against the mandate may serve to shore up Republican support for the coming elections, the publication added. Maine's Senate and House are currently both Democrat-led.
Maine law already requires all healthcare workers to be vaccinated against measles, mumps, chickenpox, hepatitis B, the flu and other transmissible illnesses. An estimated 76 percent of all state health care workers have been fully vaccinated, the Public reported.
Since the start of the pandemic, Maine has reported 84,542 overall COVID-19 cases and 1,002 related deaths. As of September 21, the state has the third-lowest number of infections and the fifth-lowest number of deaths out of all 50 states.
Newsweek contacted Mills' office for comment.