Brazilian President Jair Bolsonaro, who in late March referred to COVID-19 as a "little cold," is enjoying his highest approval ratings and a tiny percentage of residents who blame him for the world's second-highest toll death.
A new poll published Saturday in Brazil's Folha de Sao Paulo newspaper finds just 11 percent of the country's residents blame Bolsonaro in any way for the country's more than 105,000 deaths tied to coronavirus. Second only to U.S. President Donald Trump and the United States, Bolsonaro's leadership has been marked by his repeated pushes for usage of unproven anti-malarial drugs and downplays of the disease.
According to the Datafolha poll results, Bolsonaro is now enjoying the highest popularity of his tenure in office, which began in 2019.
Fewer than half of Brazilians, 47 percent, said Bolsonaro bears "no responsibility at all" for the country's COVID-19 death toll having surged past 100,000 earlier this month. Only the U.S., where Johns Hopkins and World Health Organization data shows more than 170,000 deaths, has recorded a higher death toll since the pandemic began in March.
Pollsters who conducted the surveys of 2,065 Brazilian residents between August 11-12 said the president's popularity is potentially tied to emergency payments received throughout the country in recent weeks. Low-income workers have been collecting benefits that are set to expire in September, Reuters reported Saturday morning. The Brazilian federal government is currently deciding whether to extend the payments or not.
Bolsonaro, a right-wing politician who is frequently compared to Trump, downplayed the coronavirus pandemic and urged citizens to keep the economy going in March. "We're all going to die one day," Bolsonaro told Brazilian news outlets at the time. In late July, Bolsonaro tested positive for coronavirus and remained in self-isolation at his official reidence in Brasilia for a lengthy period of time.
Thirty-seven percent of Brazilian residents in this most recent August poll rated Bolsonaro's term as great or good, a five percent increase from June numbers.
Bolsonaro and several of his top aides met with Trump at his Mar-a-Lago resort in Palm Beach, Florida, in early March. A photograph taken at the time showed several officials holding a "Make Brazil Great Again" hat while standing alongside Vice President Mike Pence and the Brazilian president himself. More than two dozen of the people who traveled to Florida later tested positive for coronavirus.
"The virus is here, we're going to have to confront it. Confront it like a man, not a boy!" Bolsonaro told supporters outside is residence in March. "Most of the media has been countervailing. They spread the sensation of dread, with their flagship the high number of victims in Italy. The perfect scenario to be used by the media to spread hysteria."
Newsweek reached out to the Brazilian embassy for any additional remarks Saturday afternoon.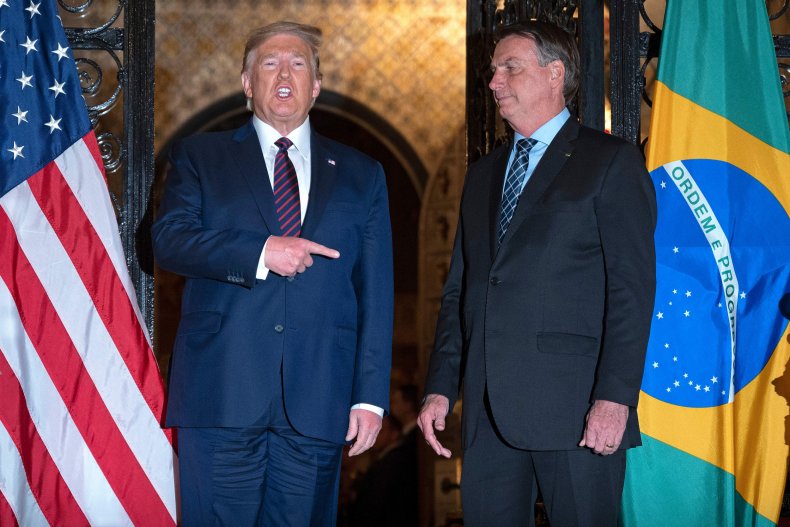 Uncommon Knowledge
Newsweek is committed to challenging conventional wisdom and finding connections in the search for common ground.
Newsweek is committed to challenging conventional wisdom and finding connections in the search for common ground.
About the writer
Benjamin Fearnow is a reporter based out of Newsweek's New York City offices. He was previously at CBS and Mediaite after working as a news curator at Facebook. Fearnow has pieces published in The Atlantic as well as stories published about him in Wired and The New York Times. He attended the Columbia University School of Journalism after graduating from Indiana University-Bloomington. Email: b.fearnow @ newsweek [dot] com.