As officials across the country take steps to relax statewide lockdown regulations, it appears most United States residents are hesitant to stop social distancing, at least in the near future.
According to a poll published by CBS News on Thursday, only 13 percent of participants said they would "definitely" return to public spaces over the next few weeks if restrictions were lifted. Another 39 percent said they might, if data reflected improvements in terms of the new coronavirus' spread, while 48 percent—nearly half—said they would not resume public life until the national outbreak had subsided completely.
An accompanying poll suggested that even those who might be comfortable reentering some public spaces probably would not return to crowded ones. The results showed 71 percent would not visit bars or restaurants, 85 percent would not board an airplane and 87 percent would not attend a large event.
Thursday's polls come just one week after U.S. President Donald Trump issued guidelines for states to begin reopening their economies following extended stay-at-home orders. Several governors have already jumped at the opportunity, with some states now permitting nonessential businesses to resume operations before the end of the month. A few, like Alaska and Georgia, will allow certain businesses to reopen as early as Friday. Others, like Mississippi and Montana, will follow suit on Monday. Some retail establishments and public beaches in South Carolina reopened earlier this week, trailing Florida Governor Ron DeSantis' April 17 announcement allowing beaches to reopen at local officials' discretion.
During a Fox News appearance on Tuesday, DeSantis said he had met with governors of Mississippi, Alabama, Georgia, South Carolina and Tennessee to coordinate a regional approach to reopening their respective economies. Many states that have lifted lockdown restrictions, or plan to do so in the coming days, will require businesses to adhere to continued virus mitigation measures.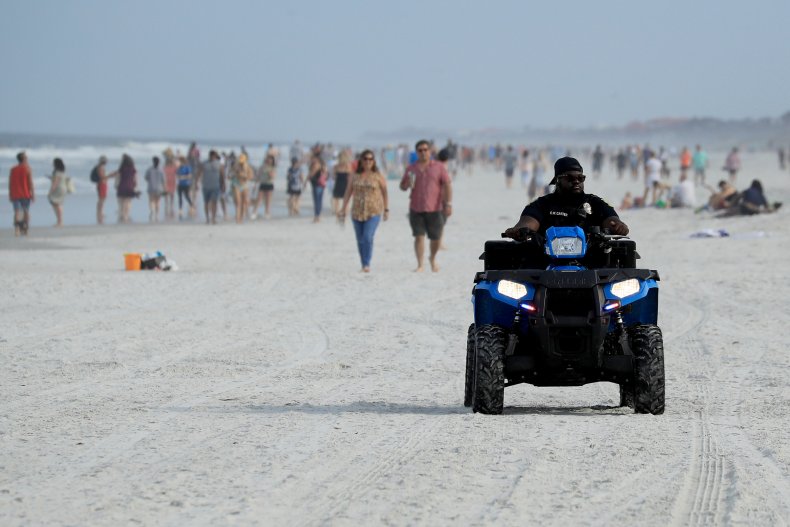 Georgia Governor Brian Kemp has faced considerable backlash from mayors since announcing the state's stay-at-home order would end April 30, and a sizable number of nonessential businesses would reopen on April 24 and April 27, earlier this week. According to Georgia's Department of Health, the state has confirmed more than 21,000 cases of COVID-19 and close to 850 resulting deaths as of Thursday morning. Thousands of new cases have been diagnosed over the last several days.
More than 40 governors have issued statewide stay-at-home orders since March, when the coronavirus outbreak started to unfurl in the U.S., and those that have not still implemented measures that closed schools, limited social gatherings and banned dine-in options at food service establishments.
The U.S. has reported more cases of the new coronavirus than any country affected by the outbreak, with at least 842,600 diagnosed overall as of Thursday, according to Johns Hopkins University's tracker. Of those who contracted the disease, more than 46,780 people have died nationwide.