A surprisingly large number of President Donald Trump's supporters do not question the far-right QAnon conspiracy theory, according to a new poll.
In a Yahoo/YouGov poll released Monday, only 17 percent of registered voters who intend to vote for Trump in the presidential election answered "no" when asked "do you believe that top Democrats are involved in elite child sex-trafficking rings," the central claim of the evidence-free conspiracy theory. A full 50 percent of Trump supporters said they believed the false claim was true, while 33 percent said they were unsure.
The QAnon theory is based on information from a purported government informant known as "Q," which could be more than one person posting anonymously to online messaging boards. The conspiracy baselessly alleges that Trump is secretly fighting a war against a "deep state" consisting of satanic Democrats and Hollywood "elites" who control child sex trafficking rings and sometimes literally eat babies.
The poll found that 52 percent of Trump supporters agreed when asked if "President Trump is working to dismantle an elite child sex-trafficking ring involving top Democrats," more than the number who said they believed supposed ring even existed. Only 12 percent of Trump supporters said they did not agree, while 37 percent said they were not sure.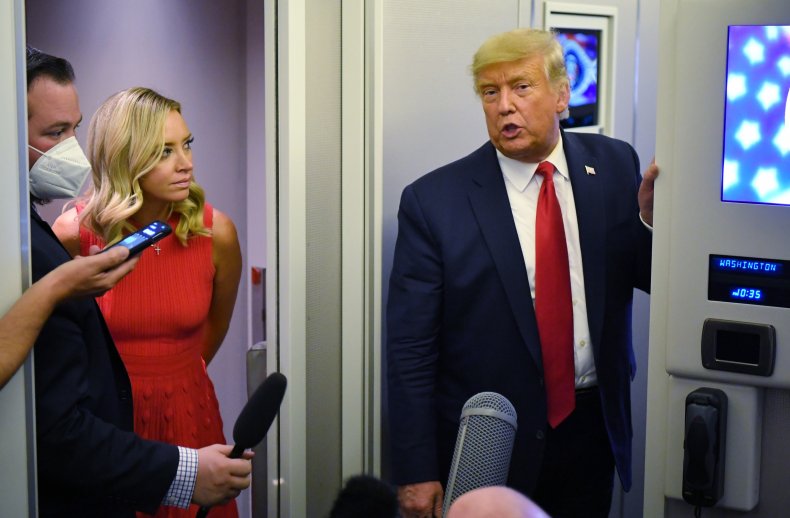 When asked explicitly if they had "ever heard about QAnon," 48 percent of Trump voters responded that they had, 44 percent said they had not and 9 percent were unsure. Support for the theory was less enthusiastic when it was explicitly called QAnon, with 15 percent of Trump supporters saying they believed it entirely and 17 percent insisting that "it goes too far but I believe some of what I've heard."
Of the Trump voters who explicitly said they had heard of QAnon, a 47 percent plurality indicated that they were not sure of their opinion on the conspiracy. Only 16 percent agreed with the statement that "it's an extremist conspiracy theory with no basis in fact," compared to 85 percent among those who said they would vote for Democratic presidential nominee Joe Biden.
"The fact is that QAnon is a movement, a conspiracy that has been cited by the FBI as potentially inciting terrorist and other violent extremist acts in this country," Nina Jankowicz, a disinformation fellow at the nonpartisan Wilson Center think tank, told Yahoo News. "It shouldn't be something that we're this split [on] along partisan lines."
QAnon's supposed informant has repeatedly made anonymous predictions that later prove false, usually centered on claims that prominent Democrats will be imminently arrested. Regardless, the theory has become more popular since emerging in 2017, with adherents apparently believing that future predictions will come true.
Trump has expressed muted support for the conspiracy by sharing tweets from adherents and refusing to publicly disavow the conspiracy's baseless claims. At his NBC town hall event last week, the president claimed to know "nothing about QAnon" after the theory was described to him, while insisting that the conspiracy's followers are "very much against pedophilia."
When asked about it during a White House press briefing in August, Trump also feigned ignorance, saying that he did not know "much" about the conspiracy. He did say that he appreciated QAnon believers because they "like" him "very much," touting that those who believe the baseless claims "love our country" and adding that he had "heard that it is gaining in popularity."
Newsweek reached out to the Trump campaign for comment.