Only 2 Percent of Americans Said Donald Trump-Joe Biden Debate Changed Their Vote: Poll
The first debate between President Donald Trump and Democratic presidential nominee Joe Biden does not appear to have moved many to change their vote.
A poll released Thursday from CNBC/Change Research found that only 2 percent of likely voters who viewed the debate said that it had resulted in them changing who they intend to vote for. Since 2 percent is well within the poll's margin of error, the debate may have influenced even fewer voters, or none.
The poll also found that 53 percent of respondents believed that Biden won the debate, compared to only 29 percent for Trump. Nearly half, 45 percent, said that Trump "performed worse than expectations," while 11 percent said the same of Biden.
A large 77 percent majority of the poll's respondents said that the debate, which was highlighted by moderator Chris Wallace struggling to prevent repeated interruptions, insults and bickering from the candidates, "did not make them feel proud to be an American."
However, a majority of 55 percent were in favor of additional debates, compared to 28 percent who were not. Two more debates are scheduled, after the sole debate between Vice President Mike Pence and Democratic vice presidential nominee Sen. Kamala Harris takes place next week.
In addition to questions about the debate, the poll asked voters who they intend to vote for in the election, with Biden enjoying a large lead over the president, 54 percent to 41 percent.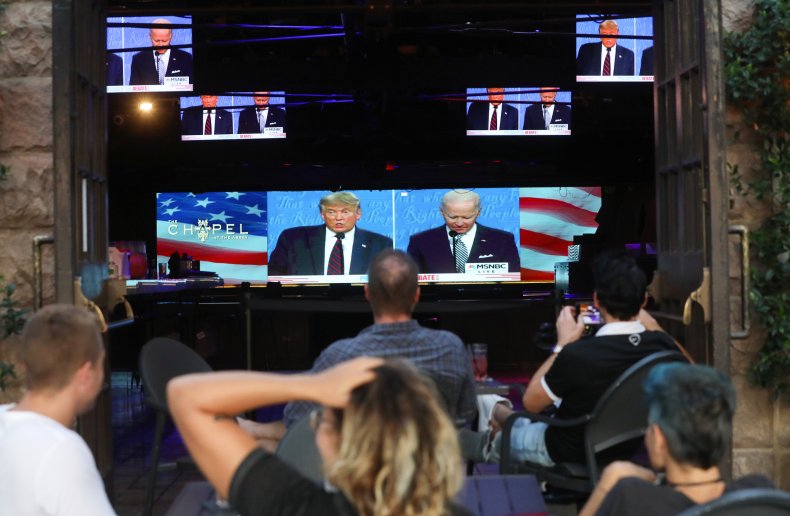 The poll was conducted nationally among 925 likely voters on Tuesday and Wednesday. It has a margin of error of 3.22 percent, with questions specifically about the debate carrying a slightly larger margin of error of 3.47 percent.
Two other polls also suggest that most voters believe Biden won the debate. A CBS/YouGov poll conducted immediately after the debate saw 48 percent declaring Biden the winner, compared to 41 percent for Trump and 10 percent who thought the debate ended in a draw. A CNN/SSRS poll found that 60 percent thought Biden was the winner, compared to only 28 percent for Trump.
In the CNN poll, a 57 percent majority said the debate would not influence their vote, with 32 percent saying it made them more likely to vote for Biden and 11 percent more likely to vote for Trump. However, the poll carried a large 6.2 percent margin of error and respondents skewed more Democratic than the general public.
Trump and his allies have ignored the polls, instead pointing to a handful of notoriously unreliable online surveys that were more favorable to the president's performance. The three polls that favored Biden were conducted scientifically, with pollsters reaching out to voters rather than a media outlet asking anyone to respond.
Polls that are not conducted scientifically are not reliable because they are easily manipulated due to methodology that allows anyone to participate, sometimes voting multiple times, while also enabling respondents to solicit like-minded others to vote in the poll.
Newsweek reached out to the Trump and Biden campaigns for comment.