Only 20% of Americans Want States To Relax Coronavirus Restrictions
A large majority of American voters want current COVID-19 restrictions to either remain in place or be increased, according to a new poll.
The Hill-HarrisX poll released Thursday indicated that only 20 percent of Americans want to ease restrictions amid the pandemic. A plurality, 45 percent, said restrictions should remain where they are, while 34 percent said that restrictions should be tightened.
Only 8 percent of Democrats wanted restrictions to be eased, with 44 percent preferring current restrictions and 49 percent saying more restrictions should be added.
Although a large partisan divide existed, no political party preferred easing restrictions. A 42 percent plurality of Republicans favored current restrictions remaining in place, while 21 percent said they should increase. The poll found that 37 percent of Republicans favored easing restrictions.
A majority of Independents, 51 percent, preferred keeping current restrictions. Only 18 percent were in favor of easing restrictions, while 31 percent wanted further restrictions.
The desire to ease restrictions increased for voters living further away from cities. The poll found 30 percent of rural voters favored fewer restrictions, compared to 20 percent for suburban voters and 15 percent for those who live in cities.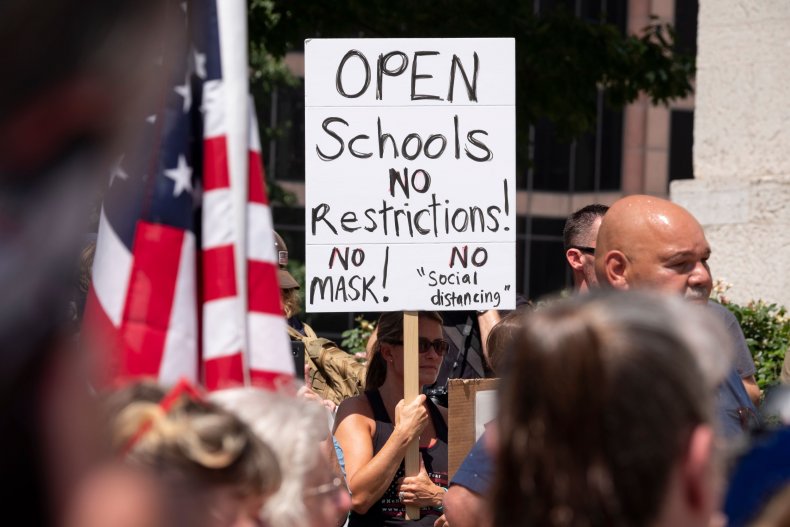 Clear majorities of all demographic groups, including those based on age, race and gender, preferred either keeping restrictions at current levels or increasing them.
The poll was conducted among 3,758 registered voters online between September 10 and September 14. It has a margin of error of 1.6 percent.
Restrictions that currently exist vary widely at the state and local levels. Most states have restrictions against large social gatherings and have required certain business, such as restaurants, to limit capacity or mandate social distancing. Face masks are required to be worn in 34 states and Washington, D.C., while parts of many other states also have mandates in place.
While most Americans appear to prefer continuing whatever public health restrictions they currently have, recent polling also indicates that fewer may be willing to make use of what could potentially be one of the most powerful tools against the virus, a COVID-19 vaccine, if one becomes quickly available.
In a Pew Research poll released Thursday, about half of U.S. adults, 49 percent, said they would "probably" or "definitely" not get a vaccine if one were to become available today. Willingness to be vaccinated has dropped significantly since a May survey, when 72 percent said they would get the vaccine.
Support for a vaccine declined in equal measure among both Democrats and Republicans, but Republicans remained the group least likely to accept a vaccine. Most Democrats, 58 percent, said they would be willing to get a vaccine. A 56 percent majority of Republicans said they would not.
President Donald Trump has repeatedly pushed for a vaccine to be approved for "emergency" use ahead of the November 3 election, despite little chance that any vaccine candidates will have completed crucial Phase 3 clinical trials that could definitively determine safety and efficacy.
On Wednesday, Centers for Disease Control and Prevention (CDC) Director Dr. Robert Redfield said that face masks were the "best defense" and "more guaranteed to protect" against the virus than a potential vaccine. He later clarified that he believes in "the importance of vaccines" after being criticized by Trump, who insisted that he had been "confused."
Newsweek reached out to the CDC for comment.