Only 20 Percent of Americans Say They're 'Very Confident' in U.S. Election Integrity: Poll
Faith in the U.S. election system has declined over the last year, with less than half of Americans reporting that they are "very confident" in its integrity, according to a poll released Thursday.
The ABC/Ipsos poll, released on the anniversary of the January 6 riot at the U.S. Capitol, found that now only 20 percent of respondents are "very confident" in the integrity of the U.S. election system, with an additional 39 percent saying they feel "somewhat confident."
That's down from last year, when a poll by ABC News and The Washington Post conducted days after the Capitol riot found that 37 percent of respondents were "very confident" in the integrity of the election system, while 26 percent reported feeling "somewhat confident."
Only 13 percent of Republicans surveyed in the ABC/Ipsos poll reported high confidence in the election system, and 59 percent of party members said they were either "not so confident" or "not confident at all."
The low confidence in elections among Republicans comes as former President Donald Trump has continued to spread baseless claims of election fraud during the 2020 election.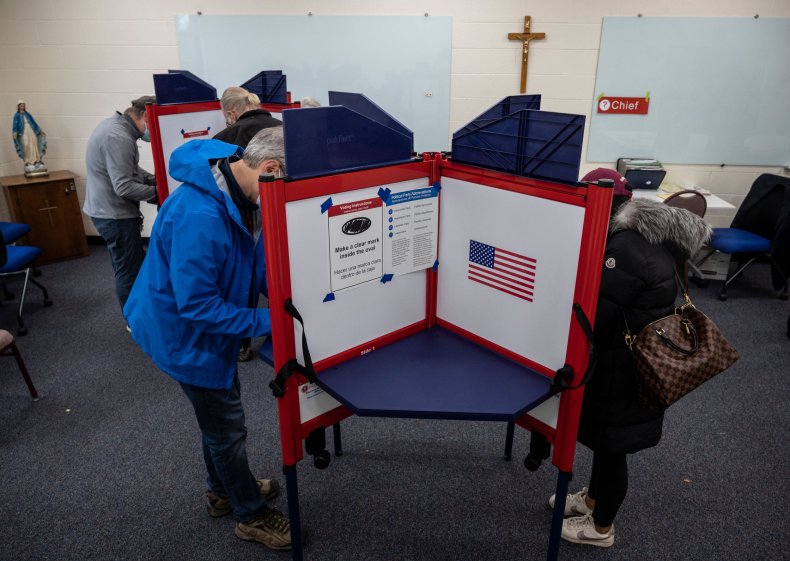 Democrats reported having more faith in U.S. elections, with 30 percent saying they are very confident in election integrity. In addition, 20 percent of independents said they were "very confident."
"Widespread distrust in our electoral system overlays deep divisions over our democracy. Republicans lack confidence, in no small part, because of lies propagated by their leaders," William Howell, a professor of political science at the University of Chicago told ABC News.
"And Democrats lack confidence because of ongoing efforts of Republicans to politicize the administration of elections. This is a bad equilibrium," Howell added.
The ABC/Ipsos poll surveyed 982 adults in the U.S. between December 27 and December 29 and had a margin of error of +/- 3.5 percentage points.
When asked whether they believed President Joe Biden's 2020 election victory was legitimate, 65 percent of respondents said they believe it was, while 33 percent believe it wasn't. Two percent of those polled opted to skip the question.
The poll also asked respondents about the events on January 6, 2021, when supporters of Trump stormed the U.S. Capitol.
Seventy-two percent of respondents said they believed that the people involved in the Capitol riot were "threatening democracy" while 25 percent of respondents said they believed the people were "protecting it." Three percent of those polled skipped the question.
Of those polled, 42 percent said they believed Trump bears a "great deal" of responsibility for the attack on January 6, and 16 percent said the former president bears a "good amount" of it. Twenty-five percent said Trump bears no responsibility and 16 percent said he bears "just some."