Only about a quarter of American voters see President Donald Trump as a trustworthy source of information about the novel coronavirus, polling has shown.
The new poll by The New York Times and Siena College asked respondents who they trust when it comes to information about the novel virus, showing that just 26 percent said Trump was a reliable source. Conversely, 84 percent said that medical scientists were a trustworthy source of information, while 67 percent listed Dr. Anthony Fauci, director of the National Institute of Allergy and Infectious Diseases.
Among Republicans, Trump's base of supporters, 66 percent said they trusted the president. That contrasted starkly with just 4 percent of Democrats and 21 percent of independents who said the president was a credible source of novel coronavirus information.
The poll was conducted from June 17 to 22 and included responses from 646 registered voters.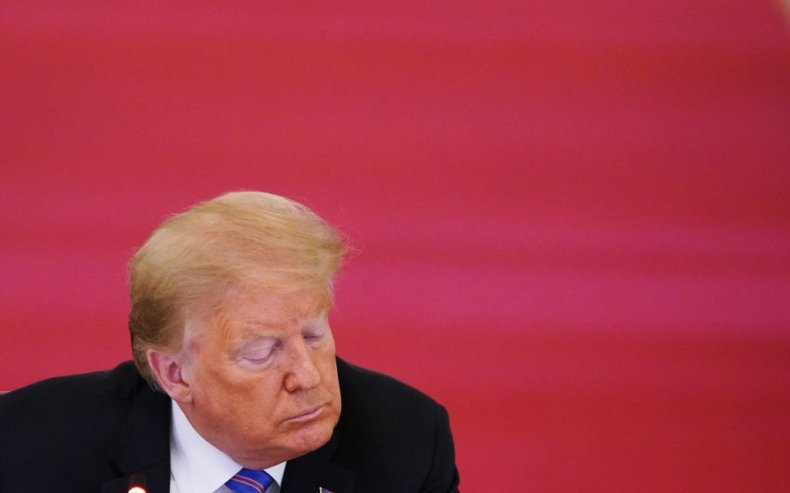 Newsweek reached out to the White House for comment on the polling data, but they did not respond by the time of publication.
In May, polling by CNN showed that 62 percent of voters said they did not trust Trump when it comes to information about the novel coronavirus. That survey showed that just 36 percent of respondents believed the information from the president was credible. When it came to Fauci, 67 percent expressed trust in the public health official, while 20 percent said they did not trust him.
Polling conducted by Reuters and Ipsos from June 22 to 24 showed that approval of Trump's response to the pandemic had hit a new low. Just 27 percent of respondents to that survey said they approved of the president's handling of the crisis. Nearly 6 in 10 (58 percent) said they disapproved of Trump's response.
Trump has repeatedly made inaccurate or misleading statements about the novel coronavirus pandemic since it hit the U.S. in January. In late February, the president suggested it would simply "disappear." He also said on multiple occasions that the concern expressed by Democrats and the media over the pandemic was a "new hoax."
Now, several months later, the U.S. continues to have the highest number of novel coronavirus infections of any country in the world. As of Sunday morning, the U.S. had confirmed more than 2.5 million infections and over 125,000 deaths due to COVID-19, the disease caused by the novel virus, according to a tracker updated by Johns Hopkins University.
The U.S. accounts for about a quarter of the total infections globally, with just over 10 million reported around the world. The same is true for deaths, with the U.S. representing about 25 percent of all reported deaths due to the virus, as nearly 500,000 have died globally.