Only 3 of the Country's 10 Largest Grocery Stores Require Masks
As the novel coronavirus continues to spread throughout the U.S, a number of large retail stores have taken the initiative in requiring that customers wear masks while in the store.
Three out of the 10 largest grocery and retail stores across the country, will now mandate patrons to wear face masks. These stores include Walmart, Kroger and Costco.
Walmart was one of the most recent retail companies to announce that it will now require customers at all of its U.S. stores to wear face masks. The company is ranked as the number one retailer, according to a list of the top 100 retailers compiled by the National Retail Federation (NRF).
"As the number of confirmed cases has spiked in communities across the country recently, so too have the number and types of face covering mandates being implemented. Currently about 65 percent of our more than 5,000 stores and clubs are located in areas where there is some form of government mandate on face coverings," Walmart CEO Dacona Smith and Sam's Club COO Lance de la Rosa wrote in a statement. "To help bring consistency across stores and clubs, we will require all shoppers to wear a face covering starting Monday, July 20."
In a statement posted to Twitter, The Kroger Co., also announced that it will be requiring that customers wear masks in stores nationwide. Kroger is listed as the third-leading retailer on the NRF list.
"With the increase in #COVID-19 cases across the country, we are committed to doing our part to help reduce the spread of the virus," according to the Kroger News Twitter account. "Starting July 22, we will require all customers in all locations to wear a mask, joining out associates who continue to wear masks."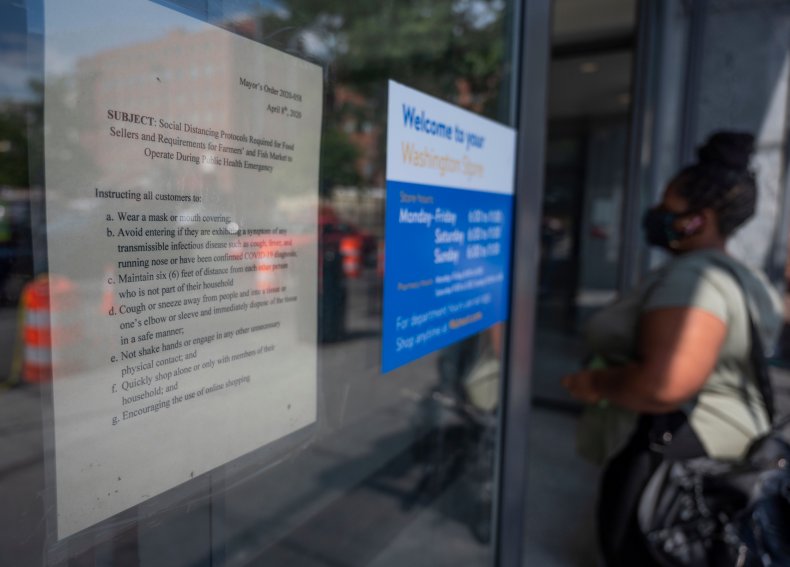 Prior to both Walmart and Kroger imposing mask requirements for customers, Costco issued the same policy, which became effective on May 4.
"All Costco members and guests must wear a face covering that covers the mouth and nose, at all times while at Costco," the store's president and CEO Craig Jelinek wrote in a letter to Costco members. "Costco employees are required to wear face coverings, and now we are asking that Costco members do so too. We know some members may find this inconvenient or objectionable, but under the circumstances we believe the added safety is worth any inconvenience. This is not simply a matter of personal choice; a face covering protects not just the wearer, but others too."
Several other prominent retail stores and food establishments across the U.S., such as Best Buy, Starbucks and BJ's Wholesale Club, have also imposed similar policies.
Following the announcement by Walmart on Wednesday, the National Retail Federation issued a press release and signed a letter, sent to President Donald Trump, Vice President Mike Pence, New York Governor Andrew Cuomo and Maryland Governor Larry Hogan, urging mandatory mask requirements in retail stores across the U.S.
"The medical evidence is clear: the wearing of masks or face coverings in public settings, especially when it is not possible to consistently maintain social distancing, is a critical element to preventing the spread of COVID-19. Regrettably, in recent weeks we have seen evidence that in some areas where there is growing community spread, issuing voluntary guidance on masks is insufficient to protect public health," NRF wrote in its letter. "Absent stronger measures to prevent transmission, communities across America risk another round of shutdowns, broad restrictions on non-essential activities, and irreparable economic harm."
The letter asked that the White House Coronavirus Task Force and the National Governors Association to work together and establish guidance on the appropriate metrics for imposing location-based mask requirements in public spaces; "develop model mandatory mask policies that are simple and do not impose the enforcement burden on organizations without such expertise, such as businesses and non-profits; and make clear that businesses and non-profits will not be held liable for refusing entry or services to an individual who is not complying with face covering requirements."
Newsweek was referred to the letter sent by the NRF after reaching out for comment.