Nearly three weeks after Omicron was detected in the United States, only three states have yet to report a case of the new variant.
As of Monday afternoon, Oklahoma, South Dakota and Montana are the only states to have not identified any cases of the Omicron variant. However, officials are urging people to prepare as it's only a matter of time before the variant is detected and it's possible Omicron could become the dominant COVID variant in the United States.
Omicron, first detected in South Africa at the end of November, is believed to be extremely infectious. Although it is believed to cause more mild disease than Delta, the current dominant COVID variant, global health officials have cautioned against shrugging off the variant as something that doesn't need to be taken seriously.
Dr. Maria van Kerkhove, COVID-19 technical lead at the World Health Organization, noted that if Omicron is as transmissible as it's believed to be, it could lead to a surge in infections. Anytime there's a surge in infections, hospitalizations are likely to rise and with health care systems already overwhelmed, more people needing care could lead to more deaths.
It's also possible Omicron may reduce the efficacy of vaccines. Researchers are still studying the variant to determine what, if any, impact it has on vaccines, but it's already shown it's able to infect those who are vaccinated. The bulk of America's early cases involved vaccinated people and health officials are urging people to get a booster dose if they're eligible, as it's shown to be the best chance at protection against the variant.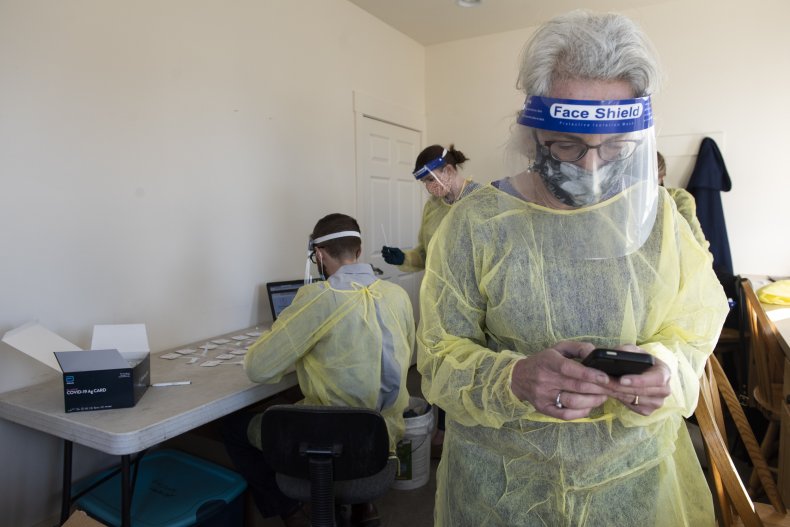 California was the first state to detect Omicron and made the announcement on December 1. In the week that followed, Omicron accounted for about 3 percent of COVID-19 cases nationwide, but the variant was seen in significantly higher numbers in New York and New Jersey.
New York reported Omicron was responsible for about 13 percent of cases and New York City Mayor Bill de Blasio warned it's going to get worse before it gets better. New York City is seeing a massive surge in COVID-19 cases, which could make for a challenging few weeks as people gather for the holidays.
But, based on what the city's health care leadership understands, they believe cases could peak in a matter of weeks and then start declining. In those weeks before the peak though, De Blasio warned that "a lot" of New Yorkers would become infected with Omicron.
"We've got to defeat Omicron, we've got to avoid shutdowns, we've got to avoid restrictions, we've got to keep moving forward -- vaccination is the key," De Blasio said.
Dr. David Chansolme, the Medical Director of Infection Prevention at INTEGRIS Health in Oklahoma City told KFOR that he believes Omicron is already in Oklahoma, it just hasn't been detected yet. Whereas Delta doubled its numbers every two weeks, Omicron's doubling cases in about three days, making it ripe for becoming the dominant variant.
"Every single state around us has had some and as we know, we haven't gotten quite as many sequences out as some of the other places. The bottom line is it's probably here we just haven't discovered it yet. If it's not here yet, it certainly will be soon," he said.