Only 31% Approve of Trump's Coronavirus Response, Poll Indicates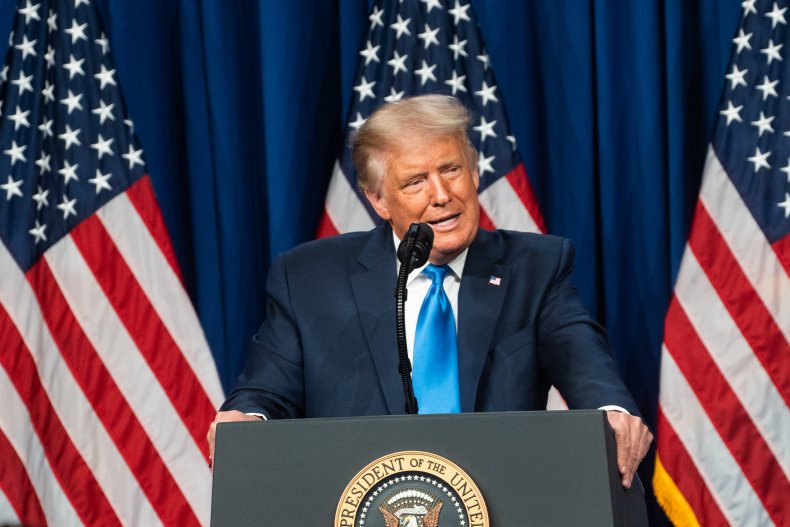 Fewer than one-third of Americans approve of President Donald Trump's handling of the COVID-19 pandemic, according to a new poll.
The poll released Monday by the Associated Press and the University of Chicago's NORC Center for Public Affairs Research found that only 31 percent approve of Trump's response to the virus, while 68 percent disapprove. The same polling group found that 44 percent of Americans approved of the president's response in March.
A significant partisan divide was found in the poll. Republicans largely approved of the president's handling of the pandemic, with 66 percent approving and 31 percent disapproving. An overwhelming 93 percent of Democrats disapproved, while 7 percent approved. Independents also disapproved, 71 percent to 28 percent.
Trump's overall job approval was also dismal, with 65 percent disapproving of the president's performance compared to 35 percent who approved. Republicans approved overwhelmingly, 88 percent to 10 percent. An even bigger majority of 95 percent of Democrats disapproved, while 5 percent approved. Independents disapproved, 73 percent to 24 percent.
The poll indicated growing disapproval of the national response to the virus regardless of the president. While 58 percent said they disapproved of the response from leaders in Congress in July, 65 percent disapproved in the poll released Monday. Distaste for the federal government's overall response also grew slightly, moving from 55 percent in July to 57 percent in August.
State and local government responses to the virus also face growing disapproval ratings. A 52 percent majority had said that they approved of local or city government responses to the virus in July, while 48 percent agreed in August. Those who said they explicitly disapproved numbered 25 percent in July and 31 percent in August. State governments saw a 48 percent approving rating in July fall to 44 percent the following month, while disapproval had jumped from 34 to 40 percent.
The poll was conducted among 1,075 adults online and by telephone between August 17 and August 19. It has a margin of error of 4.1 percent.
While a wide range of polls have consistently suggested that a majority of Americans disapprove of Trump's handling of the pandemic, the president insisted that Democrats are attempting to use the virus to "steal" the election from him while speaking at the Republican National Convention on Monday.
"What they're doing is using COVID to steal an election," Trump said. "They're using COVID to defraud the American people, all of our people, of a fair and free election. We can't do that."
There had been more than 5.7 million confirmed cases of COVID-19 reported in the country as of Monday, including over 176,000 deaths. The U.S. has had by far the most cases and deaths related to the virus of any country in the world.
Newsweek reached out to the White House and the Trump campaign for comment.