Only 53% of Republican Voters Approve of the Job GOP Politicians Are Doing in Congress
Republicans in Congress have surprisingly low approval ratings from members of their own party, according to a new poll.
An NPR/PBS NewsHour/Marist poll released Thursday found that while 53 percent of Republicans approved of the job Republicans are doing in Congress, 38 percent disapproved and 9 percent were unsure. Democrats gave significantly higher marks to members of their own party in Congress, with 80 percent viewing the job Democrats are doing in Congress positively and 16 percent disapproving.
Republican men were the only group to give Republican members of Congress a majority positive approval rating at 61 percent. Republican women agreed only 45 percent of the time. No similar difference was seen among Democrats who gave Democratic members of Congress a positive approval rating, with the numbers being roughly the same regardless of gender.
Independent voters gave negative job approval ratings for both parties in Congress, although Democrats fared slightly better. A 63 percent majority of independents disapproved of Republicans, while a 56 majority disapproved of Democrats. Positive approval ratings were given to Republicans by 25 percent of independents, with 33 percent giving Democrats a positive approval rating.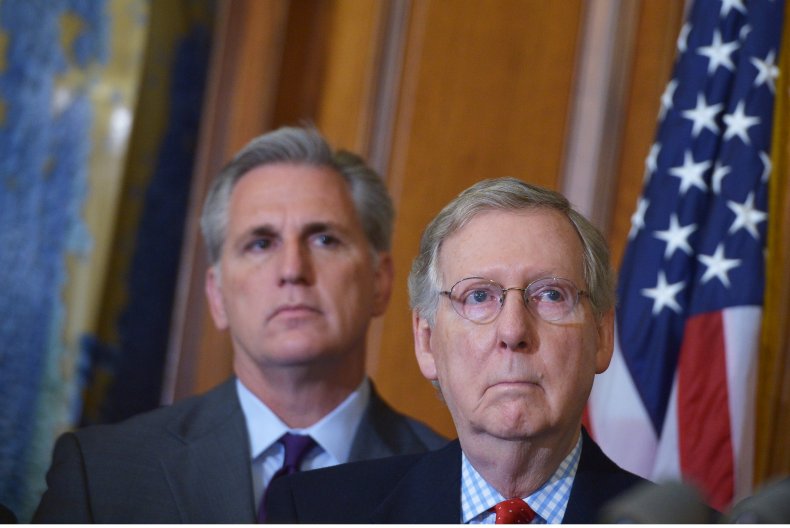 Without breaking the numbers down along party lines, the poll found that most Americans have negative views of both parties. An overall 51 percent majority disapproved of Democrats in Congress and 64 percent disapproved of Republicans. Only 28 percent of all Americans approved of Republicans, while 41 percent gave Democrats a positive rating.
President Joe Biden had an overall approval rating of 49 percent. Another 42 percent disapproved and 10 percent were unsure. The partisan split in Biden's rating was predictable, with 87 percent of Democrats but only 11 percent of Republicans approving. Independents were evenly split on their views of the president—43 percent each approved or disapproved of his job performance.
The poll was conducted among 1,227 U.S. adults over the telephone from March 3 to March 8. It has a margin of error of 3.4 percent.
The 41 percent overall approval rating for Democratic members of Congress was the highest rating seen over the past decade, when compared against Marist polls going back to April 2011. The 28 percent overall rating for Republicans is slightly higher than average when compared against the same polls, with a high mark of 33 percent approval in March 2015.
When not accounting for party affiliation, Congressional approval ratings are generally low overall, although ratings may have improved slightly in 2021. A Gallup poll released last month gave Congress a 35 percent approval rating, the highest mark since May 2009.
Newsweek reached out to the Republican National Committee for comment.