Only 54% of Republicans Say They'd Use Donald Trump's Planned Social Media Platform: Poll
Just over half of Republicans plan to use former President Donald Trump's expected social media platform, according to a new poll.
A poll released Tuesday by The Hill/HarrisX found that 54 percent of Republicans intend to use Trump's platform, while another 27 percent said they would not and 19 percent were unsure. Among all respondents regardless of political party affiliation, 54 percent said would not use Trump's platform, 30 percent said they would and 16 percent were undecided.
Democrats were the least likely to be tempted by the former president's promised foray into social media, with only 12 percent saying they would use a Trump app while 78 percent said they would not. Twice as many independent voters, 24 percent, said they would use the platform, although a clear majority of 58 percent agreed that they were not interested.
The poll was conducted online among 1,882 registered voters between March 24 and March 26. It has a margin of error of 2.26 percent.
Newsweek reached out to Trump's office for comment.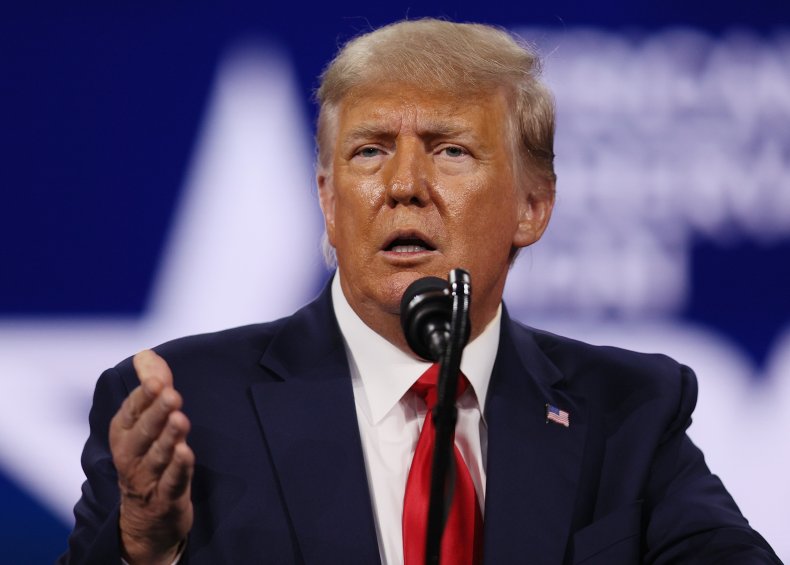 A YouGov poll released last week found that 69 percent of Republicans were either "very" or "somewhat" likely to use a social media app from Trump, with a full 50 percent saying they were very likely. Enthusiasm among the general public was similar to what was seen in Tuesday's poll, with 52 percent of respondents saying they were very unlikely to use the platform and 6 percent saying they were somewhat unlikely.
Trump had previously been very active on mainstream social media platforms. He was permanently banned from Twitter and indefinitely suspended from Facebook in January over fears that his social media posts could incite further violence in the wake of the deadly January 6 breach of the U.S. Capitol, the event that led to his unprecedented second impeachment by the House one week later.
Hours after Trump's personal account was banned from Twitter, he used the @POTUS account, which now belongs to President Joe Biden, to Tweet news that he planned to launch his own social media platform. Trump advisers have recently hinted that the plan could soon become a reality.
An Axios report from last week indicated that the former president's team has been in discussions with several little-known app vendors in hopes of launching a Trump-focused platform. Jason Miller, Trump's senior adviser, told Fox News that he expects the former president to return to social media on his own platform "in probably about two or three months."
Although polls indicate that Trump's platform could draw many millions of users, some experts have expressed skepticism that it will meet the mark in terms of both popularity with users and in matching the level of cultural influence that the former president personally commanded while active on the mainstream platforms.
"Until some hypothetical point in the future where a Trump app has tens of millions of active users in the United States—which I don't believe will ever happen—there is zero chance it can replicate the impact he has had across Facebook and Twitter," Rasmus Nielsen, a political communication professor at the University of Oxford, told Newsweek.
Prominent Trump ally and MyPillow CEO Mike Lindell also recently announced his own plans to launch an independent social media platform, citing perceived discrimination and censorship of conservatives on mainstream platforms. Lindell, who was banned from Twitter for repeatedly promoting false claims that Trump "won" the 2020 election, said that his platform is prepared to handle "a billion people" during an appearance on former Trump adviser Steve Bannon's War Room Pandemic podcast last week.