Only Gal Gadot Has to Show Skin on GQ's People of the Year Covers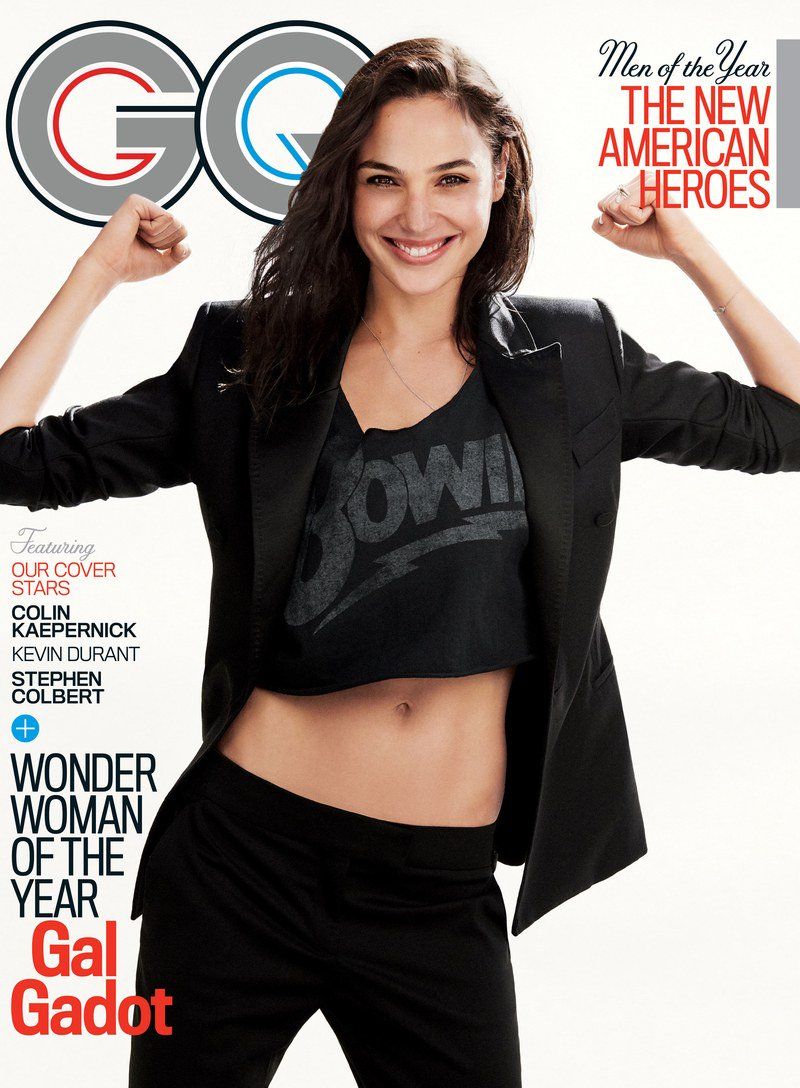 As the sexual assault allegations pile up, as sexism in Hollywood—and everywhere, really—becomes the battle of the day, we applaud all the courageous women and men who are exposing the harassers.
But then what? What's the solution? How do we actually change our culture so that women and men, and people who choose not to identify with traditional gender identities, can be treated equally, with respect and without fear of reprisal if they don't conform or submit to ideas about behaviors that go back to—well, who knows how long? Many of those attitudes appear in the Bible, so let's just say a very long time.
Many smart people will come together and begin to think about this, to figure out how to change laws, how to raise children so that they aren't indoctrinated or brainwashed by old ideas, how to rehabilitate the workplace, government and schools.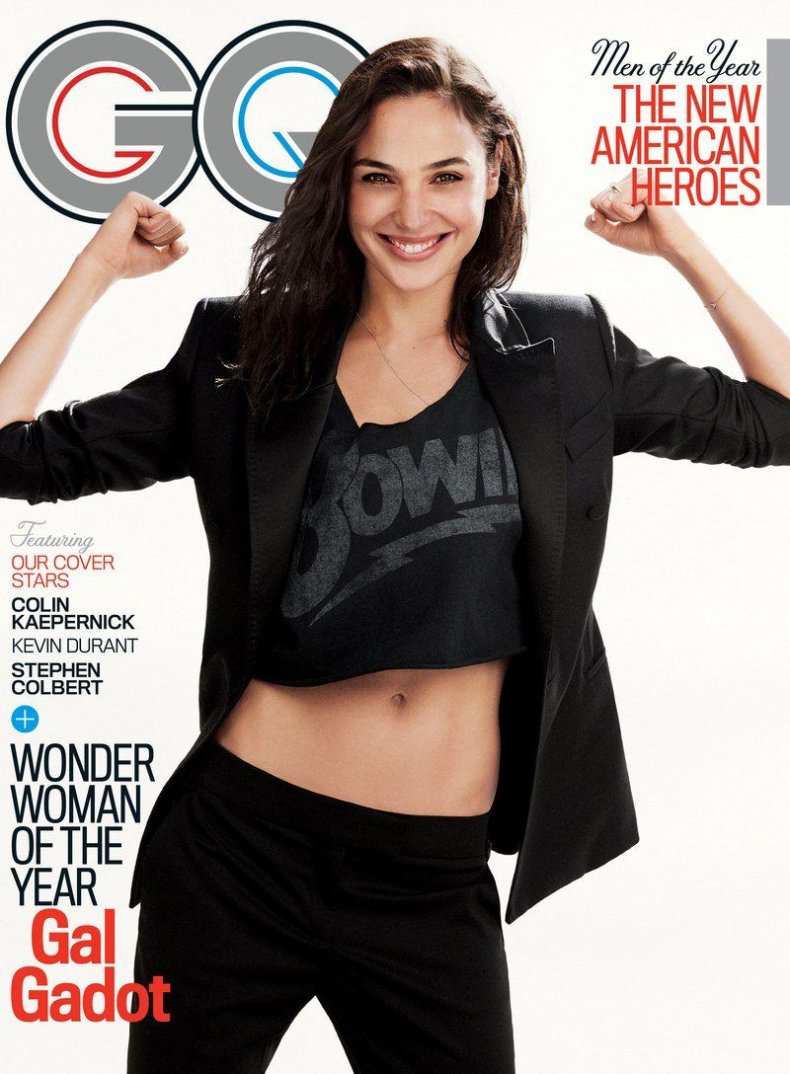 But let's start small, with GQ magazine's just announced Men (and Woman) of 2017. Football star Colin Kaepernick has been anointed "Citizen of the Year" for his epic bending of the knee, Stephen Colbert is "Bad Hombre of the Year," and Kevin Durant "Champion of the Year." The lone woman: Gal Gadot, "Wonder Woman of the Year." All excellent choices, and GQ is a men's magazine, so it makes sense that there would be more men than women.
Related: 'Wonder Woman' Punches Back Against Sexual Assault
What doesn't make sense is that Gal Gadot is the only one of the four who is exposing skin, who is sexualized. Kaepernick, Hall and Durant are all dressed to the neck, and modestly: Kaepernick in a turtleneck, Colbert in a tux, Durant in a velvet jacket.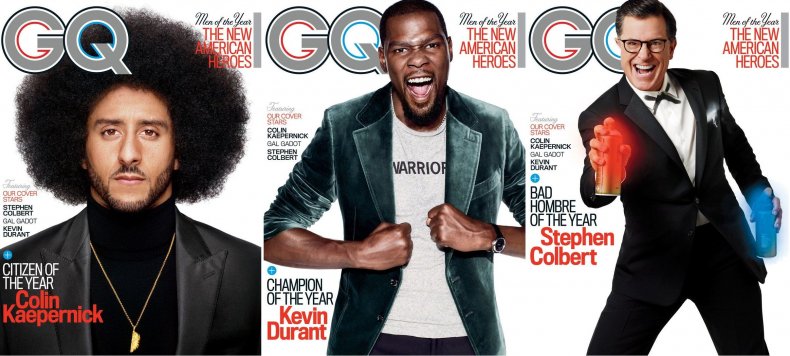 That might seem like a petty gripe, but minor decisions add up, creating expectations and unconscious impulses, stuff we absorb from childhood. Sure, Gadot, could have said no. But having worked at magazines for decades, I know the sort of cajoling that goes on at photo shoots. Gadot's outfit is not salacious, nor is the photo, but neither is it a photo that makes her look like a powerful woman.
In playing Wonder Woman, Gadot, you might argue, wears next to nothing. But in case you've forgotten, that's a role.
I worked at GQ for nearly two years. The publicists of female celebrities were often pressured by the magazine's editors (men and women) to convince their clients to wear as little as possible. The feeling seemed to be, if women weren't sexy, what value did they have for a male reader? One of the saddest cover photos the magazine published was of Michelle Williams in lingerie. She had been interviewed for her portrayal of Marilyn Monroe in the film My Week With Marilyn, an Oscar-nominated performance. Rather than celebrating what had become a critically acclaimed career, the knee-jerk idea for the shoot was to photograph her as Marilyn. (Note cover line: "Who Knew Michelle Williams Had This Body?")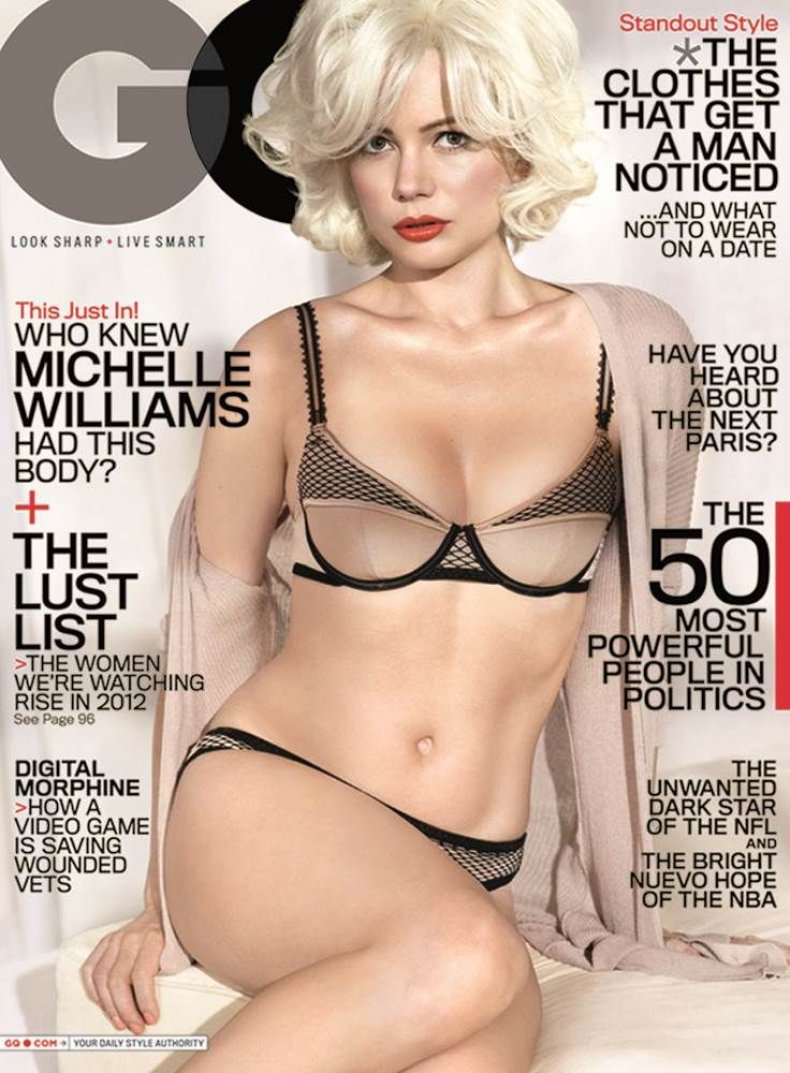 How ironic that in playing a woman who was never taken seriously, who was sexualized throughout her career, Williams was treated exactly the same way. Fifty years later, and nothing had changed. The actress looked miserable on the cover. Can you blame her?
I refuse to believe that men don't care about women who aren't "traditionally" sexy, who don't play into stereotypes. See Tina Fey, Amy Poehler, Kristen Wiig and Melissa McCarthy for a complete refutation of that myth. Their careers seem to have gone quite well without their having to pander to what they thought men might want. It doesn't mean that magazines haven't tried (and at times succeeded) in sexing them up. But how about we stop?