Only half of Americans say they intend to get vaccinated against the novel coronavirus, according to a new poll.
According to the poll, 50 percent of respondents said they plan to get vaccinated for the virus, "if and when a coronavirus vaccine becomes available." Comparatively, 23 percent said they won't get vaccinated and 27 percent said they were not sure.
The results show a decrease in the percentage of Americans that said they intend to get vaccinated against the virus, as 55 percent said yes in a Yahoo News/YouGov poll published on May 8.
The findings from the poll changed drastically when respondents were identified by who they voted for in the 2016 presidential election. According to the poll, 72 percent of those who voted for Hillary Clinton in 2016 said they plan to get vaccinated while 44 percent of those that voted for President Donald Trump said the same.
The poll was conducted by Yahoo News/YouGov from May 20 to 21 and surveyed 1,640 U.S. adults. The margin of error is plus or minus 3 percentage points.
Another poll, conducted by Reuters/Ipsos, found similar results, with 24 percent of Americans saying they weren't interested inoculated, with 14 percent saying they were "not at all interested." This poll also found that more than 40 percent of respondents who weren't interested being vaccinated believed it was riskier than the virus itself and half said they were worried about the speed in which the vaccine was being developed.
The Reuters/Ipsos poll surveyed 4,428 Americans from May 13 to May 19 and has a margin of error of plus or minus 2 percentage points.
The findings from both of these polls come shortly after the U.S. Department of Health and Human Services (HHS) said that it was collaborating with the pharmaceutical company AstraZeneca to produce at least 300 million doses of AZD1222, a potential coronavirus vaccine.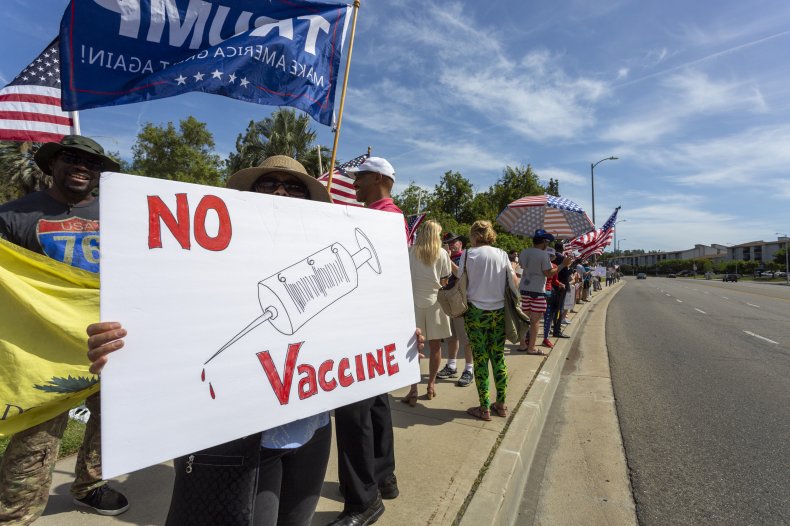 In a recent statement, HHS Secretary Alex Azar said the vaccine was important to allowing Americans to return to normalcy.
"Getting a vaccine to the American public as soon as possible is one part of President Trump's multi-faceted strategy for safely reopening our country and bringing life back to normal, which is essential to Americans' physical and mental well-being in so many ways," Azar said.
Newsweek reached out to HHS for comment on the poll findings but did not receive a response in time for publication.
The Yahoo News/You Gov Poll also found that nearly half of Trump voters, 49 percent, think that the antimalarial drug, hydroxychloroquine, is an effective treatment against the novel coronavirus, while 17 percent said they believe it is ineffective.
In comparison, only 5 percent of those that voted for Clinton in 2016 said they believe the drug was an effective treatment while 73 percent said it is not.