Support for convicting former President Donald Trump in his Senate impeachment trial appears to be split in Senate Minority Leader Mitch McConnell's home state, according to a poll published Thursday.
Mason-Dixon Polling & Strategy conducted the poll among 625 registered voters in Kentucky between February 1 and 4, just days before Trump's trial began. According to the results, 51 percent of respondents told pollsters they oppose convicting Trump, while 41 percent said they support conviction. The remaining 8 percent of respondents said they were undecided on how they want the trial to conclude, the poll said. The survey's margin of error is plus or minus 4 percent.
Recent national polls also suggest that Americans are divided about how they want Trump's second impeachment trial to end. While 56 percent of Monmouth University poll respondents said they supported the House's decision to impeach Trump, a Gallup poll published earlier this week found a smaller majority, 52 percent, in support of conviction. A recent Ipsos poll said less than half of respondents—47 percent—wanted to see the former president convicted.
McConnell has represented Kentucky in the Senate since the mid-1980s and served as the chamber's GOP majority leader throughout Trump's time in office. He won his most recent bid for reelection last November, when he defeated his Democratic challenger with more than 57 percent of the vote.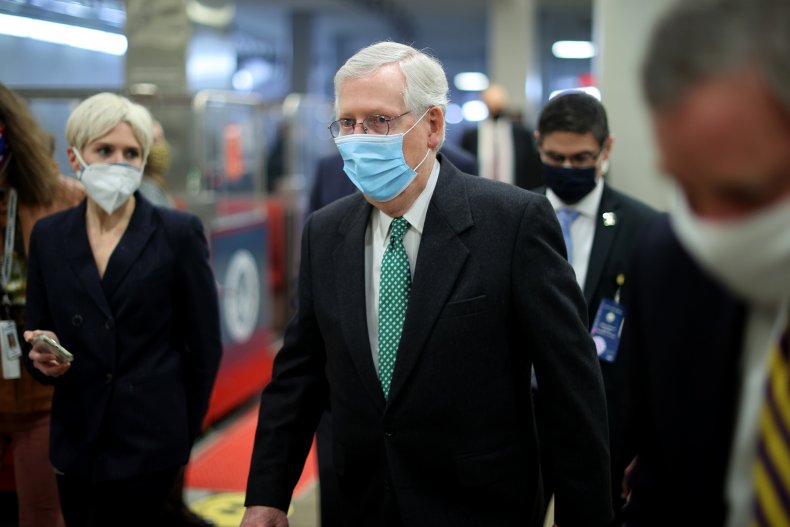 Trump also won the traditionally conservative state in 2016 and again during his unsuccessful bid for reelection last fall. More than 62 percent of Kentucky's voters cast their ballots for Trump during each election cycle.
As both chambers of Congress gathered at the U.S. Capitol on January 6 to certify the Electoral College results, protesters stormed the building and sent members of Congress into lockdown. The House later charged Trump with "incitement of insurrection" for his actions, which Democratic members said fueled the deadly riot. Trump was impeached in the House for a historic second time on January 13, and the House impeachment managers delivered their single article of impeachment to the Senate on January 25.
One day before Trump left office and President Joe Biden was sworn in as the 46th president, McConnell said in an address on the Senate floor that Trump "provoked" the mob on January 6.
"The mob was fed lies," McConnell said. "They were provoked by the president and other powerful people. And they tried to use fear and violence to stop a specific proceeding of the first branch of the federal government, which they did not like."
Though McConnell discouraged those within his party from contesting the Electoral College results in early January and criticized Trump following the riot at the Capitol, many experts believe he will vote to acquit in the impeachment trial. Proceedings started on Tuesday, with a vote on whether moving forward with the trial was constitutional. While six GOP senators voted with Senate Democrats to proceed with the trial, McConnell did not.
It is uncertain when the trial will conclude, but the House impeachment managers were expected to wrap up their arguments on Thursday. Trump's defense team will next present arguments on the former president's behalf.
Newsweek reached out to McConnell's office for comment but did not receive a response in time for publication.