The Only Justice For Breonna Taylor's Boyfriend is for Her To Still Be Alive
Breonna Taylor's boyfriend, Kenneth Walker, said that in the aftermath of Taylor's death and the protests that followed, the only form of justice would be for her to be sitting next to him, alive.
Walker appeared on CBS This Morning with Gayle King on Wednesday.
"What would justice look like for you and for Breonna?" King asked.
Walker responded, "Breonna Taylor sitting right next to me."
Taylor was a 26-year-old EMT fatally shot by the Louisville Metro Police on March 13 after officers entered her apartment while the couple was asleep. Walker told King that he was "a million percent sure" that the police didn't identify themselves before entering, prompting him to grab his gun and shoot in self-defense.
"I didn't have a clue, that's why I grabbed the gun," Walker said. "If it was the police at the door, and they just said, 'We're the police,' me or Breonna didn't have a reason at all not to open the door to see what they wanted."
When asked if he was sure, Walker responded, "I'm a million percent sure that nobody identified themselves."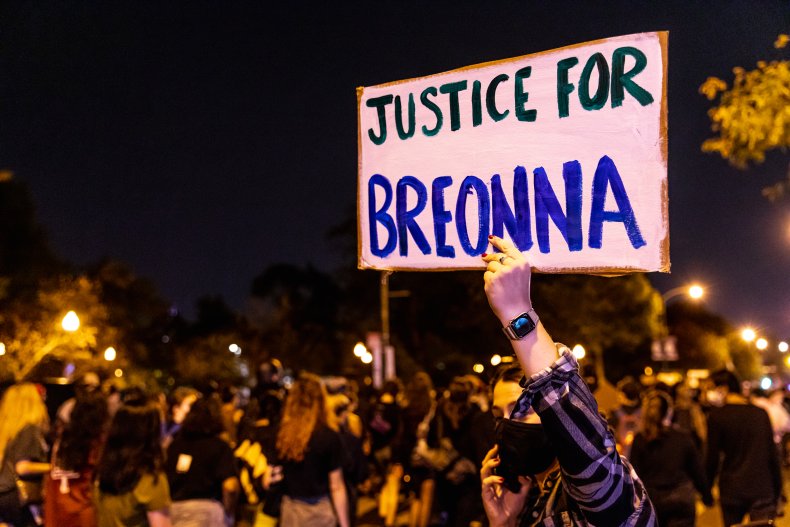 Several witnesses told Louisville police during an investigation that they did not hear the officers announce themselves before entering the apartment. One witness later changed their story.
Earlier this month, Kentucky Attorney General Daniel Cameron released tapes of the grand jury proceedings of the case following intense scrutiny by both the public and a juror. The grand jury met over a three day period to review police interviews, body camera footage, witnesses at the scene and 911 calls.
The officers testified during the proceedings that they did identify themselves before entering the apartment. According to the recordings, Lieutenant Shawn Hoover said they "knocked on the door, said 'police,' waited, I don't know, 10 or 15 seconds, knocked again, said 'police,' waited even longer."
The grand jury indicted one police officer, Brett Hankison, on three counts of wanton endangerment due to shooting recklessly into neighboring apartments during the raid. None of the three police officers involved in the shooting were charged for Taylor's death.
No drugs were found in Taylor's apartment. The police obtained a warrant in relation to a drug case connected to Taylor's ex-boyfriend, Jamarcus Glover, who has said that she was never involved in drug trading.
Walker told King that he didn't initially see the incident as a race issue, but that it was made one by police after the fact.
"I don't necessarily see this as a black-white issue... this is a right and wrong issue," he said. "It don't matter if it was blue, pink, purple, white, black, whatever. It could've been elderly people, it could've been kids, it could've been anything. But it was just wrong all the way around the board no matter who was in there."
"But it definitely turned into a black and white thing when I walked out," he added.
In a touching tribute, Walker discussed that he and Taylor were "getting things figured out" and talked seriously about marriage. He showed a pair of mini Air Jordan sneakers for their future baby, bought before her death.
"To me," he said, "it means something that's never going to happen."