'Only Murders in the Building' Episode 2 Reveals Who Tim Kono Is – And Hints At His Killer
Only Murders in the Building is the new comedy-drama on Hulu starring Selena Gomez, Martin Short, and Steve Martin as three strangers —Mabel, Oliver, and Charles respectively — who cross paths after a man was found dead in their NYC apartment building, The Arconia.
In episode two of Only Murders in the Building we learn the victim's full name from episode one is Tim Kono (played by Julian Cihi). The police think he committed suicide, but Charles, Oliver, and Mabel are certain he was murdered by somebody in their building.
Tim lived at The Arconia and after a short, makeshift memorial in the apartment lobby, we learn from several of his neighbors Tim was a reserved, quiet man and sadly, wasn't liked very much. To put it bluntly, a dead cat got more sympathy from his neighbors. There must be a reason everyone disliked Tim and the reason why may reveal a motive for his murder.
In the meantime, Newsweek has a full recap of the second episode and a round-up of the main suspects.
'Only Murders in the Building' Episode 2 Recap
Episode two picks up from the cliffhanger of episode one when it was revealed Mabel had known Tim all along. You can read the recap of episode one of Only Murders in the Building here.
Frustrated by the work of Oliver and Charles, who at this point are too preoccupied with making the second episode of their true-crime podcast, aptly titled "Only Murders in the Building", Mabel took their investigation into her own hands.
'Who is Tim Kono?' Oliver and Charles kept asking (and would later title the podcast episode). Mabel corrected them frequently "who was Tim Kono?" she would exclaim, with tears and rage in behind her eyes — the first sign of emotion from Mabel.
However, it turned out she knew Tim, pretty well and had done for years.
Tim and Mabel met as kids, outside the apartment building. Mabel was drawing and reading 'The Hardy Boys', when Tim interrupted her, quizzing Mabel on who she was, why she was here, and what floor her aunt stayed on.
From that moment on, every summer Tim and Mabel would meet up and play The Hardy Boys, creating mysteries of their own and solving them around Tim's apartment.
As they grew older, their love for 'The Hardy Boys' did too and they invited their friends, Zoe (Olivia Reis) and Oscar (Aaron Dominguez) into their exclusive club. However, their once innocent childhood game had become tainted with age, money, and alcohol. The group began breaking into people's apartments, stealing jewelry, drink and other belongings along the way.
When The Hardy Boys disbanded, Tim's love for the thrill of sneaking around wasn't broken. At the end of the episode, Mabel found hundreds of rings, bracelets, and all forms of jewelry, hidden inside his mass collection of 'The Hardy Boys' books. She also came across a drawing she gave Tim as a child.
The jewelry was not the only thing Tim was hiding. It turns out he has a dark secret, one that even Mabel was never able to uncover before his death.
In a flashback scene, Mabel, Tim, Oscar, and Zoe are seen celebrating New Year in Tim's apartment before heading to a rooftop party.
Oscar and Zoe are seen arguing on the roof before storming away from the group. Next, a huge scream can be heard and a panicked Tim appears in front of Mabel. He tells her saw someone, who wasn't Oscar, fighting with Zoe.
Moments later, it was revealed Zoe's boyfriend Oscar had been arrested and an image of Zoe's lifeless body was found lying on the street below. For some unknown reason, Tim refused to tell the police he had seen somebody arguing with Zoe moments before her death. He knew what happened to Zoe and he took all of that information to the grave with him.
Recording everything she knew about Tim Kono on her laptop, Mabel swears she is going to "f****** find out" everything about Tim. She then eerily saves the video as "In Case I'm Next", suggesting she isn't the killer after all and maybe, she is the next victim.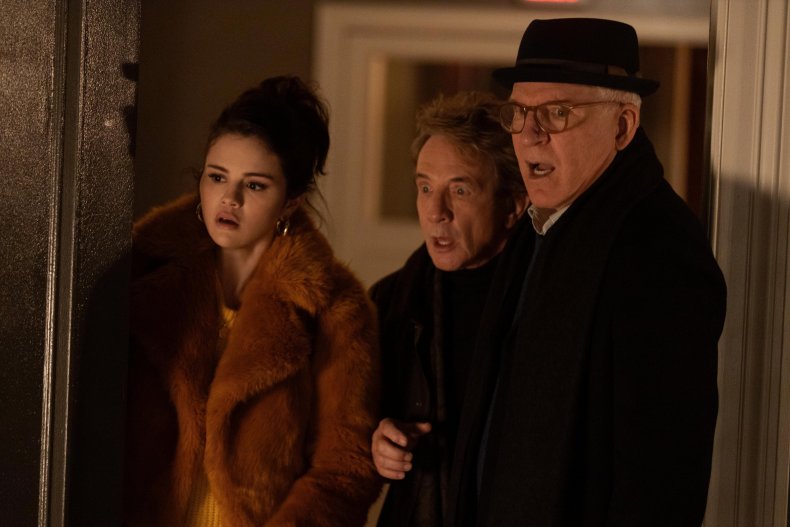 Who killed Tim? Meet the suspects ranked
Oscar
Oscar was the fourth member of The Hardy Boys and the love interest of Zoe.
Following her death, it was revealed Oscar had been arrested and by the sounds of it, may have even gone to prison for a crime he did not commit.
Earlier in the episode in a flashback scene, Mabel approached Tim to tell him Oscar is getting out of prison soon and Tim can finally make things right between the remaining Hardy Boys. However, Tim responds coldly, telling Mabel that he wants nothing to do with her or Oscar.
Perhaps Oscar has been released from prison and returned to the apartment block to confront Tim for not telling the truth about what happened the evening Zoe died.
Mabel
So far, Mabel is the only person in the building who knew Tim Kono so why is she pretending to everyone she had never met him? Surely Mabel has something to hide or to protect?
On the other hand, Mabel does seem baffled by Tim's death and in her hallucinations and flashbacks, appeared to have a close friendship with him until the night of Zoe's death, so for her to be the one may be a bit of a stretch.
However, we must not forget when we first met Mabel, she was sitting next to a dead body, covered in blood.
Mabel also spoke about having frequent nightmares of stabbing a man at the bottom of her bed with a knitting needle.
Howard
At Tim's memorial service, a man named Howard (Michael Cyril Creighton) broke down in tears over the death of his cat Evelyn, receiving a hell of a lot more sympathy from his neighbours than Tim ever did.
Later that evening, Mabel, Charles, and Oliver broke into Tim's apartment and found footprints, belonging to a cat. Howard's cat Evelyn had died the same evening as Tim and the cat's footprints technically put Howard at the murder scene — if he doesn't have an alibi, of course.
Bunny
After being introduced in episode one of Only Murders in the Building, we can finally put a face to Bunny's (Jayne Houdyshell) name.
Bunny, a grumpy, older woman who is on the housing board of the apartment block, had received a package addressed to Tim, something which he was trying to retrieve before his death.
In episode one, Charlie and Mabel broke into her apartment and took the package, opening it to reveal a huge diamond ring.
So far, there is nothing to suggest she is the killer, but she does have some ties to the murder victim so understandably cannot be ruled out as a suspect.
The first 3 episodes of Only Murders in the Building are streaming on Hulu and Star on Disney + now.
The remaining 5 episodes will air every Tuesday on Hulu and Star on Disney+.