'Only Murders in the Building' Episode 3 Hints Anybody Could Be a Suspect—Even Sting
Only Murders in the Building episode 3 saw the unlikely dream team, Oliver (played by Martin Short), Charles (Steve Martin), and Mabel (Selena Gomez) continue to investigate the murder of their neighbor Tim Kono (Julian Cihi) . The trio is convinced the murderer lives in the building, but the police are considering his death to be suicide.
In episode 2, Mabel's connection to Tim Kono was explored but this time around, it is all about the weird and wonderful residents who live alongside her in The Arconia in New York City. Newsweek has a full recap of Only Murders in the Building, episode 3, titled "How Well Do You Know Your Neighbors?"
'Only Murders in the Building' Episode 3 Recap
The Arconia's building manager Ursula (Vanessa Aspillaga) is continuing to deliver her endless supplies of gut milk, alongside all of her files on the "s***ball Tim Kono." Ursula's files contain numerous complaints neighbors in the building made about Tim before his death and Charles and Oliver are hoping the complaints will lead them to Tim's killer alongside a possible motive.
Meanwhile, there is a hilarious text conversation going on between Charles and Mabel. Charles is stressed over how to text Mabel to invite her to Oliver's apartment to go over the suspects in Tim's death. He settles for "Aloha" and signs his text off like an email with his full name. The friendship blossoming between them is adorable and they are becoming the perfect team. Let's hope it doesn't fall apart as they dig deeper into the case of Tim Kono.
When the trio meet up, they finally discuss the mysterious figure in the white tie-dye hoodie from the very first episode. Charles shared with Mabel and Oliver that on the evening Tim died, he saw a person wearing the hooded jumper heading upstairs while the rest of the building were rushing for the emergency exit because of the sound of the fire alarm.
Charles may be on to something. He also thinks Tim's fiancée could be a suspect, and Mabel cleverly suggests "tie-dye guy" could have been the fiancée in disguise.
The Charles and Mabel dream team is finally starting to take shape! They take it upon themselves—as Oliver goes elsewhere to pretty much beg an old friend for money—to semi-interrogate Howard (Michael Cyril Creighton), the owner of the dead cat Evelyn who died on the same evening as Tim.
In episode 2, Oliver, Charles, and Mabel had come across cat footprints in Tim's apartment, suggesting Evelyn and perhaps her owner Howard had been at the crime scene. In our crime-solving trio's eyes, Howard is their main suspect so far.
While spilling the tea to Charles and Mabel, he reveals Tim was "always upset about something" and that his temper had gotten a lot worse in recent weeks. He also shared that he had heard through the grapevine that Tim had recently gotten fired from the investment firm for losing a big client a lot of money.
Tim and Howard had also had some beef of their own. According to Howard, Tim had gotten annoyed that Evelyn had entered his apartment through an open window. He even thinks Tim poisoned Evelyn and has gone so far as to put his dead cat in the freezer, ahead of a toxicology report.
Either Howard is really clever and has managed to get himself a get-out-of-jail-free card or he really is not lying about suffering from Vasovagal syncope, a condition where you faint at the sight of blood. After all, when Charles began to have a nose bleed, Howard fainted almost instantly, which would make it very difficult to carry out a cold-blooded murder.
As if this episode could not get any more gripping, Oscar-nominee Amy Ryan made her first appearance in Only Murders in the Building as Jan, a professional Bassoon player. Expect to see a lot more of her.
Towards the end of episode 3, we learn the superintendent of the building is Oscar's (Aaron Dominguez) dad. Remember from episode 2, Oscar is the mutual friend of Tim and Mabel who, we assume, served jail time for the death of his girlfriend Zoe (Olivia Reis), though this has not been confirmed—yet.
Mabel is once again haunting Tim's apartment, trying on the jewelry he (presumably) stole and is going through his belongings. She comes across a note which reads: "G.M. 1/31 @ 4.30 p.m. SHORE ROAD." You may have spotted the date on Mabel's phone is 1/24 meaning there is just one week to go until the deadline on the note. Will Mabel visit Shore Road on January 31st? Probably.
Just like episode 2, episode 3 ended on a dramatic cliffhanger and this time, it teases just how dark Only Murders in the Building may get.
As Oliver heads home after publishing episode 1 of his podcast, "Only Murders in the Building" he bumps into Sting (yes, Sting from the 80s band The Police) in the elevator. The pair have an awkward chat, where Sting makes clear his dislike for Oliver's adorable dog Winnie.
Later that evening, Oliver finds a note on his door which reads "End the podcast or I will end you."
When he enters his apartment, his dog Winnie can be seen sitting wailing in the pitch dark, with a salt-like substance on the floor around her bone. Has Winnie been poisoned, just like Howard assumed Evelyn had been, and was it, Sting? Expect to find out in episode 4 of Only Murders in the Building.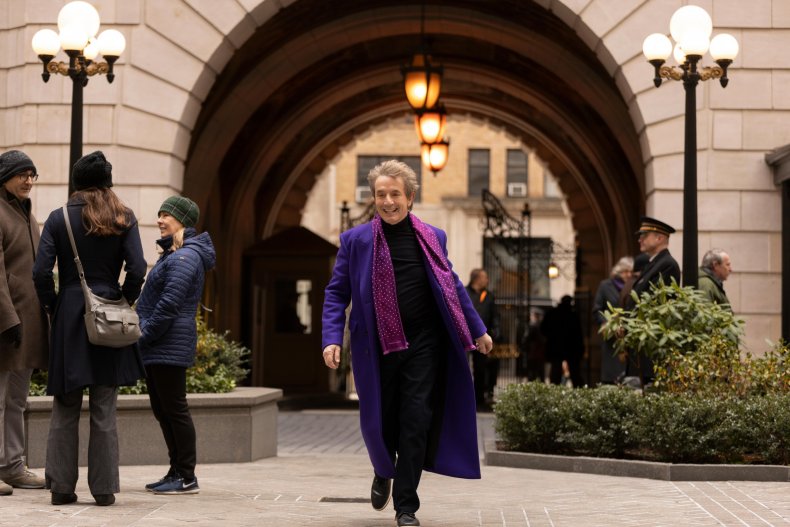 Who Killed Tim? Meet the Suspects Ranked
Mabel, Oliver, and Charles are not really fitting the category of murder suspects after this episode. Instead, they have been too focused on trying to track down the person they think pulled the trigger on Tim. Elsewhere, Oliver has been focusing on himself, trying to find some sponsorship for the podcast, and do the necessary things in life like paying rent his rent on time.
1. 'Tie-Dye Guy'
For now, "Tie-Dye Guy" is the prime suspect. Unless you are a fireman, who runs into danger when everybody else is fleeing the building during a fire alarm? Tie-Dye Guy does.
All fingers are pointing at him (or her) as later that evening, Tim Kono was found dead with a gunshot wound to the head.
2. Oscar
Oscar, Tim, and Mabel's childhood friend is out of prison or getting out of prison (it's not quite clear) but in episode 2 it was revealed Tim saw somebody, who was not Oscar, fighting with Zoe before she ultimately fell to her death.
It is very possible Oscar is now back in the Arconia and has gotten his revenge—killing Tim, who by not going to the police with his evidence, may have played a role in his wrongful incarceration.
3. Sting
When Oliver meets English musician and actor Sting, in the elevator of The Arconia, we learn pretty quickly Sting does not like dogs, and in particular, really does not like Oliver's dog Winnie.
When Oliver returns to his apartment later that evening to find his dog potentially poisoned... could it have had something to do with Sting?
Howard also echoed fears his cat Evelyn had been poisoned by Tim before his death but perhaps there is a different pet killer on the loose in The Arconia.
As the episode comes to an end, Sting performs on an empty stage and eerily sings the Police hit "Don't Stand so Close to Me" straight into the camera.
Oliver teases Sting may have a lot more to do with the mysterious and murderous activity in the building, including the poisoning of Winnie when he can be heard saying: "Turns out your most well-known neighbor, might be the one you know the least."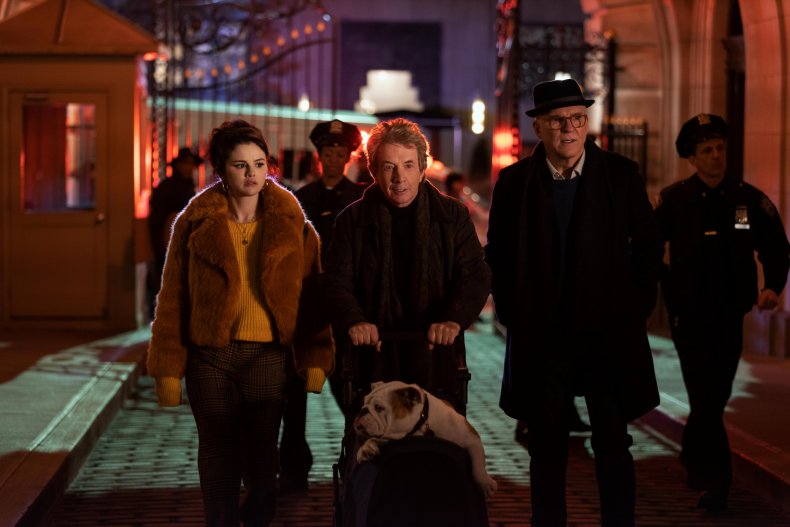 4. Howard
Either Howard genuinely suffers from Vasovagal syncope or he is a very good actor.
In Charles's eyes, Howard is acting and should not be ruled out as a suspect in Tim's death, after all the two did have serious beef between them.
However, in Mabel's eyes, Howard would be the last person to be at a bloody murder scene if he suffers from Vasovagal syncope, and to her, his collapse seemed all too real.
5. Tim's fiancée
We have yet to meet Tim's fiancée but we do know he may have been planning to propose very soon.
Did his partner perhaps want him out of their life? The theory cannot be ruled out, anything is possible at The Arconia.
Only Murders in the Building drops Tuesdays on Hulu and Star on Disney+.