'Only Murders in the Building' Episode 4 Recap: Sting's the Main Suspect
Only Murders in the Building episode 4 picked up from the weird and wonderful, yet titillating and terrifying, cliffhanger of the third episode that saw Oliver's (played by Martin Short) dog Winnie poisoned (the main suspect is The Police frontman Sting), a threatening note delivered asking him to end the podcast on Tim Kono's (Julian Cihi) death and Mabel (Selena Gomez) potentially one step closer to meeting Tim Kono's killer.
In episode 3, Mabel found a note in Tim's belongings which read "G.M. 1/31 @4.30PM SHORE ROAD". "Who the f****G.M.?" she asks at the start of episode 4? Here's hoping we find out. Newsweek has everything you need to know about episode 4 of Only Murders in the Building, titled "The Sting."
'Only Murders in the Building' Episode 4 Recap
To begin with, the good news is, Oliver's dog Winnie survived the poisoning. The bad news is, not only does Oliver think he is the leader of the group, he thinks "musical superstar" Sting was the attacker and is also the person who left the threatening "End the podcast or I end you" note on his door.
Somehow, things are not looking good for Sting's case. In Only Murders in the Building (remember this is a TV show), Sting has lost millions as a result of mismanaged funds by his former investment firm Wright and Ogilvie which just happened to be Tim Kono's former employer. This ultimately provides Sting with a possible motive. Charles (Steve Martin) then adds more pieces to the puzzle, when he remembers Howard (Tim's cat-obsessed neighbor) sharing shortly before his death that Tim's short temper had gotten worse after he was fired for losing a "big client's money"—was that big client Sting?
After some digging Charles finds he was on Ursula's (Vanessa Aspillaga) list of people in the building on the night of Tim's murder and on her list of people who stayed in the building during the fire alarm. We have our "next O.J." in Oliver's eyes, a "hot Buddhist O.J." he cries. To be fair to Olivier, Sting actually might just be their new prime suspect.
But instead of going to the police with their theories about Sting, Charles, Mabel, and Oliver head straight for their true-crime idol, Cinda Canning (Tina Fey), the host of the true-crime podcast "All is Not Ok in Oklahoma" that started this whole thing. She gives them some advice on how best to approach Sting. Cook him a 17-pound Turkey to get a confession, or bring him their version of a turkey, she suggests. Charles hesitates, explaining they don't want to make a mess because it's Sting, but Cinda beautifully tells them to "embrace the mess, that's where the magic lives."
As Mabel and Olivier spend their evening trying to figure out how best to approach Sting, Charles heads out on a date with Jan (Amy Ryan). The date was pretty intense, with Jan asking lots of questions about his childhood and his past relationship. Charles does not take it well and completely blows it, but this is the Amy Ryan, this will not be the last we see of her, so you'll be pleased to know Charles apologized and asked her for a second date.
The following day, Charles, Oliver, and Mabel visit Sting, the day before he (suspiciously) leaves town. Bringing him a turkey for breakfast, Sting welcomes them in for a chat. He apologizes to Oliver for being rude in the elevator about his dog, before admitting it was true he had fired Tim.
Sting then confesses to killing Tim...sort of. He admitted to firing him and telling him to go kill himself in a fit of rage after Tim lost him a lot of money. Just like the police accounts say, Sting believes Tim died by suicide and he ultimately feels responsible.
Defeated by the dead end they've reached, Mabel returns home to wallow in their failure. She comes across another Hardy Boys book, titled The Shore Road Mystery. She frantically Googles the plot of the book, which features a man named Gus Montrose.
Glancing at the note she found in Tim's apartment that read "G.M. 1/31 @4.30PM SHORE ROAD" and then at the stack of jewelry kept in Tim's apartment, Mabel pieces everything together.
She searches Gus Montrose Jewels and comes across a store named Montrose Jewels, situated at 345 Teaneck Road, Teaneck New Jersey. Was Tim planning to sell the stolen jewelry?
Once again, things come to a dramatic end in episode 4 of Only Murders in the Building. Charles and Oliver now know Mabel has connections to Tim Kono, thanks to Oliver's son Will ( Ryan Broussard), who remembers her as a kid. He also spills to his father and Charles she may have kept her friendship with Tim a secret to "avoid suspicion," after their friend Zoe (Olivia Reis) died after falling from the roof of the building a few years ago.
Mabel is then seen leaving the apartment block, she is being followed by a tie-dye guy. Finally, some air time for the first main suspect in this show.
In the episode's final moments, the series jumps forward by a "few months" to see true-crime podcast host Cinda Canning revealing her latest project, "Only Murderers in the Building" about a fake detective and his group of "true-crime buddies" who became "real" detectives. Sound familiar? That's because it is.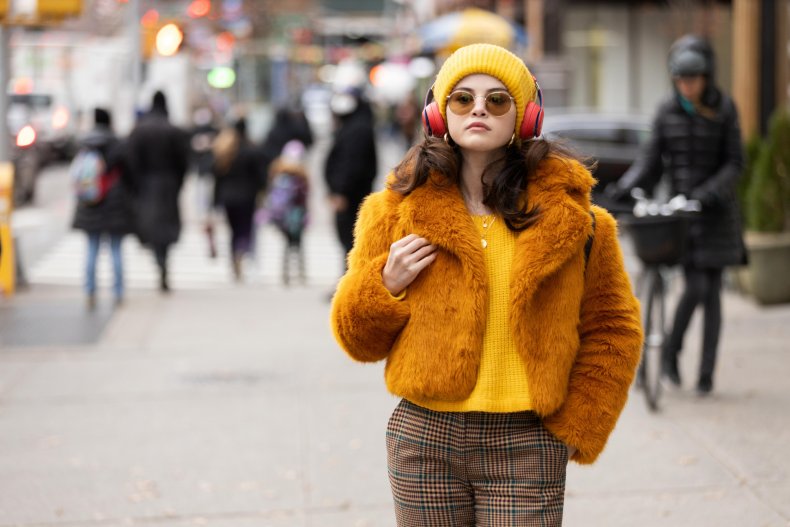 Who Killed Tim? Meet the Suspects Ranked
1. Mabel
The spotlight is back on Mabel this week after Will reinforced the possibility she could be a person of interest.
The fact she used to be friends with Tim is not what is suspicious, it is the fact she is hiding her past from Charles and Oliver. What could she possibly have to hide?
2. Tie-Dye Guy
Tie-Dye Guy is back and he/she is the second prime suspect in the death of Tim Kono. They were seen at the end of episode 4 following Mabel down the exact same road. Coincidence? Probably not.
On the evening Tim was murdered, Tie-Dye Guy was seen running up the stairs into the building instead of leaving like everybody else.
All fingers are pointing at him (or her) as later that evening, Tim Kono was found dead with a gunshot wound to the head.
3. Sting
It was never going to be Sting, was it? Unless he is a great liar and has his team working for him to cover up his killing.
After all, he never denied poisoning Oliver's dog Winnie, so Sting may not be as innocent as he seems.
Only Murders in the Building drops Tuesdays on Hulu and Star on Disney+.