'Only Murders in the Building' Finale Recap: Who Killed Tim Kono?
After 10 weeks and 10 episodes, our favorite crime-solving trio Mabel (played by Selena Gomez), Charles (Steve Martin), and Oliver (Martin Short) finally caught Kono's killer in what was a huge twist nobody saw coming.
Newsweek has a full recap of the Only Murders in the Building finale.
Who Killed Tim Kono?
Every episode of Only Murders in the Building had brought forward a brand new suspect each week, with every lead seeming quite plausible. Even the concept of Sting being Tim Kono's murder seemed completely fair game.
But, if you thought Jan (Amy Ryan) could not be trusted, you were right and if you thought she could not possibly be Tim Kono's killer, you were so very wrong.
The finale picked up from the cliffhanger of Episode 9, which had everybody questioning Jan's intentions after she was caught by Charles lying about being the first female chair in the New York City orchestra.
Simultaneously, Mabel and Oliver had discovered Jan's bassoon cleaner amongst Tim's collection of sex toys, confirming that Jan did know Tim after all. Thankfully, Mabel and Oliver were clever enough to join the dots and rushed to tell Charles of their discovery.
As panic ensued, we heard a little from Tim Kono in a talking-head flashback who revealed in the weeks before his death, he had been feeling lonely and had struck up a sexual relationship with Jan as a result, which turned sour when he tried to break up with her.
Jan then arrived at Charles' apartment, with her tail between her legs playing the self-pity card. She apologized for lying to Charles about her place in the orchestra and he invited her in, acting cool as a cucumber over the fact he was potentially face to face with a murderer.
There was a reason for Charles' uncomfortably chilled approach—he knew Jan was the killer and he was willing to risk it all to get her confession on tape.
He told Jan that he was fully aware (as were Mabel and Oliver) she had poisoned Tim's alcohol the night he died and he knew Jan may have poisoned the old-fashioned she had made for him.
Excited by Charles' epiphany, Jan revealed her joy that the truth was out, believing Charles would accept her crimes and they could live happily ever. However, as Charles proceeded to go through more of the evidence against her, he began to lose his balance and his ability to speak coherently. Jan then revealed she had not poisoned his drink but had poisoned his handkerchief as Charles collapsed onto the floor.
After excruciating scenes of Charles in a worse-for-wear state, riding the Arconia elevators and missing Charles and Mabel who are frantically searching for him, the trio were eventually reunited. Oliver also managed to unlock Charles' phone which contained the final piece in the Tim Kono puzzle, Jan's confession of murder.
However, the story was not over there. Charles, Mabel, and Oliver later came face to face with Jan in the building's basement, who was brandishing a gun at the trio.
Eventually, Oliver rammed the dog pram which had been converted into a wheelchair for an immobile Charles into Jan and Mabel punched her to the ground, knocking the gun out of her hands. There was no escape for Jan and she was eventually arrested and just like that, Tim Kono's murder was solved.
With that being said, the finale was not short on twists and cliffhangers and the best was saved for last. In the final moments of the episode, Charles, Mabel, and Oliver celebrated their success on the rooftop of the Arconia, where they discussed their future podcast plans.
When Mabel popped down to her apartment to get some more champagne, police sirens could be heard descending on The Arconia, an all too familiar sound but nobody could have been prepared for what was to happen next.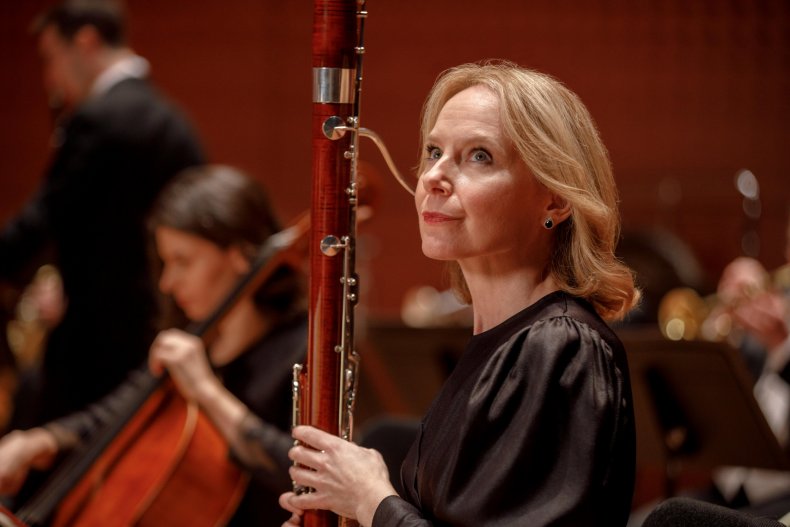 As Charles and Oliver looked down below, they received a text from an anonymous number which read: "Get out of the building now!!!" Like the father figures they are, Charles and Oliver ran to Mabel's apartment to make sure she was safe and to escort her out of the building.
However, they found Mabel covered in blood lying next to Arconia board member Bunny (Jayne Houdyshell),who had been stabbed with Mabel's knitting needle.
Mabel cried out "It's not what you think" and insisted she innocently opened the door to Bunny and she stumbled in.
The episode concluded with Charles, Mabel, and Oliver being arrested by the police, as rival true-crime podcast host Cinda (Tina Fey), coined the name of their next podcast, "Only Murderers in the Building."
Only Murders in the Building is streaming on Hulu now.