What the 'Only Murders in the Building' Cast and Crew Have Said About Season 2
Who would have thought Selena Gomez, Martin Short, and Steve Martin would make the perfect comedy trio? In Only Murders in the Building, the three famous faces star as true-crime podcast-obsessed strangers living in an NYC apartment block, who bond over their mission to solve the murder of their neighbor Tim Kono (played by Julian Cihi).
With their first murder (seemingly) solved and an epic cliffhanger in the Season 1 finale that saw Mabel (played by Selena Gomez), Charles (Steve Martin), and Oliver (Martin Short) as suspects, fans will be overjoyed to know Season 2 has been given the green light. Newsweek has a full run-down of everything the cast and crew of Only Murders in the Building have said about Season 2 so far.
What the OMITB Cast and Crew Have Said About Season 2
Amy Ryan
Amy Ryan played the role of Jan, the twisted lover of Charles and Tim Kono's killer.
Mabel, Oliver, and Charles connected the dots and realized Jan was the killer after all, but she did not go down without a fight, poisoning Charles and brandishing a gun at the trio, ready to shoot.
In the finale, Jan was arrested and was last seen being led into the back of a police van. However, this may not be the last time we see Jan after all, Amy Ryan teased to the New York Times.
She said: "Maybe Jan will be back, I'm not sure—someone will have to come bring her a cake in jail, I suppose. Jan can be in a cell with Selena or something, lose her mind."
John Hoffman
John Hoffman co-created Only Murders in the Building alongside Steve Martin, who appears in the series. Hoffman also serves as the show's executive producer and in conversation with Deadline, he gave some subtle hints about what fans can expect in Season 2.
In particular, he revealed Season 2 could explore Mabel and Oscar's (Aaron Dominguez) romance.
He shared: "I love Aaron Dominguez and we talked a lot about this character. I think it's a really complicated relationship that he and Mabel have and it's going to be interesting to see where it goes. It's born out of tragedy or around a time of great tragedy for both of them. There are certain dreams they both have that they recognize who they are together, but I think they have work to do to understand exactly who they are and if they're meant to be together."
He also confirmed the iconic Jane Lynch will be invited back to play Charles' stunt double, Sazz Pataki.
Hoffman gushed: "There are a few pitches. But this was one that jumped out when we were in the writer's room last year and it was decided that Steve Martin's stunt double has to be Jane Lynch. We just sat in stunned silence knowing we now had to make a whole episode about that. We had the best time working with her and we all want her back. I can't imagine a world where Sazz isn't part of our group going forward."
Speaking to Entertainment Weekly, Hoffman said the second outing of Only Murders in the Building is heading in a "bigger direction."
He said: "I'm really happy with the direction it's going. And it's not shy about going in a bigger direction because with all of them on the hot seat, having stepped in it in such a way, it really goes back and forth between being talked about in New York, and being celebrated or talked about the wrong way. And that has been really fun to write, especially for these three people."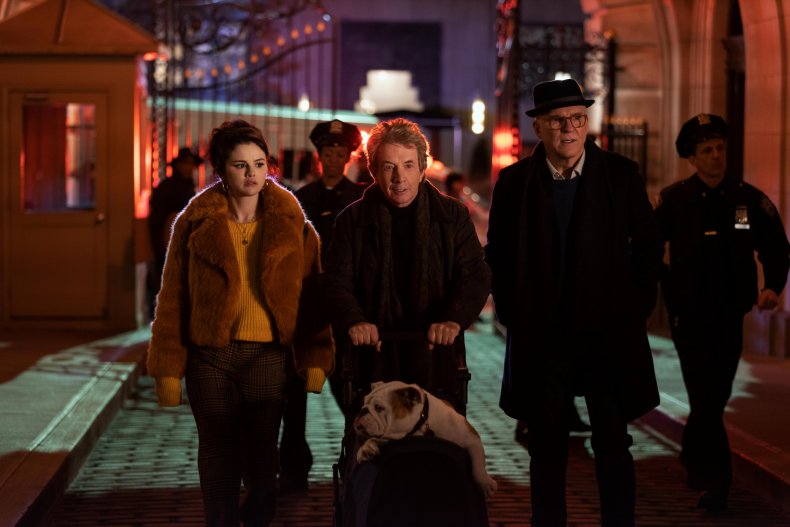 Selena Gomez
The main cast of Only Murders in the Building has kept relatively quiet about the plot for Season 2, but Selena Gomez has shared her excitement about returning for another season.
Taking to Instagram ahead of Episode 9's release on Tuesday, October 12, Gomez posted an image of her on the set of Only Murders in the Building, wrapped in jackets to keep warm.
She penned under the post: "New episode out today. Sad @onlymurdershulu only has 1 episode left. Can't wait to shoot season 2!"
Only Murders in the Building is streaming on Hulu now.