"The Only Person Who Is a Sure Thing": Bill Maher Goes All In On Oprah Winfrey 2020
Political commentator Bill Maher provided a full-fledged endorsement of Oprah Winfrey for the Democratic presidential nomination in 2020, despite the fact that the media magnate has stated on multiple occasions that she is not running.
"The only person who is a sure thing is Oprah Winfrey," he said on his HBO show Real Time With Bill Maher Friday night. The comedian made the argument that "history has chosen" Winfrey to enter the 2020 race, a revelation, he joked, that came "one night, when I was self medicating," a reference to the host's frequent marijuana use.
"Oprah alone checks all the boxes that a Democrat needs to win," he said.
Maher ticked off a few essential items he believes to be necessary to win in 2020. At the top of his list was the ability to energize African-American voters. ("Oprah? Uh, yeah! I think a little more than John Hickenlooper.")
Maher added a quip about Winfrey's huge popularity among women, who make up 53 percent of the electorate, according to the Pew Research Center.
He also said he believed white men would be amenable to her candidacy and her celebrity status would be attractive to members of the electorate.
In an October 2018 poll from Axios, 53 percent of registered voters said they would choose Winfrey over re-electing President Donald Trump, who earned only a 41-percent share of their support.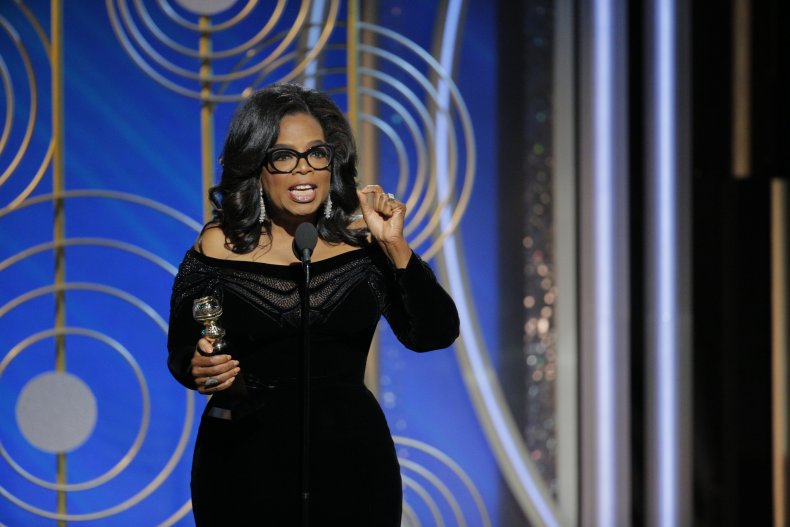 In a March 2018 cover interview with InStyle magazine, Winfrey said about running for president: "That's not for me."
On The Jimmy Kimmel Show the following month, she reiterated her decision.
"Where do I look into the camera," she asked, emphasizing the finality of her choice. "I am definitely not running for president."
The audience cried out, shouting "no" as the media mogul made it clear she would not be joining the race.
Speculation first began to emerge after a fiery speech Winfrey delivered at the 2018 Golden Globes. At the ceremony in January where Winfrey was accepting the Cecile B. DeMille award, she lashed into the scourge of sexual misconduct that had been put into the spotlight by the national #MeToo movement, which gained steam only a few months prior.
"I want, tonight, to express gratitude to all the women who have endured years of abuse and assault," she told the audience. "Because they, like my mother, had children to feed and bills to pay and dreams to pursue."
Her comments drew instant praise, and murmurs abounded about a possible foray into the political arena, a beat that some supporters have not stopped drumming despite Winfrey subsequently ruling out a presidential run.