'The Only Spotter I Need': Woman's Adorable Gym Buddy Goes Viral
Having someone to work out with can be motivating, and one woman's gym partner is melting hearts, as seen in a few viral videos shared on TikTok.
Alison Levi shares workout content on her account @alifit.training, and she's also posted some videos that include her corgi puppy named Trevor as he sat close by while she completed her exercises.
According to the Centers for Disease Control and Prevention (CDC), working out with a friend can help someone feel more motivated to work harder and more consistently.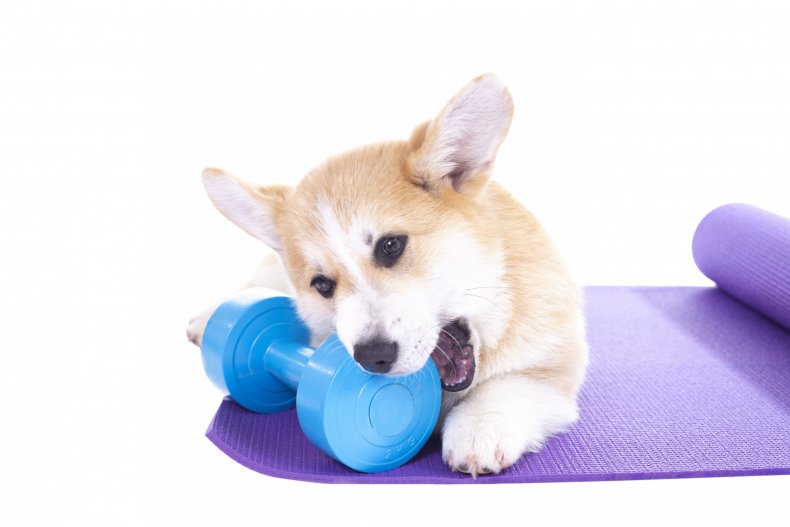 And, people may find themselves more adventurous with their workouts.
"It's easier to try new things with a buddy," an article published by the CDC stated. "You may just find an activity you love, one that feels more like fun and less like a workout."
In one of Levi's videos, which was viewed more than three million times, she is seen deadlifting just as her puppy sauntered over before laying down.
"The only spotter I need," the text over the video read.
Some commenters were concerned that the pup would get in the way of the workout and potentially get injured, but Levi assured them she was working with light weights and it was a controlled environment.
Levi wrote to Newsweek that Trevor goes with her to her gym one or two times each week, and he's typically found sleeping or nipping at her.
"But it's always great to have him around," she said.
Others shared their love for the heartwarming clip.
"Dogs cannot resist invading your space when you're doing ANY workout," one TikTok viewer claimed.
"The little tail flutter," wrote another.
"I would've just cuddled with him no way I could concentrate," a viewer commented.
Wrote another viewer, "He/she was like, 'you can do this mum but I'm gonna just sleep here for a bit.'"
Levi shared another video that has since gone viral, this time viewed more than two million times, showing her loyal canine staying close to her as she benched.
"Corgis are the best especially gym corgis," a viewer declared. "I have 2."
"Best lifting partner ever," a comment read.
In some of her other videos throughout Levi's account, she jokingly refers to the puppy as her "PT" or "personal trainer."
This puppy is not the only one making sure its owner is getting through their workout. A viral video shared on Reddit shows a man getting some training from his cat while doing pushups.
When he came up from a pushup, the cat pushed him back down several times.
Another sweet video was taken at the gym showing a woman having a conversation with her "gym crush."
One video went viral for a workout completed by a woman wearing 8-inch heeled boots and long fingernails.