'The Only Way I Can Feel Normal:' Teen Who Lost Leg in Car Crash Begs for Return of Moped
A teenage boy who lost his right leg in a car accident last summer is begging for the safe return of his electric scooter after it was stolen from his Norfolk, Virginia, workplace earlier this week.
"I usually take it to the beach [because] I only live two blocks down, but I can't do that anymore," 17-year-old Julius Brown told Newsweek via Facebook Messenger. "Honestly, it's just boring being stuck in the house. I miss going out again."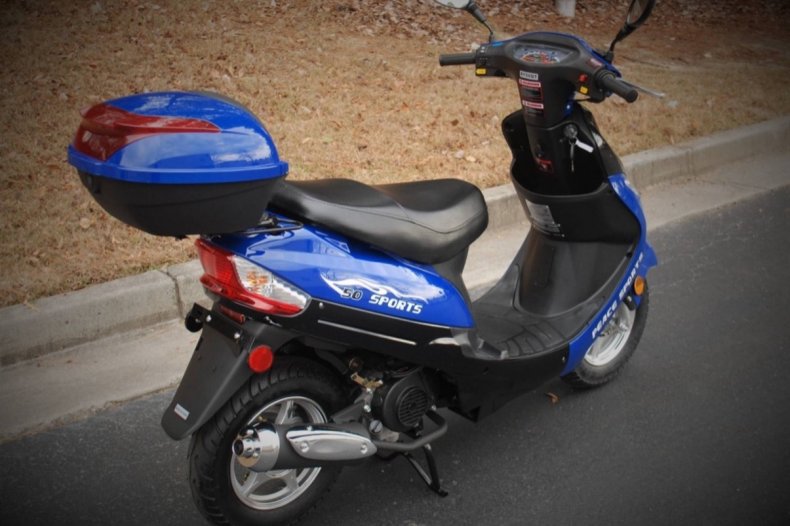 When Brown finished his shift at a Children's Hospital of the King's Daughters Thrift Store on Monday afternoon, he walked out to the parking lot to ride the blue scooter, a present from his mom, home. To his surprise, it was nowhere to be seen. Sometime between 2 p.m., when his boss sighted it, and 4 p.m., when Brown clocked out, it had been taken, according to the local news outlet WAVY.
The scooter is more than a mode of transportation; it's a source of freedom and mobility. Less than a year ago, Brown and his mother, Tonya Perrine, were driving in North Carolina when the car "swerved a little bit" and flipped over three times, ejecting Brown "a solid 15 feet," Brown told WAVY. He sustained injuries to his right leg so severe that doctors decided to amputate.
While Brown was recovering from the surgery, Perrine bought him the scooter. This enabled Brown to get around more easily, so he took the job at the thrift store.
Once he realized that the scooter was missing, Brown notified the police, he told Newsweek. While the responding officer was helpful, "there have been no [further] updates from the police or detectives about my missing scooter," he said. He said he has "no idea who took it and why they took it."
"I think it was just pick of the draw [sic] and I got unlucky," he added.
In addition, Brown's social life has suffered. He hasn't been able to visit the beach or hang out with his friends, which he describes as "upsetting."
"I would just like…my moped back. It's the only way I can get to work, it's the only way I can feel normal, feel like I'm helping out again. I would like it back. It sucks they stole it," he told WAVY.
However, Brown's story has attracted sympathy online. The day after the theft, Brown's stepfather, Austin Perrine, made a GoFundMe page to raise money for another scooter."[S]ince times are tough right now," he wrote, "we don't have the funds to get him [Brown] a replacement." Estimating the cost of the vehicle itself at $950, not including "sales tax and tags and registration," he set the goal at $1,100. As of Wednesday evening, the page had surpassed that by $235. One person, Peter Smith, even donated the entire amount.
"[W]e are still in disbelief that we made it and more," Brown told Newsweek. While the family hasn't "pulled the money out" yet," Brown has already begun looking for a new moped, he said.