OnlyFans Faces Backlash After Reversing Decision to Ban Adult Content
OnlyFans has dropped plans to ban "sexually explicit content" on the subscription site, amid much backlash from sex workers.
However, according to some adult content creators the "damage has already been done" in terms of their trust in the company.
The pay-to-view service released a statement on Twitter on Wednesday, August 25, announcing that they were pulling plans to ban pornography, which began: "Thank you to everyone for making your voices heard.
"We have secured assurances necessary to support our diverse creator community and have suspended the planned October 1 policy change.
"OnlyFans stands for inclusion and we will continue to provide a home for all creators."
The proposed ban was initially announced by the company on August 19, and it revealed the move was in order "to comply with the requests of our banking partners and payout providers."
OnlyFans had been facing increasing scrutiny from payment providers, including Mastercard who have imposed tougher restrictions on those selling adult content. This was lobbied for by anti-pornography conservative groups under the guise of tackling sex trafficking and exploitation.
But the website's U-turn is perhaps a bit late, as one OnlyFans creator, known on Twitter as @FrankieAndLucyX, explained: "No chance. You have proved that not only are you untrustworthy but you are willing to put millions of creators out of a job + possibly dangerous situs for money you didn't even tell us first.
"Plus I'm not f**king my fans around already moved. Damage already done."
Porn star Ryan Driller, known on the app as @ryandriller, tweeted: "Just wanted to double check, we're all still leaving @OnlyFans anyway, right? I mean, it's blatantly obvious they don't give 2 flying fucks about us. They were ready to drop everyone on a dime, and haven't said they absolutely won't still."
Another adult content creator, Sp00kyWitchMom, who has moved over to Fansly and Pocketstars, asked the company: "Do you honestly think that this is going to bring everyone back? Bc you're wrong. If you are thinking about returning to OF, think hard about that.
"They took our hard work, built their notoriety, and then threw us to the curb. No ty [thank you]."
Sex educator and writer Elle Stanger, known as @ElleStanger, wrote: "I just woke up to the news! I still don't trust them at all: I don't trust any platform and I encourage all online adult content creators to not put all their t**s and d**ks in one basket. #onlyfans."
Adult star @Savannah_solo, who has 310,500 followers on Twitter, added: "Something about the special way you gaslight and manipulate us is starting to make me feel like this account is run by my one of my ex boyfriends."
OnlyFans creator @Thesleazynicks opined: "That part. we made your platform, how about some recognition and PROMOTION! call it how it is, you're a porn site! that's the only reason you're a house hold name. OWN IT!"
Sex work advocate Jaysen Bowman, @Jaysenbowman, added: "So translation, you thought that your business model could survive by demonizing sex workers. And instead you took the PR hit and realized you had to back out.
"This isn't 2005—most people don't think of sex work as shameful or dirty. It's work. Demonizing them was a bad move."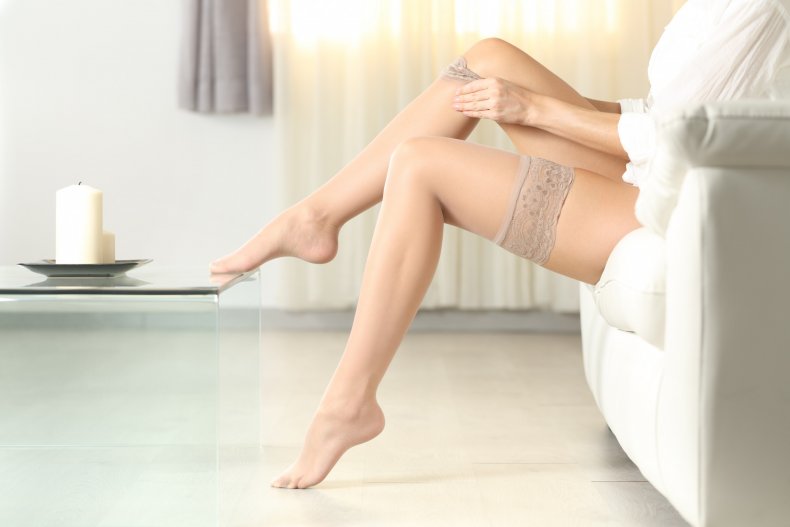 In response to the barrage of criticism online after the news of the ban broke, OnlyFans tweeted on August 21 a message of assurance to those that create adult content.
It read: "Dear Sex Workers, The OnlyFans community would not be what it is today without you.
"The policy change was necessary to secure banking and payment services to support you. We are working around the clock to come up with solutions. #SexWorkIsWork"
Some people picked up on the fact that in the U-turn announcement, OnlyFans did not refer to the people the ban would affect as sex workers as they had in the above tweet.
Another porn star known as @FreshieJuice tweeted: "Ok but you're back to calling us creators. You can call us sex workers. Or is this your subtle way of going back to ignoring us."
However, some were still thrilled that they were able to continue using the platform, including @Cir0cmami who's in the top 1.1 percent of all OnlyFans creators.
She wrote: "I don't know why everyone's so mad in the comments. This is amazing news & I'm glad u all read the room n are supporting the ppl who made OnlyFans what it is :)."
Newsweek has contacted OnlyFans for comment.
The graphic below, from Statista, shows how OnlyFans has grown in revenue substantially from 2020 to 2021. It is still poised for substantial growth in 2022, according to the company's own predictions.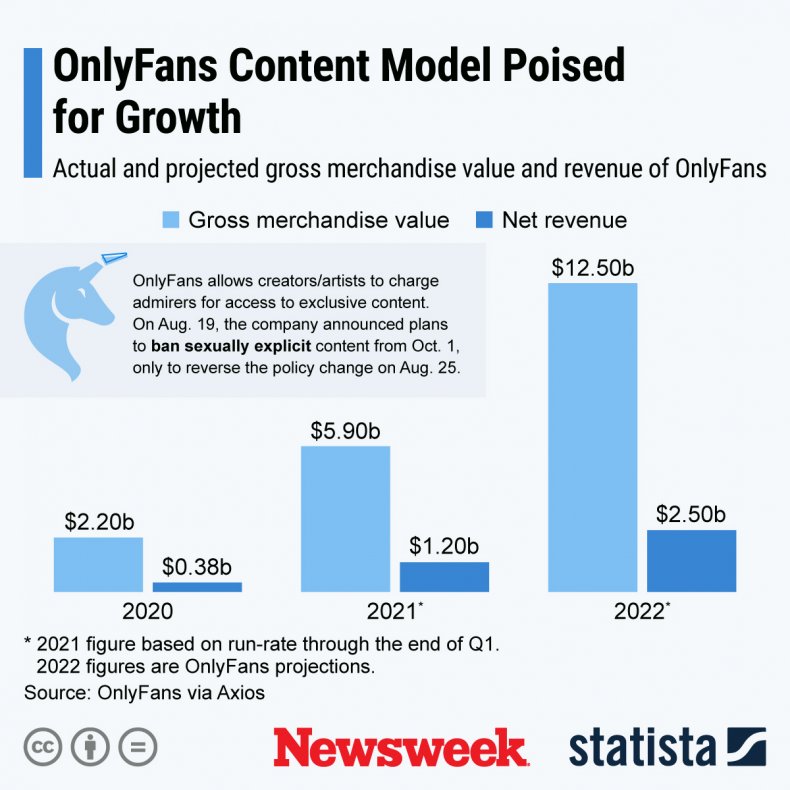 Update 08/26/21, 10:08 a.m. ET: This article was updated to include statistics on OnlyFans' growth and a graphic from Statista.
Correction 08/27/21, 6:05 a.m. ET: This article was updated to correctly attribute a quote from Elle Stranger.