Your favorite digital brands are probably going to roll out some entertaining jokes on Thursday, but one platform is completely serious with its new product launch. Explicit photo-sharing platform OnlyFans just announced that it is selling a portable fan.
If you've heard of OnlyFans, you've probably also heard jokes about the brand—hundreds of memes and mentions of an actual, electronic fan related to the brand have buzzed since the launch of the platform in 2016. And OnlyFans took them to heart...now introducing the "OnlyFan."
Yes, it is the "OnlyFan" on the site's merchandise store and it may be the only fan you need.
Fittingly, there's only one model of fan the company is launching, a portable device that also doubles as a power bank. That means you can use it to cool down, or to charge your phone. It's the best of both worlds.
OnlyFans announced the release Thursday morning via social media. The fans are available for pre-order on the OnlyFans online store, where they retail for $20. And don't worry. The OnlyFans logo is on the fan, so the pun will be apparent when you welcome the new device to your home decor.
A spokesperson for OnlyFans told Newsweek that memes about a branded fan sparked the real product.
"After seeing the memes this past year, it was only fitting we created a fan for our community," they said. "The OnlyFan was ready just in time for an April 1st pre-order announcement and will ship later this month."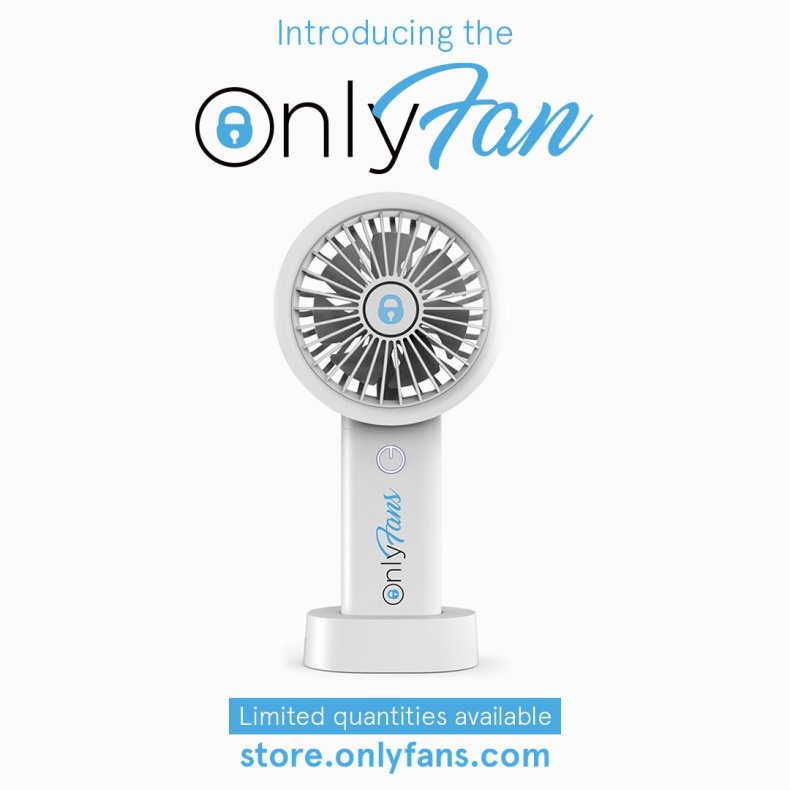 While the fan is a real product, and not part of an April Fool's hoax, the launch by OnlyFans was strategic in that the hilarious piece of merchandise is a joke in itself, inspired by the memes that continue to surround the platform.
So how can you buy it? Visit OnlyFans store here and you'll find the fan among other OnlyFans merchandise, like T-shirts, hats and face masks. It's expected to ship in mid-April, so you might have to wait a few weeks before you can feel the breeze.
OnlyFans is a photo- and video-sharing website that requires individuals to subscribe to their favorite content creators. Once subscribed (mainly by paying a monthly fee per creator), they're able to access exclusive content. Anyone over age 18 can create an OnlyFans profile and upload content.
A list of celebrities have scandalous accounts on the platform, too, like TikTok and YouTube star (and porn star) Trisha Paytas, Bella Thorne, Amber Rose and Ansel Elgort. What an individual chooses to post on their feed is under their control, but most use the platform to share explicit photos and videos.