Ontario Premier Refuses Protest Negotiations Despite Pleas From U.S.
Ontario Premier Doug Ford is refusing to negotiate with trucker protesters who have cut off the Ambassador Bridge between Windsor, Ontario, and Detroit—despite pleas from U.S. officials to quickly de-escalate the situation so that international trade can resume.
"I will never ever negotiate with people that break the law, with people that are in there illegally and occupying cities," Ford said during a Friday press conference. "While I appreciate the right to protest, that right cannot and must not extend the cutting off [our economic] lifeline," he told reporters. "We're now two weeks into the siege of the city of Ottawa. I call it a siege because that's what it is. It's an illegal occupation."
U.S. officials, however, have pleaded for the Canadian government to respond quickly to the blockade to prevent an economic standstill. "The Ambassador Bridge is the busiest land border crossing in North America, used by tens of thousands of commuters and truck drivers carrying hundreds of millions of dollars of goods every day," Michigan Governor Gretchen Whitmer said in a Thursday statement. "Countless Michiganders rely on this daily flow of goods and people to get things done."
"It is imperative that Canadian local, provincial, and national governments de-escalate this economic blockade," she continued. "They must take all necessary and appropriate steps to immediately and safely reopen traffic so we can continue growing our economy, supporting good-paying jobs, and lowering costs for families."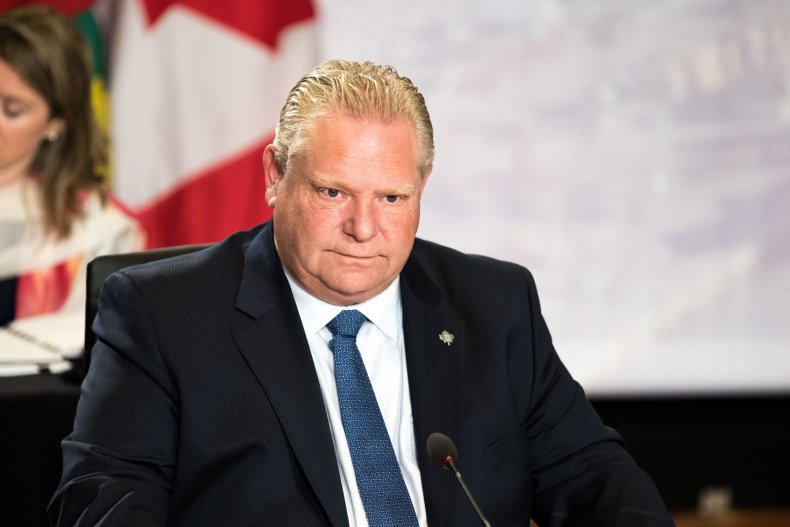 Whitmer's office estimates that 10,000 commercial vehicles cross the Ambassador Bridge each day to deliver $325 million worth of goods—suggesting that the protests has now racked up a loss of at least $1.3 billion.
The White House has also said that President Joe Biden "is focused on this [issue] and we are working very closely with the team at [the Department of Homeland Security], with Canadian officials and others to do everything we can to alleviate the impact."
Protesters demanding that all COVID-related restrictions be lifted across Canada have now been staged in the nation's capital for two weeks and are entering their fifth day at the Ambassador Bridge, where they have severed the country's supply chain. While Ford said he would not bow to the demands of the trucker protesters, the premier announced he would enact emergency orders, which would make it "illegal and punishable to block and impede the movement of goods, people and services along critical infrastructure."
He said fines for non-compliance will be severe, with a maximum penalty of $100,000 and up to a year of jail time. While these orders are temporary, Ford said he has every intention to bring forward legislation that would make them permanent.
"This is no longer a protest," he said. "With a protest, you peacefully make your point and you go back home. I know that the vast majority of the people did that. They came, they peacefully demonstrated, they made their point and they left."
"To the very small groups who've chosen to take a different path, to those who've chosen to take a city of 1 million people hostage for the past few weeks, to those who've attempted to disrupt our way of life by targeting our lifeline for food, fuel and goods across our borders, to those trying to force a political agenda through disruption, intimidation and chaos, my message to you is this: Your right to make a political statement does not outweigh the right of hundreds," Ford added.
Ford reiterated his support for Canadian truck drivers on Friday and said the protests do not represent the majority of the workforce, of whom trade associations have said are already fully vaccinated.
The federal vaccine mandate for cross-border commercial truck drivers, which went into effect on January 15, was estimated to take 10 to 15 percent of truckers off the road.
"The last count I heard—at the bridge—there was five truckers. The rest were pedestrian cars. This is about a political statement," Ford said.
"We're in a critical situation, worldwide economically. We have competitors breathing down our back on a daily basis," he added. "We're competing against our neighbors south of the border. We're competing against the rest of the world, and the last thing we need is an anchor around our neck when we're competing."
He urged people to leave the bridge immediately "for the sake of hundreds of thousands of workers" who work at the auto plants in Ontario and the "millions of families that depend on a paycheck" from major car manufacturers, who are headquartered south of the border.