Ontario's Premier Backs Truckers; Says World Is 'Done' With COVID Mandates
Ontario's premier is siding with truckers protesting vaccine mandates, saying the world is "done" with COVID-19 and that people are ready to move on with their lives.
Premier Doug Ford echoed complaints from the "Freedom Convoy," an organized group of protesters fed up with COVID-19 restrictions and vaccine mandates. The protest began in late January with hundreds of drivers resisting new requirements that truckers get vaccinated against the virus or face possible quarantine or testing.
"There's rabble-rousers, and there are just hardworking people that just don't believe in it, and that's their choice," Ford said to reporters Tuesday. "This is about democracy and freedoms and liberties. I hate as a government telling anyone what to do, we just have to get moving forward, get out of this and protect the jobs."
"Everyone's done with this, like, we are done with it," Ford said. "Let's just start moving on, cautiously. The world's done with it, let's just move forward."
This comes after Canadian Prime Minister Justin Trudeau took the unprecedented step of invoking the Emergencies Act to stop the truck blockades.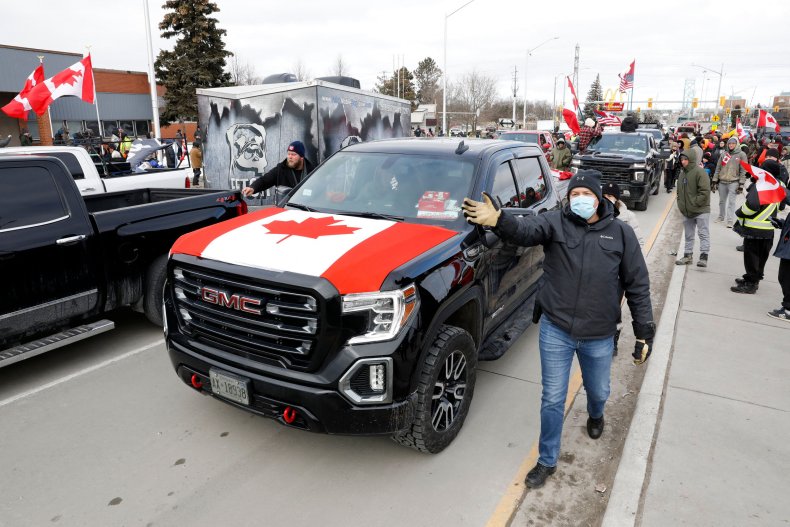 Over the weekend, the convoy blocked the Ambassador Bridge, a pivotal point in U.S.-Canadian commerce. The bridge was reopened Sunday after law enforcement made several arrests and dispersed protesters. Trudeau said the ongoing blockades are destabilizing and hindering Canada's economic recovery.
He is the first Canadian prime minister to invoke the Emergencies Act, which can be enacted in a national crisis that "seriously threatens the ability of the Government of Canada to preserve the sovereignty, security and territorial integrity of Canada."
"We'll always defend the rights of Canadians to peaceful assembly and to freedom of expression," Trudeau wrote on Twitter. "We'll also do whatever is necessary to reinforce the principles, values, and institutions that keep all Canadians free—and that's what we're doing with the Emergencies Act."
In opposition to Trudeau, Ford thinks the mandates should just be lifted to keep society moving forward.
"We can't live in this position forever," Ford said. "We've gotta learn to live with this thing and get on with our lives."
As the convoy protests vaccine mandates, Ford said that the vaccine doesn't prevent the COVID-19 virus. He made the argument saying that Trudeau, who received both shots and a booster, still caught COVID in January.
"We also know that it doesn't matter if you have one shot or 10 shots, you can still catch COVID-19," Ford said. "You see the prime minister, he has triple shots, and I know hundreds of people with three shots, who caught COVID-19, we just need to be careful."
Newsweek reached out to Trudeau for further comment.