Cat With 'Unusual Appearance' Due to Condition Finally Finds Forever Home
A Pennsylvania cat has finally found its forever home after its cleft palate meant her kittens all got adopted before she did.
Onyx found her family in 2021 and has been with them ever since, but it certainly wasn't an easy ride to get there. With a cleft palate, Onyx's "unusual appearance" meant she was often overlooked by potential adopters in favor of her tiny litter instead.
"She came to us in June 2021, still nursing three kittens. She and her kittens were placed into foster care until the kittens were old enough to be weaned," Butler County Humane Society's director of relations, Amy Fifield, told Newsweek.
Many cats who are born with cleft palates—an abnormal opening in the roof of the mouth where the two sides of the palate have failed to fuse together during embryonic development—need surgery but this was not the case for Onyx.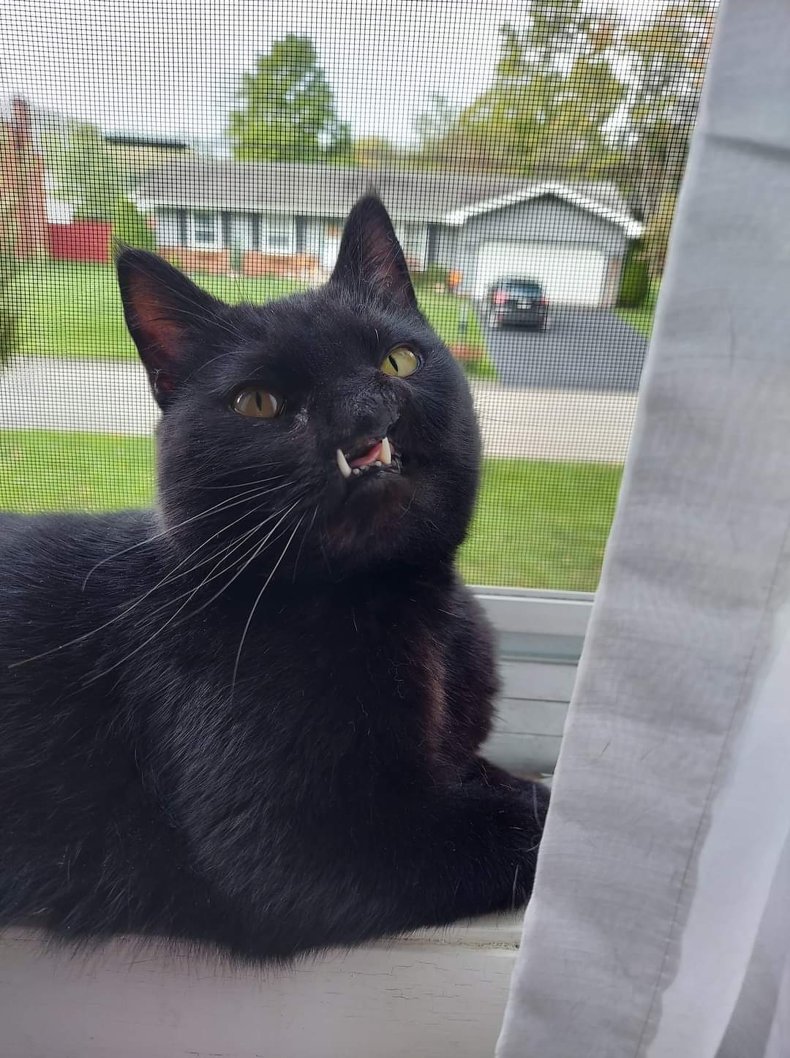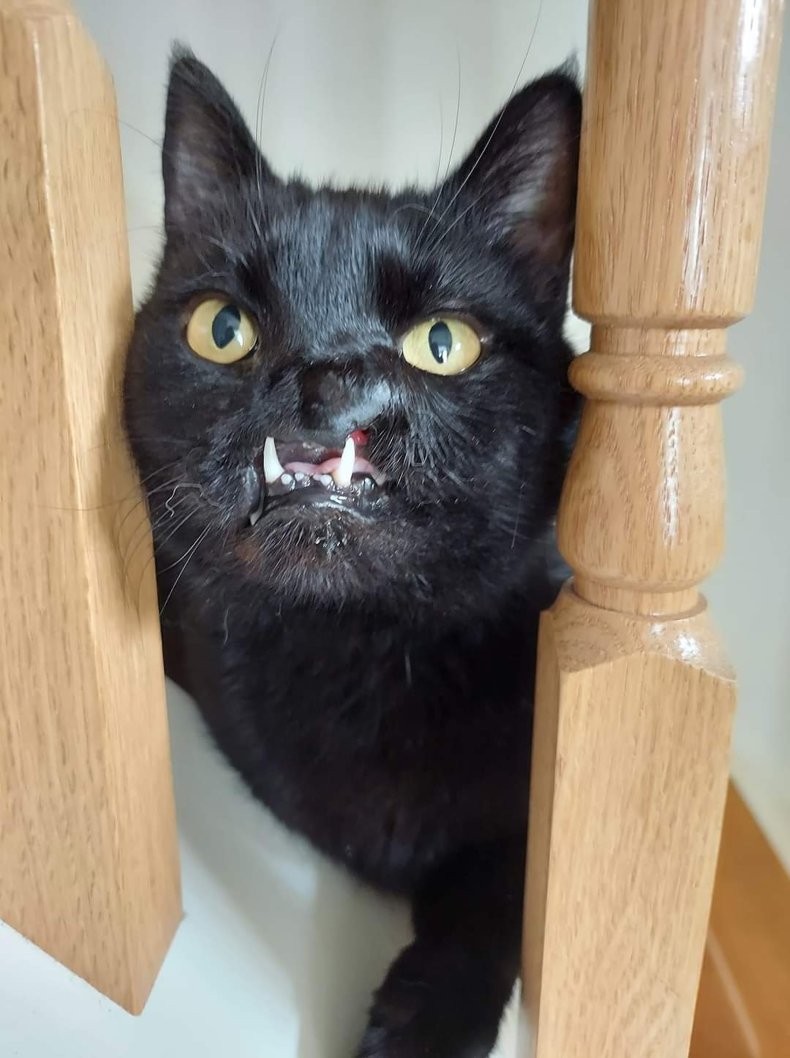 "Onyx was evaluated by a veterinarian and they determined that surgery was not necessary. Onyx is able to eat and drink on her own with an occasional sneeze to clear food from the wrong passage," said Fifield.
Her cleft palate might not have caused any medical issues, but it still left Onyx with an "unusual appearance" that appeared to hinder her chances at finding a permanent home. People visiting the shelter were drawn to her babies over her.
Best Friends Animal Shelter, which documented Onyx's adoption online, wrote that her "unusual appearance, caused by a cleft palate, meant she had to wait for adopters who would see her for who she is, not simply what she looks like."
But the shelter's vet tech Cindy Houk saw it differently.
"Onyx was available for adoption for approximately five weeks. One of our shelter employees fell in love with her right away. She showed her to anyone who was looking to adopt, but many overlooked her because of her cleft palate," confirmed Fifield.
"Cindy knew what a loving, sweet cat she was and didn't see an imperfection at all. She saw her as perfectly imperfect. Cindy has two children with special needs and her daughter Ashley knew right away that Onyx would be a wonderful addition to their family."
For the shelter, Onyx's prolonged success story has been a lesson for others in why taking a chance on a special needs pet can bring joy to all involved. Now, Onyx lives with six other cats and a German Shepherd. "She might be tiny, but she rules the roost," said Fifield.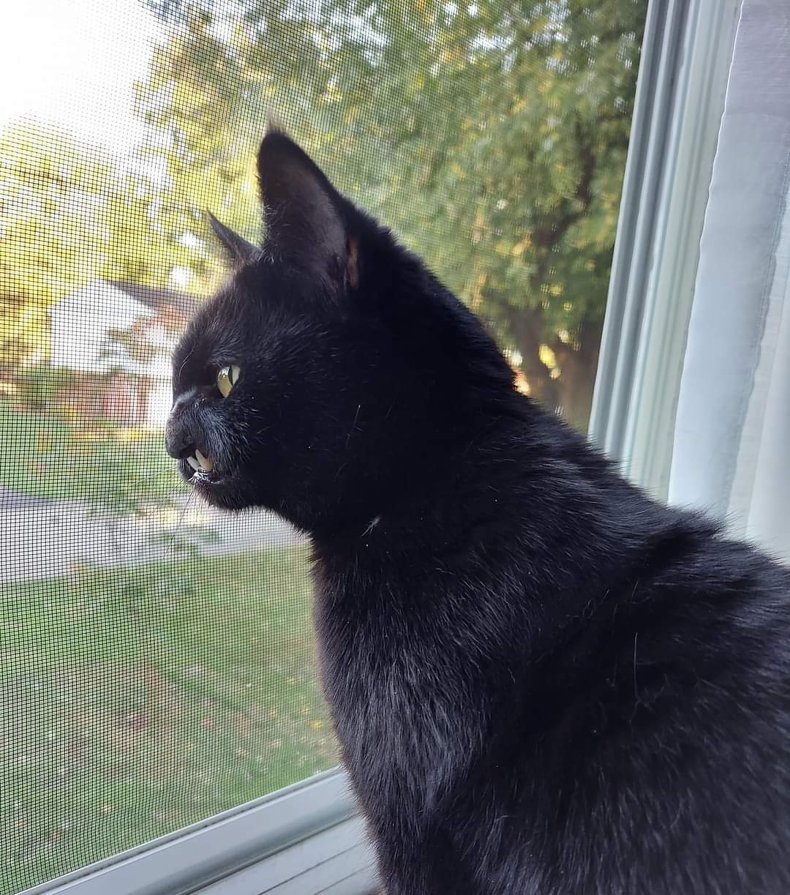 Overlooked cats in shelters and unfortunately not few and far between. Late in 2021, an elderly cat in a North Carolina shelter also finally found its forever home, after a long period of waiting as the oldest cat in the shelter.
Penny, 101 years old, and her family were on the lookout for a senior cat companion after her previous cat passed away. Gus, 19, was taken to the Humane Society of Catawba County (HSCC) in North Carolina in the middle of September when his previous owner's unforeseen work commitments meant they could no longer look after him.
"The adopter's family contacted us asking to adopt a senior cat for their mother," explained Jane Bower, HSCC's executive director. "She had recently lost her cat and although they had given her a stuffed cat, she wasn't happy because it didn't purr."
"We were cautious because of the age of all parties but the family said they were willing to care for the cat on behalf of their mother," said Bower.
She described the adoption as a "match made in heaven," and explained that Gus has settled into his new home perfectly.