Open Letter to MoMA Denounces Its Connection to Mass Incarcerations, Leads to Protests
An open letter to the Modern Museum of Art (MoMA) and MoMA board member Larry Fink, signed by more than 220 artists, academics, and curators, calls on Fink and the museum to divest from prison companies and stop relying on financial services that have stakes in private prisons.
"We denounce MoMA's connections to mass incarceration, global dispossession and climate catastrophe, and demand that MoMA's Board member Larry Fink, CEO of BlackRock, divest from prison companies, the war machine and the destruction of the global environment," the letter begins.
"Stopping the global cycles of dispossession, displacement and detention, and reinvesting in the basic necessities of food, shelter, health and freedom are the best ways to ensure that communities worldwide thrive."
As the CEO of BlackRock, Larry Fink is the second largest shareholder of GEO Group and Core Civic (formerly named Corrections Corporation of America), two companies who operate private prisons. With over $2 billion in contracts with Immigration and Customs Enforcement (ICE), these companies have been responsible for 70% of all immigration detention including families separated at the border.
The letter, posted in full on the New Sanctuary Coalition website, also says that MoMA relies on Fidelity Investments to manage its pension fund and that the investment company owns stock in private prison companies.
New Sanctuary Coalition is just one of over a dozen organizations working together to denounce MoMA's connections to these companies and BlackRock's heavy investment in weapons companies.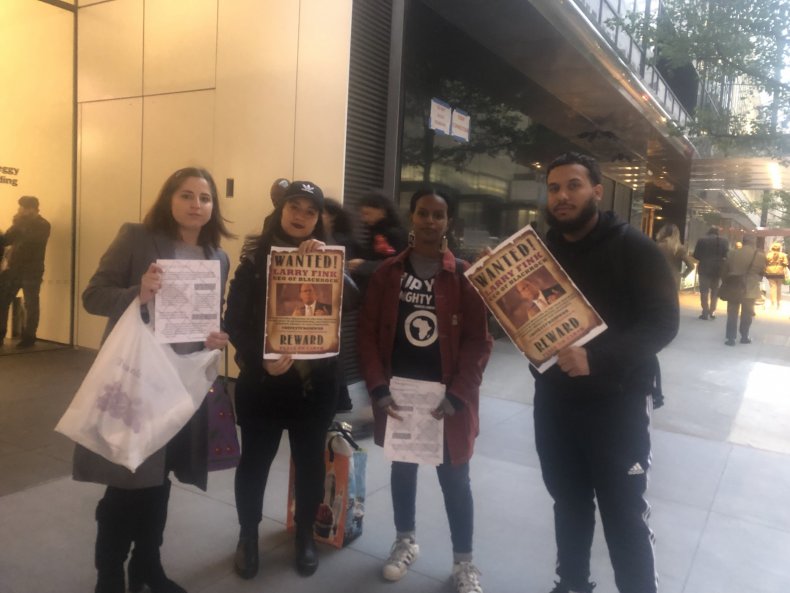 Codepink, a women-led grassroots organization working to end U.S. wars and militarism, is another group actively supporting the letter's ultimate goals.
The group will be distributing flyers outside of MoMA's artists-only event -- one of three events celebrating the museum's multi-million dollar renovation -- on Friday, October 11, as well as inviting artists at the ticketed party to learn more about the campaign.
Rose Asaf, a spokesperson for Codepink, said the plan for the evening is "low escalation." She also emphasized this is just the first gathering leading up to the main event: MoMA's members-only opening party on October 18 at 6:30 p.m., where many of the organizations and activist groups are planning to protest, hand out flyers and draw attention to their demands.
"We will mobilize on Friday, October 18 at 6:30 pm at the MoMA as it celebrates its $500 million re-opening! Join us to support the push to divest from the carceral state and reinvest in communities," read the statement.
The open letter is the latest development in a campaign begun in March with a circulating petition. Not long after the petition appeared online, a group of academics read a statement about Fink and MoMA's alleged connections to mass incarceration at a conference being held at the museum.