Open Society Foundations Sues Hungary Over Anti-Soros Law
The Open Society Foundations, an international network that provides grants and funding for civil society groups that foster human rights, democracy and other causes, is suing the Hungarian government over a controversial law that curtails the organization's activities in the country.
The organization, which was founded by the Hungarian-born billionaire philanthropist George Soros, told the European Court of Human Rights in Strasbourg that the Hungarian government's "Stop Soros law" is infringing on its freedom of expression and association.
"The Open Society Foundations are calling on Europe's highest human rights court to act against Hungary over its so-called Stop Soros laws, which criminalize and tax the work of independent civil society groups, under the pretext of controlling migration. In an application before the European Court of Human Rights in Strasbourg, Open Society argues that the recent legislation breaches the guarantees of freedom of expression and association enshrined in the European Convention of Human Rights and must be repealed," the organization said in a statement Monday.
"The complaint also argued that the legal provisions are so broadly written that they will have a far-reaching and chilling effect on the work of civil society far beyond the field of migration," the statement continued.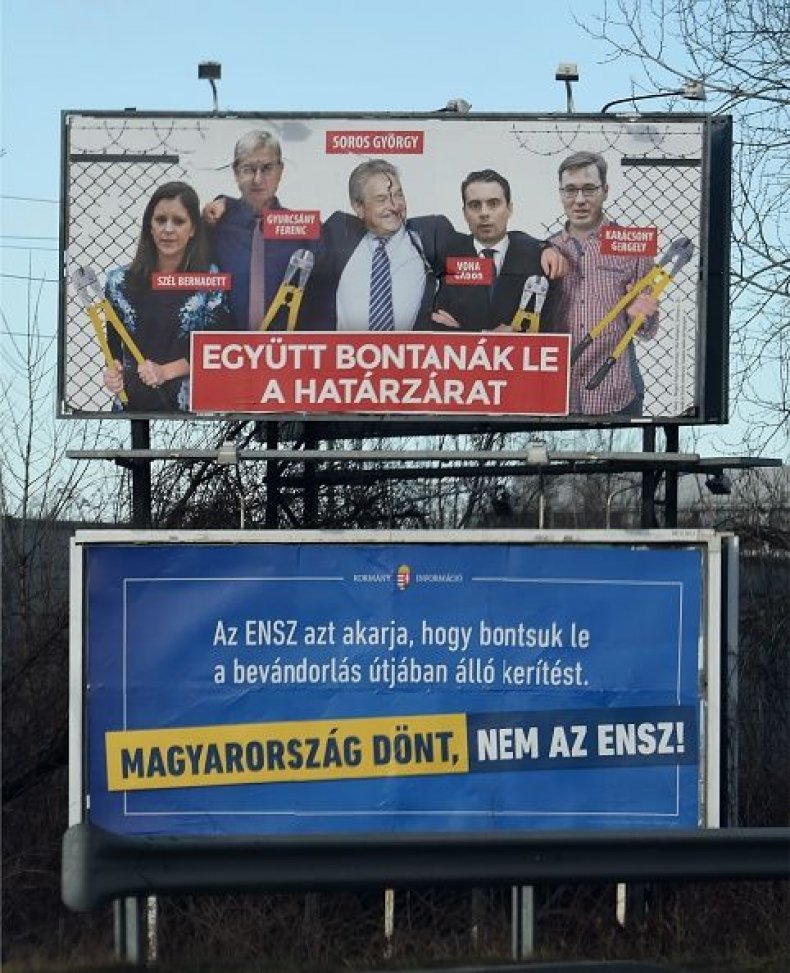 In June, shortly after the country's right-wing Prime Minister Viktor Orban won a super-majority in parliament, Hungary passed the Stop Soros law, which criminalizes assistance to refugees and migrants. Members of nongovernmental organizations could face jail time for helping a refugee enter the country or for distributing assistance, including informational literature, to individuals seeking refuge. All organizations that "support illegal migration" are expected to register with the government—and they must pay a 25 percent tax if they portray migrants in a positive light.
In July, the European Union published a letter similarly alleging that Hungary was in breach of EU law over its Stop Soros law, and suggested that it would take Hungary's government to the European Court of Justice (ECJ) if the law was not amended.
Orban won re-election in April after running a campaign that vilified Soros and Muslim immigrants, which was widely criticized for being xenophobic.
Hungary has also been lambasted over its treatment of Muslims ever since it erected a fence along its southern border with Serbia to stop refugees and asylum seekers from entering the country. Reports emerged that migrants detained in holding centers on Hungary's border had been denied food, and migrants whose asylum claims were rejected were being pushed out of the camps and forced back into Serbia.
Amendments to Hungary's Aliens Act, made in March 2017, also allow police to escort migrants out of Hungary without processing their asylum claims.
"The police are empowered to immediately escort through the border fence irregular migrants apprehended anywhere on Hungarian territory. Further, foreign nationals are only allowed to submit a request for international protection in either of the two existing transit zones," read a Council of Europe report published in September.
Meanwhile, the Open Society Foundations announced in May that it would close its Hungary office due to the harassment of its staff. The organization moved its office to Berlin in August.
On September 12, the European Parliament voted that there was a "clear risk of a serious breach" of EU values in Hungary. The vote launched a process that could see Budapest lose its voting rights in the EU.