Courtney Love Stars in an Avant-Garde Opera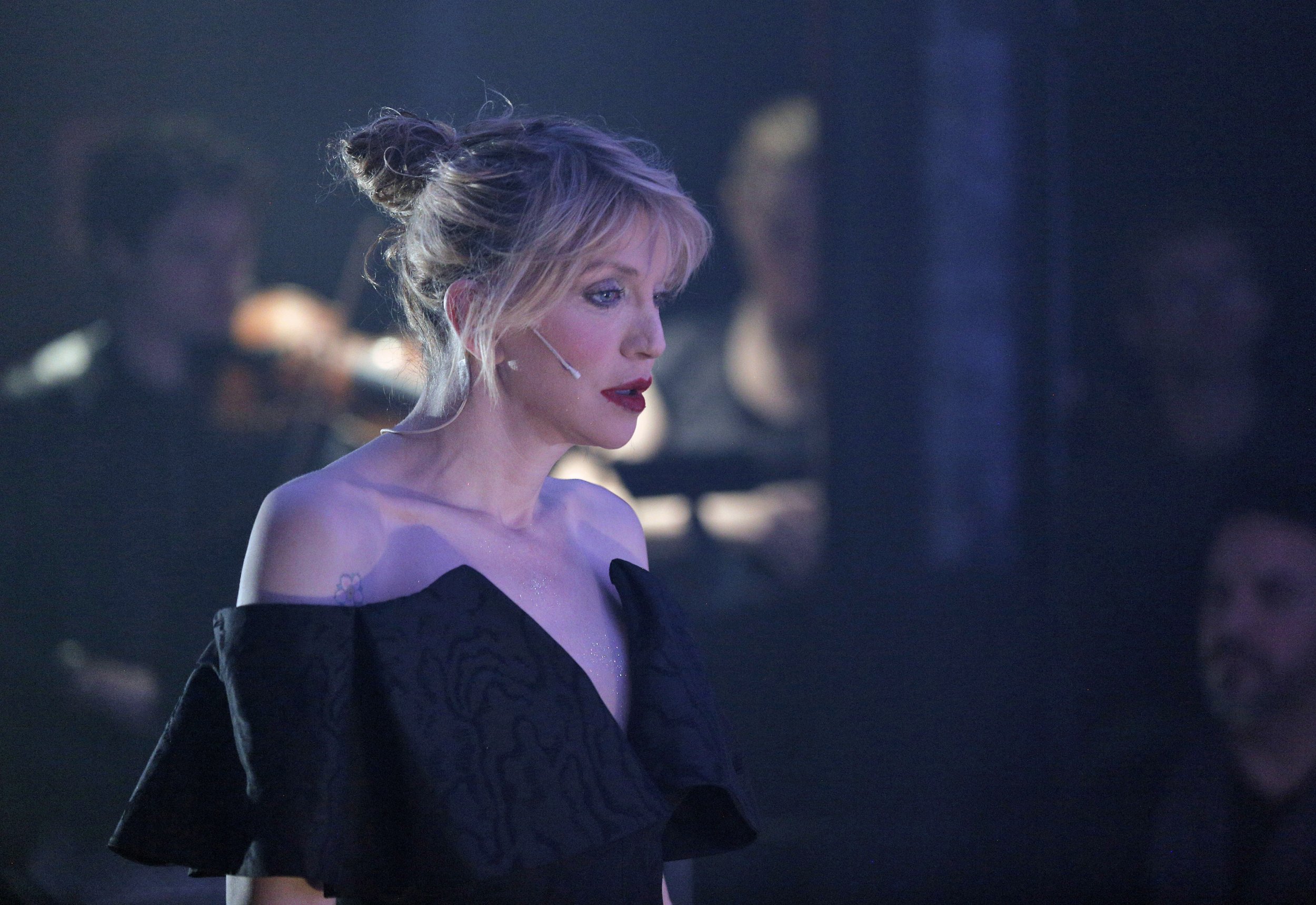 Courtney Love's reputation is such that when she walks into a room, it's possible to hear a sharp, collective intake of breath. That's what happened Thursday night, when "Miss World" herself sauntered down a narrow center aisle at HERE, a bare-bones performance space in lower Manhattan. Love, 50, has acted in films—a role in the cult 1986 film Sid and Nancy and in The People vs. Larry Flynt (1996), which earned her a Golden Globe nomination for best actress in a leading role—but this is her first theatrical role.
One might think it's difficult to suspend disbelief when watching someone whose life has been surrounded by a mythology that looms large. Love, after all, helms the unapologetic punk band Hole and was married to former Nirvana frontman Kurt Cobain, who committed suicide in 1994. But in this instance, her performance in an avant-garde opera titled Kansas City Choir Boy, we didn't have to: Like Love, her character is feral and fearless alongside her onstage lover, the talented composer and actor Todd Almond, in this enchanting allegory about human resilience amid grief.
The story involves an unnamed Kansas City native, known only as the "choir boy," whom we meet when he's grooving solo to electronic music in his room. He turns on the TV and is stunned to discover via the local news that his lover, Athena, has been killed in a New York City park. Through visceral flashbacks, we experience the grief as he feels it in real time. It is a series of memories recounted exclusively through song, swerving through fights, beer-soaked revelry, heartrending moments of intimacy (at one point, the two undress each other in what seems like a dare), fleeting moments of glee in an impulsive marriage and, of course, tragedy.
The intimacy of the room, a no-frills space seating about 50 where one can't even hang a coat across a seat for fear of intruding on someone else's view, is itself a character for black box theater. Across the way, I could see audience members' mouths agape as the two main characters stalked through the room, dodging a scattered orchestra and a sextet of sirens crooning and crying at will. As grief swallows the choir boy, the cast circles around the tiny room at an increasing pace, making the performance space, and the emotions therein, feel more expansive than would have been expected. The opera lasts all of 50 minutes and feels breathless, both because of the uncertainty surrounding what would happen next and because the performance runs without pause.
Kansas City Choir Boy kicked off the first night of New York City's third annual Prototype festival, a celebration of all things avant-garde and progressive in music, theater and art. The show, which sold out its entire run soon after it was announced, is an amalgamation of opera, musical theater and late-night conceptual house show, with music ranging from bouncy electro-pop to orchestral crescendos. It most closely resembles a Greek tragedy, with its chorus of six sprites, swells of elation and agony, and its dash of melodrama.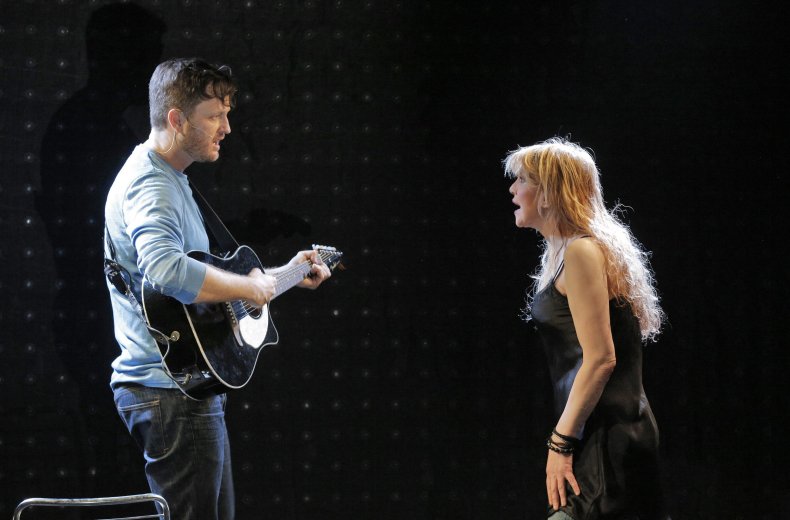 The mythological goddess Athena is remembered as the purveyor of wisdom. Natch, the Athena of Kansas City Choir Boy is all-seeing, but more than a goddess she resembles a specter from beyond the grave: flitting in and out of memory, drifting away just as she's within reach. "When I say I want to fade away, I think you misunderstand," she sings to her lover, and he roars back with his triumphant tenor bravado in a charged moment that recalls Stevie Nicks and Lindsey Buckingham's push-and-pull vocal responses on Fleetwood Mac albums. The most memorable voices in operatic range typically hit baritone lows or soprano highs. Yet here, Love's gut-busting growl pleasantly contrasts with Almond's dulcet tones in the same way that, say, a sharp English cheddar unexpectedly complements a tart green apple.
Kansas City Choir Boy stemmed from passion, too: Almond's husband, Mark Subias, is Love's agent and introduced the pair. Almond, 38, who composed the piece and wrote its lyrics, conceived the idea for Kansas City Choir Boy when he was incidentally stuck in a Kansas City hotel room several years ago with only Garage Band to keep him company. Sometime before then, he had composed a musical rendition of The Odyssey at Juilliard for a female classmate. While absentmindedly watching TV one day, he noticed her photograph on-screen: She had been killed while running through a New York City park (a moment immortalized in Kansas City Choir Boy when the chorus sextet emerges wearing tracksuits, running toward a certain death). That night, Almond was floored by how a life he had known was depicted so lifelessly on the news. Almond said his classmate had had "that very special thing we speak of when we refer to people who seem to wear their destiny on the outside."
The actress tasked with honoring the girl's memory also wears her destiny on her Zac Posen sleeves—she goes by the last name Love, after all—and makes her character riveting. The opera could have been written to last longer, if only to draw out the characters further and to allow understanding of what separates them. But maybe that's the point: No matter how far we dig into the past and attempt to make sense of tragedy, those moments we do dredge up are enough to give us life, and then help us to move forward.
Kansas City Choir Boy runs through January 17 at HERE Arts Center.