EU Referendum Campaign 'Shockingly Lacking' in Diversity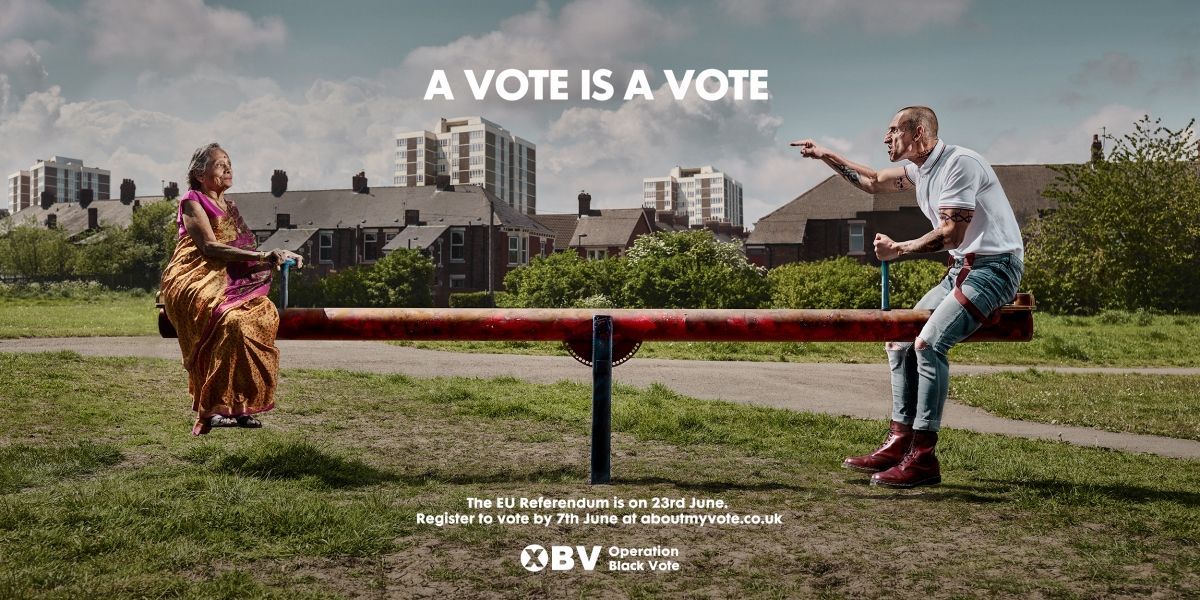 The pressure group Operation Black Vote has released an EU referendum campaign poster aimed at mobilizing BAME (Black, Asian and Minority Ethnic) voters following a campaign "shockingly lacking" in diversity.
The poster, produced in conjunction with the advertising agency Saatchi and Saatchi, features an Asian woman being berated by an aggressive looking thug, and "aims to empower the BAME community to use their voice" by registering to vote and voting in the referendum, according to a statement on the group's website.
"I don't think that the campaigns have necessarily resonated with BAME communities because they don't maybe look at issues from that lens," Operation Black Vote's operations manager Ashok Viswanathan tells Newsweek, "But also they've been pretty lacklustre… we've tried to do something that's a little bit more dynamic."
Viswanathan says the poster is also "partially a response" to the lack of diversity in the campaign so far. "We would expect that the BAME population is playing a full and positive role in all areas, at all levels and that would be registering to vote and voting," he says. "But it would also be in the upper echelons of the top teams in both the Remain and Leave camps, and that is shockingly lacking."
Operation Black Vote does not have a position on the referendum result. But asked about Boris Johnson's widely-criticized comments on President Obama's ancestry, made in a column in The Sun, Viswanathan says: "Other people have commented on it, and I don't think there's any need for myself or OBV to comment on that, but it's very clear that people thought that that was quite crude, quite a crude response to what should have been a political debate."
The launch comes after a study by Loughborough University published this week found that referendum coverage was dominated by men, with only one in 10 contributors in the national press from either campaign being women.