What Is 'Operation Hot Dogs'? Swiss Police Say Canines Should Wear Shoes During Heat Wave
With temperatures in Europe reaching near-record levels, Swiss police are taking special precautions to protect their canine partners.
Zürich police shared images of dogs wearing shoes that safeguard their canines' paws. Authorities have named the effort "Operation Hot Dogs," and the police department is encouraging other dog owners to take care of their pooches during the heat spell.
"When a dog walks on hot asphalt, he can burn his feet—just like a human walking barefoot," Zürich Police Spokesperson Michael Walker told Swiss broadcaster SRF, according to BBC. The police have also instructed owners to avoid leaving their pets in hot cars and make sure their animals are drinking enough water.
"Is it too hot? Then avoid routes in the sun on the asphalt, equip big dogs with 'booties,' and carry smaller dogs!" a post on the department's Facebook page read.
Switzerland has witnessed one of its hottest summers since 1864. Temperatures in July frequently reached 86 degrees Fahrenheit—a level which, according to Walker, could feel like 122 to 131 degrees on dogs' paws.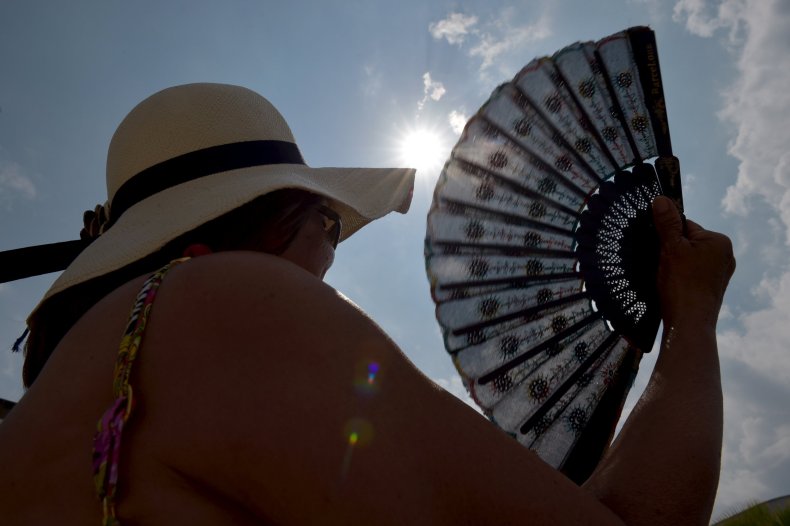 The high temperatures, which are expected to rise across Europe in upcoming days, have affected large swathes of the continent. European weather group Meteoalarm has sent out red warnings, meaning the temperatures pose a threat to life, to southern Portugal and Spain's Badajoz province. Italy has issued red alerts for Rome, Florence and Venice.
The Associated Press reported that in Germany, "rivers like the Rhine and the Elbe have soaked up so much heat that fish are beginning to suffocate."
Japan has also experienced record-breaking temperatures, with the mercury hitting 106 degrees Fahrenheit. At least 116 people died last month in that country from the heat.
With a heat wave blanketing South Korea for more than two weeks, up to 29 people have died from heat stroke. Temperatures in North Korea also reached 104 degrees Fahrenheit last month, damaging the country's crops.
A study released Wednesday said that 2017 was the hottest year ever recorded that didn't feature the El Niño climatic event, which warms the Pacific Ocean. The report, released by 500 global climate scientists and monitored by the National Oceanic and Atmospheric Administration, said Earth is witnessing rising temperatures, shrinking sea ice and retreating glaciers.