Operator Trapped by Fair Ride Caught on Chilling Video
A Florida man working at a county fair was trapped inside the ride he was operating and the chilling incident was caught on camera.
Davontai Lee, 28, was working as one of several operators on the Hydra ride at the Clay County Fair on Friday evening.
The ride consists of a hanging claw that riders are strapped into with an over-the-shoulder harness. Once riders are secured on the ride, the floor drops down and the claw lifts up and begins swinging, hitting about 60 feet in the air.
In cellphone footage taken by Aurelia Smith, Lee struggled as the metal floor structure squeezed on his upper abdomen and trapped him from freeing his lower body.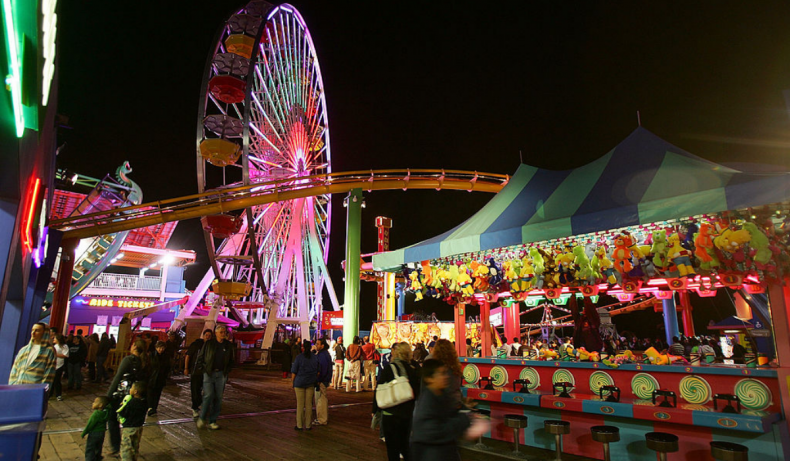 "The man went down to get another person's hat and I guess the floors or whatever had went down on him and pinned him in," Smith's daughter, Keirra Peterson, told First Coast News.
Lee could be heard in the video screaming for help and telling witnesses he was in pain.
After about 15 minutes, authorities were able to free Lee from the metal platform and he was rushed to a hospital.
Police are still investigating the incident but said it was a matter of "bad timing" and not a ride malfunction. The ride is still open and operating.
"The ride had nothing to do with this. The ride is functioning properly. The sheriff's office, along with fire and rescue, did an investigation," Chief Jeff Johnson of the Clay County Sheriff's Office told First Coast News.
Lee told Newsweek that he is still in pain but that he doesn't feel comfortable discussing the traumatic events.
"When you see that, it kind of changes your point of view and, personally, I don't think I'll get on another fair ride," Peterson told local news.
Peterson, who witnessed the incident, said she was surprised that there was another ride incident so shortly after the death of a 14-year-old who fell from a drop tower at an amusement park in Florida on March 24.
Tyre Sampson was on a tower at Orlando's ICON Park when he fell from the ride and was pronounced dead at a hospital.
The boy's death prompted discussions about amusement park safety as well as the safety measures that employees are required to take, including not allowing individuals over or under the height or weight limit to ride.
According to Sampson's family, the 6-foot-5 teen weighed 340 pounds and had been prevented from riding other rides in the park due to size limitations.
Last summer in Utah, a witness recorded the moment a man was seen dangling 50 feet from an amusement park ride before falling. He died a hospital shortly after.
Police said the incident was not caused by a ride malfunction and was unintentional.
Newsweek reached out to Aurelia Smith for comment.