Opie and Anthony No More: Inside the Nasty Breakup of Radio's Most Notorious Shock Jocks
Warning: Please be aware this article contains graphic language.
For 20 years, Gregg "Opie" Hughes and Anthony Cumia hosted the infamous O and A radio show, known for its provocative stunts, support of rising comedians and cast of outlandish characters. This week, the shock-jock duo explosively cut ties in a series of tweets and on-air monologues that suggested a bitter end to their long relationship. One thing the two can agree on, as they told Newsweek in separate interviews, is that they want the truth out.
Started in 1995 in Boston,The Opie & Anthony Show gained a large following on FM radio, where the duo became known for ticking off celebrities and dreaming up stunts like public-sex contests for fans. In 2004, they moved to XM Satellite Radio, which became SiriusXM in a 2007 merger with Sirius Satellite Radio.
Last year, Anthony was fired by SiriusXM over controversial comments made on his Twitter account following an altercation with an African-American woman. "Those remarks and postings are abhorrent to SiriusXM, and his behavior is wholly inconsistent with what SiriusXM represents," the company wrote in a July 2014 statement. Opie, Anthony and Jim Norton, a third co-host and comedian, expressed outrage over Anthony's firing, but SiriusXM refused to budge. The airwaves went silent as the fates of those involved were debated behind closed doors.
Opie and Anthony weren't strangers to being fired: They were let go from WAAF in 1998 for airing an April Fools' joke in which they claimed the mayor of Boston had died, and again in the early 2000s after O&A fans attempted to have sex in St. Patrick's Cathedral as part of a radio contest. But for the first time in their careers, they hadn't been fired together. SiriusXM repackaged their show as Opie with Jim Norton on the rebranded 'Opie Radio' channel (the new pair extended their contracts with SiriusXM in October 2014). Anthony spent the summer establishing The Anthony Cumia Show, a broadcast recorded from his home studio.
For months after Anthony was fired, the relationship between the longtime co-hosts was amicable. They promoted one another's new shows, Norton appeared on both programs and Opie continued to say that SiriusXM had made a huge mistake by firing Anthony. Everyone involved maintained that Opie had done all he could to save Anthony's job after the July tweets.
All that unraveled this week, after a series of harsh Twitter exchanges between the pair. On Monday, Anthony said on air that he felt Opie had not done everything he could to save his job.
"Had Opie been fired for something, I would've gone into the show and at least played the card that 'I'm leaving if you don't hire him back,'" Anthony told Newsweek in a lengthy phone interview. "He didn't do that, and I don't think he came close. That's where my resentment started bubbling—when it's starting to sink in that he didn't try to keep me."
Opie confirmed to Newsweek that he did not threaten to quit in negotiations to keep Anthony onboard. "I didn't feel like we were on that page anymore," he says. Norton didn't threaten to quit either. "I don't know if Opie threatening to quit would've made a difference," he told Newsweek. "I don't know what his threat might have done but mine—they wouldn't have given a shit."
Opie says he did fight to save Anthony's job, a sentiment he reiterated on his radio show this week, saying, "He should not have gotten fired for the tweets," and "It would be crazy on my part to not defend him and try to keep him here because the Opie and Anthony brand was so strong no matter what kind of relationship me and Anthony had."
"Opie always indicated to me that he was trying to save Ant's job," added Norton, who remains close friends with both hosts. "I never at one point thought Opie didn't want to keep him. When Ant got fired, no one's first thought was, Let's save Ant. It was, Oh my God we are getting fired too. I get why Anthony feels this way, but there was never any indication that Opie wasn't fighting for Ant."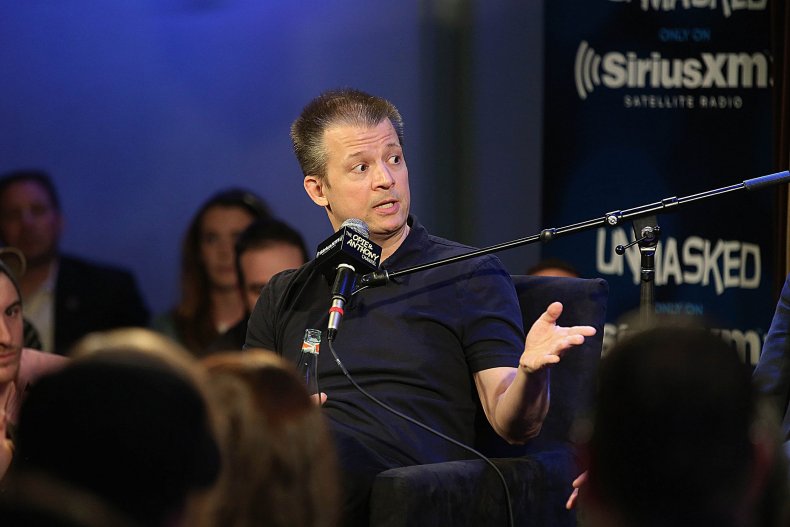 The duo's fight was in many ways a long time coming: Both Anthony and Opie point to events from as long ago as 1999, as well as multiple "jabs" exchanged between the two since Anthony's firing. "Since he got fired nine months ago, he's been passive-aggressively taking shots at me on podcasts, allowing people on his show to trash me," Opie said on his show this week. The disagreements, which have been raised on social media and on air, include everything from how Opie treated Anthony's girlfriend in the late '90s to Anthony not visiting Opie's home.
"Management is really happy with the show."
Anthony said his resentment began after Opie noted online that SiriusXM management was happy with the new show, and had gained 20,000 new subscribers. "That got me," Anthony says. "We had discussed it on and off air how moronic management is with that type of radio. So to go out and say management likes what we are doing here, you aren't only insulting your own show but you're also taking a jab at me...I see it as a personal insult."
Opie told Newsweek that neither statement was intended to hurt Anthony. "I absolutely did not mean it as a jab towards Anthony. Because [Norton and I] stayed, we get a lot of negativity heading our way. It was our way of saying things were going well for us.… I can honestly say it was not a jab and I wish we had a relationship where he could've called me out on that not publicly. A lot of this, unfortunately, was lack of communication."
"It was the four musketeers."
"Me and Anthony had not had a relationship since 1999. That is a fact," Opie said on his show on Tuesday. "Before that, from '94 to '99, we were best friends."
The tipping point was supposedly a woman Anthony was dating in the late '90s. When the pair moved from Long Island to Massachusetts, they were both in serious relationships. "It was the four musketeers," Anthony says. "We were new in town, new at doing this kind of radio. It was exciting, fun and we depended on each other very much." The foursome wouldn't last, as Anthony and his wife began an ugly divorce in 1999, and he eventually began dating someone new. "Opie's girlfriend was very good friends with my wife, so he had to deal with his girlfriend, who is friends with my wife, who I can't stand because of the divorce process," Anthony says. "It was instant resentment. I broke up the team."
Anthony says tensions between Opie and his girlfriend became so bad that Opie would attempt to bar her from radio show events. "Every time we did an event, I would get an ulcer, a knot in my stomach. I would then have to protect my girlfriend or ask permission to let her into something," Anthony said. "That resentment of biting your tongue from someone treating you and someone you care about like that, it builds."
"I don't have a complete recollection on the things I may have done to his girlfriend at the time, but I've certainly made some mistakes," Opie says. "The big problem here is that I had no idea any of that stuff bothered him over the last 15, 20 years. That was probably something that really stuck with him and really built up resentment towards me.… I probably unfairly took it out on a girl, but I just do want to stress that I wish he brought it up over the years."
"The last thing I've ever been is a diva."
One blowout between the two hosts started after Anthony sent a tweet about F.H. Riley's, a restaurant owned by Opie's brother, in which Opie is an investor. "I can't believe I'm here, I'm not getting seated, I'm not getting a free drink yet," Anthony remembers writing on Twitter about a year and a half ago.
"Everyone has to take in context where the tweet or text is coming from," Anthony told Newsweek. "If anyone took that seriously, they're out of their minds. I was having fun. If I didn't enjoy where I was or felt I wasn't treated well, I would've left. It's Huntington, New York. There's a bar every three feet."
Opie disagrees. "The mistake I made was that I was mad about the F.H. Riley's tweet, and I did feel like it was real," he told Newsweek. "The fans definitely thought it was real at the time.… It was obviously a misunderstanding. I was really mad and upset about it and the mistake I made was that I didn't know how to talk about it, so I came across as being grumpy, moody and pissy."
Opie threatened to quit over the incident but was convinced to stay by management. Anthony said he apologized. "If [Opie] misinterpreted it or I didn't word it properly to be sarcastic, I'll take the blame," he told Newsweek. "But to not to show up for work? That's immature, to say the least. The last thing I've ever been is a diva."
"The little c**t won't even look at me."
Left to fester over a weekend, the restaurant tweet led to further resentment between Opie and Anthony; when back at work together, Anthony accidently sent Opie a text message saying "The little c**t won't even look at me." The text was intended for another party, whom Anthony declined to disclose to Newsweek. "Suffice to say, it was somebody who deserved to know that there was a problem between the two of us at that moment," he said.
Opie believes the text was intended for Norton. "I would've been shocked to get that text," Norton said. "There was no moment where I thought it would be for me. Ant said he was sending it to his girlfriend, and that seemed plausible to me."
"He isn't going to sign."
One of the harshest battlegrounds in the showdown has been on the topic of contract negotiations. At SiriusXM, Anthony and Norton wanted longer, backloaded contracts—five years in duration, with smaller raises in the second and third years and large raises in the fourth and fifth years. Opie wanted a two-year contract, and held up negotiations to the point that the staff worried he wouldn't re-sign at all.
"I was afraid Opie was going to walk," Norton said. "Ant called me and said, 'He isn't going to sign.' Opie said he knew what he was doing, but I didn't have that privilege the two of them have. I was definitely nervous many times during contracts."
Anthony compared the stress of contract negotiations to his divorce (which he categorizes as very unpleasant.) "I liked the idea of job security," he told Newsweek. "And signing up for five years knowing that we are probably going to be there anyways.… You can't just say, 'Well you know what I want to do? Every two years. I want to give the entire cast and staff a freaking ulcer not knowing if they're ever going to have a job.' It makes people that work for a living have to scrimp and save, plan vacations a few years in advance. It's selfish and greedy to them. If someone has a job for five years, they can plan their life accordingly."
Opie maintains that the contract negotiations were another example of miscommunication between the duo. "It was a negotiation tactic," he told Newsweek. "I was not going to leave. Once again, [Anthony] could've talked to me about it and I could've told him what I was doing there. I assumed he knew what I was doing, but if he didn't, fair enough. I just wish, once again, he would've discussed it with me."
"You're My Best Friend."
On Tuesday, Opie broke down crying on air while remembering the early days of O and A and his friendship with Anthony. The show began with Queen's "You're My Best Friend." "When me and Anthony started doing radio, we couldn't get enough of each other. After radio shows, we would call each other and...talk about the show for hours," he said on the show. "I did love doing the show with him.… When that relationship changed in '99, I never got over it."
Though many were touched by the moment, Anthony doubts Opie's sincerity. "I see it as very self-serving," he told Newsweek. "It fits together with that whole personality perfectly. I think [Opie's crying] is pulled out and used when there is an inability to debate the real actions and facts. For God sakes, I hope that's it. If not, have your estrogen levels checked."
"It was a real moment. I was just thinking back to when we were inseparable," Opie told Newsweek. "We were just doing radio shows for each other. It's too bad he thought it was an act. It was embarrassing to me. It was a real moment."
When asked if each considers the other a friend, Opie said of Anthony, "He's an old friend. Our lives just went in very separate directions. We grew apart. We were very close. We still had amazing chemistry on the air." Anthony said of Opie: "At this point in life, no. We were great friends. I would consider us having been friends for a lot longer than Opie would consider us having been friends."
As for whether they will do radio together again, it seems a long shot, though not outside the realm of possibility. On air, Opie said he would not do radio with Anthony again, but to Newsweek he said, "I would never say never."
Anthony, on the other hand, does not see a future for the O and A show. "I don't think we could do the Opie and Anthony show ever again. Whether there is some room in the future for something, I don't know. Stranger things have happened, but right now, I don't see it."
"They aren't good at speaking to one another; it's like two stubborn spouses," Norton said. "I mean, Pam and Tommy Lee got back together. There have been shittier couples that got back together."
Neither the reporter or editor of this story are currently or have they previously been subscribers to SiriusXM or The Anthony Cumia Show. All interviews were conducted by phone. Anthony Cumia provided 1 hour and 50 minutes, Jim Norton provided 30 minutes and Gregg "Opie" Hughes provided 30 minutes of their time.