Opinion: Finding the Real Unrest in Ferguson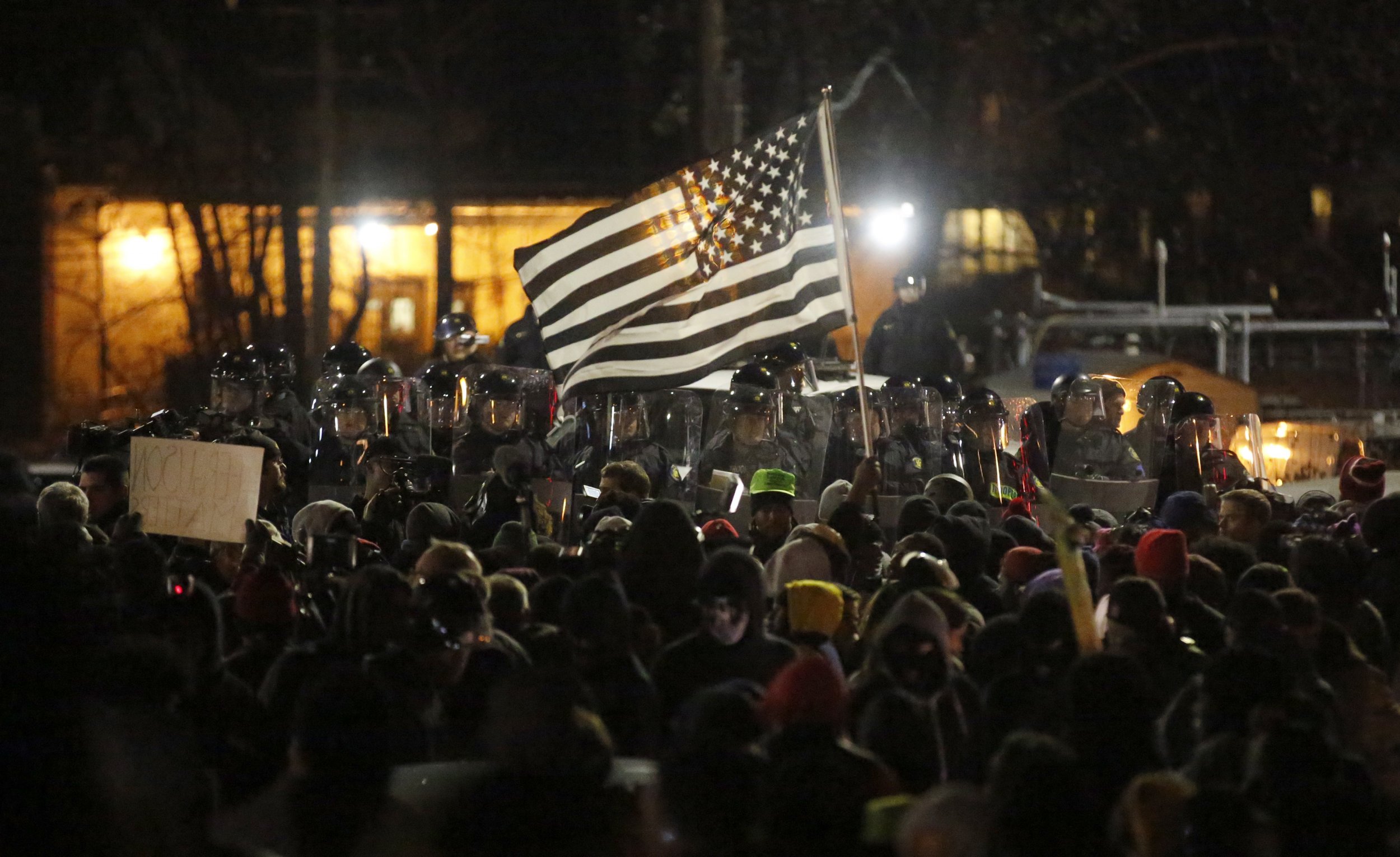 For young people, Ferguson has played out as a real world history lesson. To a generation that has only experienced the civil rights movement of the 1960s through books and movies, the roiling demonstrations, protests, and violence that have gripped Ferguson and, in the process, much of the nation since the summer offer a dramatic, if at times chaotic, window into America's long running national racial saga.
The searing images of renewed violence in Ferguson, Missouri, began to trickle in not long after St. Louis County Prosecutor Robert McCullough's 8:17 p.m. CST press conference announcing the grand jury's decision not to indict police officer Darren Wilson in the fatal shooting of 18-year-old Michael Brown this past August.
What began as sporadic gunfire and rock and bottle throwing progressed into a deluge of civil unrest, with police vehicles set ablaze, a local liquor store looted, and tear gas being projected at both violent and nonviolent demonstrators.
The uprising overwhelmed Missouri Governor Jay Nixon's carefully coordinated plans to quell racial unrest, ignored the Brown family's call for peaceful demonstrations, and remained oblivious to President Barack Obama's last-ditch effort to maintain calm.
Martin Luther King Jr. characterized riots as "the language of the unheard." Last night, hundreds, including many young people, addressed the nation in unmistakably loud tones. Their willful expression of anger, rage, and disillusionment, at once historic and revelatory, tells us only part of the story.
Indeed, absent from the media's clinical observation of frenetic displays of violence, giddy acts of looting, and genuinely scary moments of fear and terror were the larger historical and contemporary roots of this urban rebellion.
Ferguson echoes both the desegregation campaigns and civil unrest that made cities like Birmingham, Selma, Watts, and Newark part of the national civil rights landscape in the 1960s.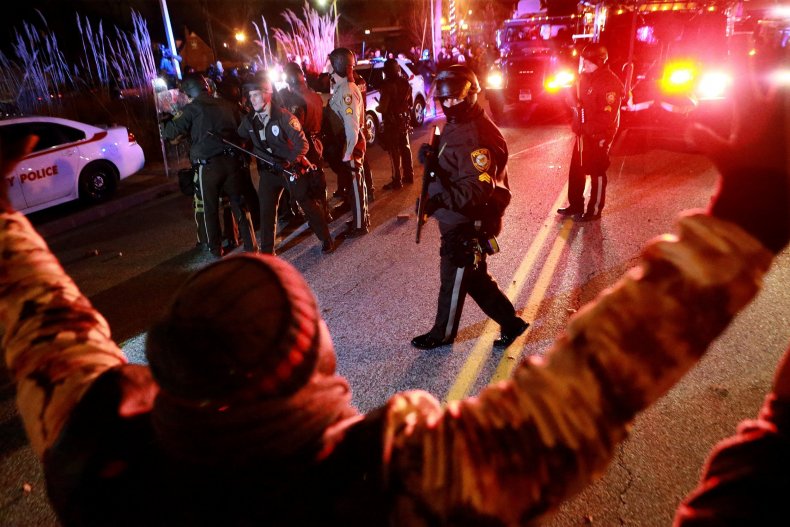 In Focus
People across the country demonstrated for the second night on Tuesday after a grand jury in Ferguson, Mo. announced its decision not to indict police officer Darren Wilson in the shooting of Michael Brown.
Launch Slideshow

21 PHOTOS
America's deep-seated regime of racial segregation—what was euphemistically referred to as Jim Crow—animated both constructive movements for racial integration and destructive violence that gripped big and small cities during the 1960s.
Even after the social movements of the 1960s reached their high point, cities such as Miami in 1980 and Los Angeles in 1992 emerged as hot spots of racial unrest.
Ferguson's latest explosion, coming two days before Thanksgiving, has major significance for contemporary race relations and American democracy.
As a bookend to the racial violence sparked in the immediate aftermath of Michael Brown's shooting three months ago, Ferguson dispels the myth of postracial America. Obama's watershed election rightfully inspired a national outpouring of positive racial sentiment, but such talk went too far and was, sadly, largely unearned.
Ferguson's high levels of poverty, residential segregation, failing public schools and unemployment illustrate the contemporary face of racial discrimination. Segregated bathrooms, playgrounds, trains, and buses have been relegated to history's dustbin even as whole communities find themselves trapped in cycles of generational poverty marked by schools that serve as dress rehearsals for negative relationships with the criminal justice system, sometimes referred to as a school-to-prison pipeline.
Our nation stands at a racial crossroads. We can collectively retreat from the images in Ferguson, chide looters for destroying their own neighborhoods and engaging in bad behavior. Obama noted that there was "no excuse" for any kind of violence. But this superficial focus on violence and looting diagnoses symptoms while missing the larger disease at work.
In 1963, during a nationally televised address, President John F. Kennedy famously characterized racial justice as a "moral issue" that Americans had to wrestle with successfully at the risk of crippling our democracy. This dilemma remains as true today as when Kennedy spoke these words more than 50 years ago.
Civil rights then, and now, promoted a vision of social justice and deep democracy that confronted evils plaguing society even as it imagined a world expansive enough to overcome centuries old racial and economic divisions.
These wounds, as witnessed in Ferguson last night, persist. Turning away from these harsh realities and bitter truths poses more risk than boldly confronting the way in which ghosts from our nation's racial past continue to haunt our present.
Peniel E. Joseph is a professor of history and founding director of the Center for the Study of Race and Democracy at TuftsUniversity. He can be followed on twitter @penieljoseph.
Opinion: Finding the Real Unrest in Ferguson | U.S.