Kirk Cousins Deserves More Respect After Packers SNF Win | Opinion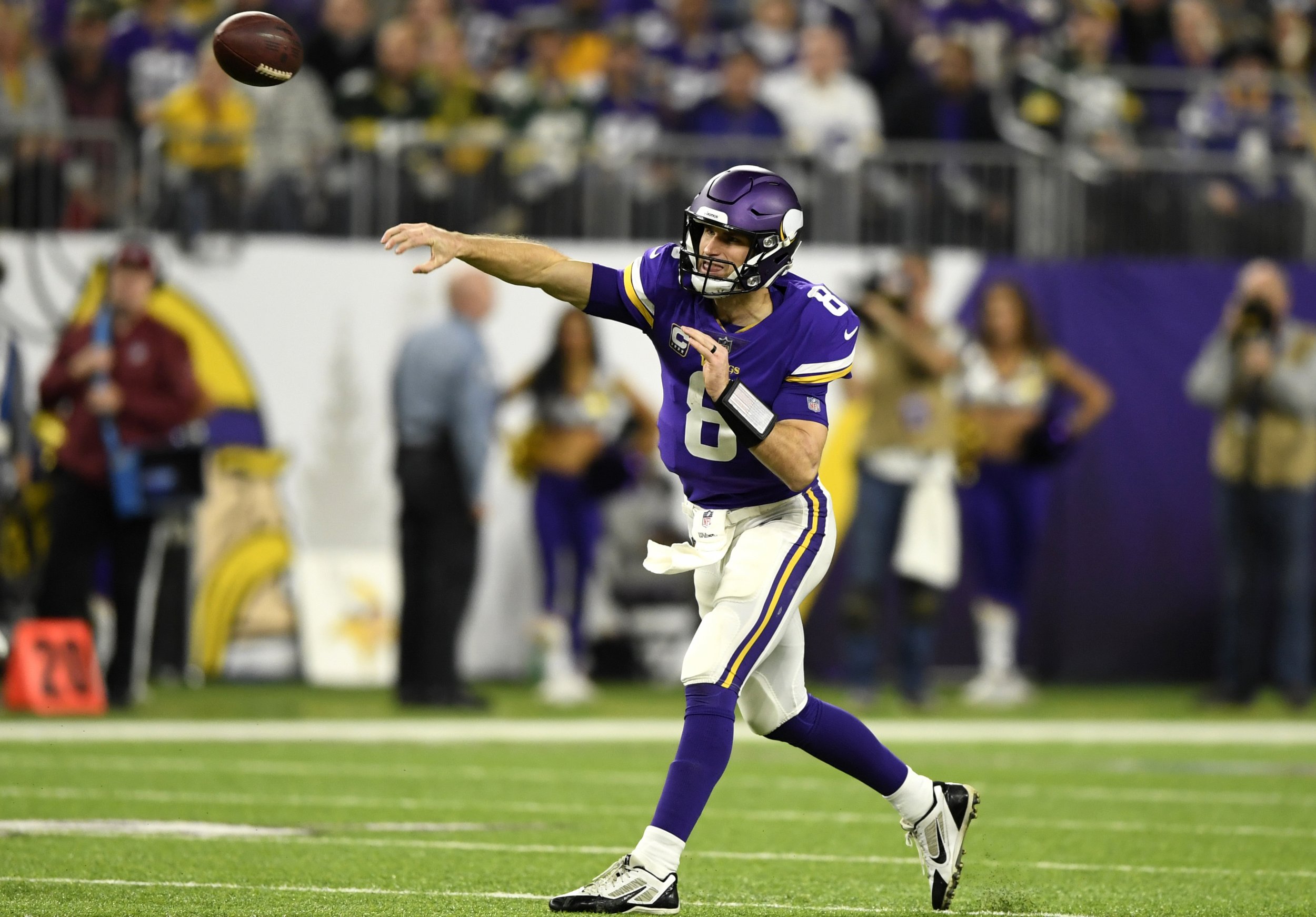 It's time to give Kirk Cousins the respect he deserves.
On Sunday, the Minnesota Vikings faced a must-win situation and their franchise quarterback stepped up against the division rival Green Bay Packers.
The Vikings (6-4-1) hadn't won in a prime-time game -- albeit facing three of the current NFC Division leaders (Los Angeles Rams, New Orleans Saints and Chicago Bears -- and were just one game over .500, needing a victory to stay alive in the NFC Playoff race.
Cousins needed to play the hero and he answered the call. The 29-year-old quarterback finished with 342 yards and three touchdowns on 29-of-38 passing, leading the Vikings to a 24-17 victory.
"We'll go back and watch the film tomorrow but there's a lot to be excited about," Cousins said. "I like our locker room, I like our group but it won't get any easier from here."
Trailing 14-7, Cousins connected with Stefon Diggs on a 30-yard touchdown to tie the game in the second quarter. The Vikings never fell behind again with the quarterback setting up a go-ahead field goal late in the third quarter and finding Adam Theilen on a 14-yard touchdown during the following possession.
Minnesota finally looked like the team many expected in arguably one of its biggest games of the season. Sure, Green Bay isn't quite the powerhouse that dominated the NFC North standings in the past, but there's no doubt that Sunday's game was crucial for the Vikings in their quest to return to the NFC Championship Game.
What critics seem to overlook is that -- excluding one shocking early loss to the Buffalo Bills -- the Vikings have kept every game close during their three prime-time losses to the top teams in the conference.
Through it all, Cousins has lived to his high price tag, currently ranking fifth among NFL quarterbacks in passing yards (3,289) and ninth in passing touchdowns (22).
The bigger issue for Minnesota is that its defense hasn't been as good as last year's team. Many expected Cousins to be the missing piece on a team that had arguably one of the league's best defensive units and an offense loaded with talent.
But Minnesota's defense has struggled at times, while still showing signs of dominance during others. Perhaps the return of veteran linebacker Anthony Barr on Sunday was difference for a unit that held Aaron Rodgers to just 198 yards and one touchdown on 17 of 28 passing.
"I think it was complementary football," Cousins said of Sunday's win. "Our defense showed up, special teams made some plays. We had some great field position. We ran the ball when we had to, converted third downs and made a lot of plays in the passing game."
Beating Green Bay and outplaying Rodgers is something that should be demanded of Cousins as the Vikings' franchise quarterback, regardless of the Packers' struggles in 2018. That was something he accomplished in a decisive victory on Sunday.
Minnesota, who is currently in the fifth NFC playoff seed, is a dangerous team when its at full strength. The Vikings defense is still capable of being the best in the league, while the offense has two of the NFL's best receivers in Diggs and Thielen, a veteran tight end in Kyle Rudolph and a dynamic second-year back in Dalvin Cook, who continues to get back to full-strength coming off a season-ending knee injury in 2017.
Cousins will remain the most important factor to the Vikings' playoff hopes and should continue what has been an underappreciated, but productive season. There's no doubt that he's lived up to his large contract so far, but the ultimate validation will be whether he can perform in the postseason.
Kirk Cousins Deserves More Respect After Packers SNF Win | Opinion | Sports