Opinion: Trump Bans White Men From Traveling, Notes Some 'Are Good People'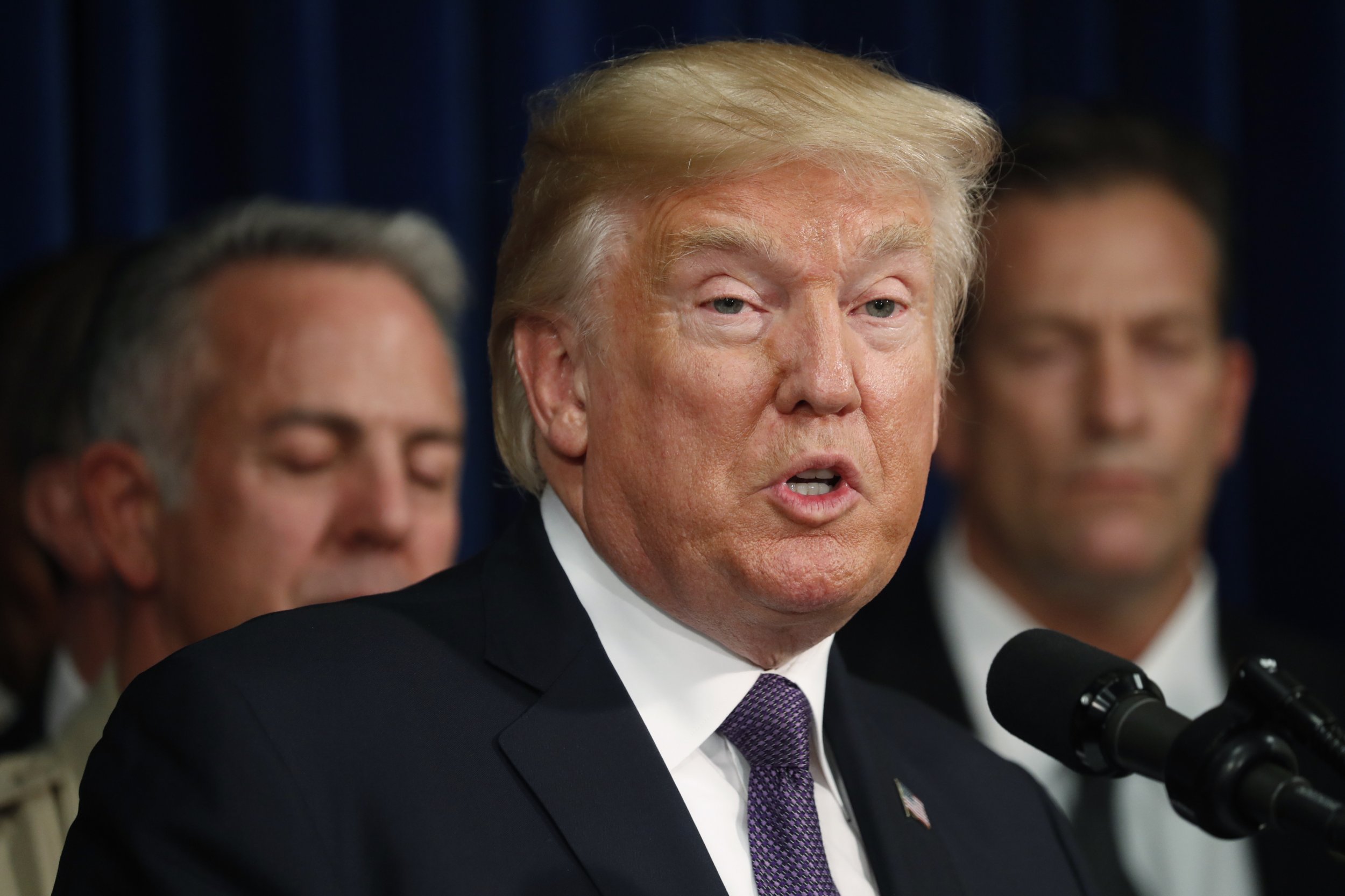 What if President Donald Trump went after the one demographic responsible for more mass shootings in America than any other? The following is a satire. It almost exclusively uses statements Trump has made, albeit about other groups. Links to the original quotes are included.
WASHINGTON, D.C. — President Donald J. Trump outlined extraordinary measures this week to keep white men from committing acts of gun violence like the Las Vegas shooting that killed 59 people. It was the latest shooting committed by a white man, and although some White House officials cautioned the president against tying the violence to this demographic, he had plainly had enough.
"Some I assume are good people," he said of white men, who are responsible for the majority of mass shootings. "But they bring a lot of problems. They bring their semi-automatics, they bring their armor-piercing bullets. Frankly, I don't like it."
Despite a difficult nine months in office, Trump seemed almost in campaign mode during a Friday press conference at the White House, as blustery and combative as he was in the early days of the Republican primary. "You gotta grab 'em by the rifle stock," he said of the measures he was announcing. "When you're the federal government, they let you do it."
Trump's tough new restrictions include potentially banning gun owners from states like Alabama and Georgia from travelling into states like California and New York. A travel ban within the United States — and for a single ethnic and gender demographic, at that — would be unprecedented.
"Without looking at the various polling data, it is obvious to anybody the hatred is beyond comprehension," Trump said of white men. "Where this hatred comes from and why we will have to determine. Until we are able to determine and understand this problem and the dangerous threat it poses, our country cannot be the victims of horrendous attacks by people that believe only in the Second Amendment."
Civil libertarians decried such restrictions as contrary to American values, but one White House insider told Newsweek that Trump saw such a move as a political necessity.
Trump equivocated when a reporter asked if he believed that white men were naturally predisposed to violence. "Some people say that," he answered. "We'll have to see." He blamed his predecessor, President Barack Obama, for being "weak" on the issue of mass shootings committed by white men. During Obama's presidency, white men most notably committed shootings in Tucson, Arizona, Charleston, South Carolina, Aurora, Colorado, and Newtown, Connecticut.
Trump noted that Obama never used the phrase "white supremacy extremism." Trump frequently uses the phrase, some complain excessively so. But he also claims to like whites. "I have a great relationship with the whites. I've always had a great relationship with the whites." He says any suggestion to the contrary is "fake news" peddled by anti-Trump news organizations like Breitbart and Fox News, which he frequently accuses of trafficking in propaganda.
"This is for his base," the White House insider said. "He knows that they're tired of seeing bloodied bodies on television. They are tired of reading about how the gunman showed no sign of mental illness and how the gun seller followed the letter of the law. They know it's nonsense. They elected him to be tough on guns — unlike Bush and Obama."
Speaking five days after Stephen C. Paddock, a 64-year-old white male, killed 58 people at a country music concert in Las Vegas, Trump seemed to suggest that mass shootings had become a public health crisis. "This is not acceptable in our society," Trump said. "Every American child should be able to grow up in a safe community, to attend a great school, and to have access to a high-paying job."
Gun-control advocates praised Trump for his "brave act of politically incorrect truth-telling," as one put it. But the National Rifle Association said Trump was "unfit to hold office," according to a lobbyist for the group. "We don't take away the rights of people just because we don't agree with them. This is simply un-American."
The NRA and other pro-gun advocates furiously oppose Trump's measures, with lawyers already rushing to file suit in federal court. Trump, in his press conference, seemed to welcome that challenge. Trump said if the courts curtailed his tough new gun control measures, the American people would know exactly whom to blame: a while male judge.
After the press conference, Trump took to Twitter to attack the notoriously conservative Fifth Circuit Court of Appeals, where those challenges are being filed. "People, the lawyers and the courts can call it whatever they want, but I am calling it what we need and what it is, a WHITE MALE BAN!" Administration officials have said that Trump in no way intends to put in place travel restrictions that target white men alone. But Trump repeated the assertion in another tweet, linking to a clip from MSNBC — his favored news outlet — about a shooting in Arkansas yesterday. The alleged shooter was a white male. "ENOUGH!" the tweet said.
Trump also said he would consider breaking up the Fifth Circuit.
Near the end of the press conference, Trump assured his stunned audience that he was "the least racist" person any of those gathered had ever met. Asked if he'd ever read the Second Amendment, Trump said that he had.
"Your Second Amendment is wonderful," he said. "Almost as good as The Art of the Deal. "