An extraordinary 12-day battle between the Australian government and tennis star Novak Djokovic sparked a wave of mixed reactions on Sunday, following the news that the athlete would be deported from the country and lose his chance to play in the Australian Open for not being vaccinated against COVID-19.
The 34-year-old Serbian player said he was "extremely disappointed," but respected a court decision to uphold the cancellation of his visa, forcing him to leave Australia and lose his spot in the upcoming tournament.
"I respect the Court's ruling and I will cooperate with the relevant authorities in relation to my departure from the country," he said in a statement on Sunday, while adding, "I hope that we can all now focus on the game and tournament I love."
Djokovic has been at the center of media attention since he arrived in Australia on January 5 without showing proof of vaccination, a requirement for all people entering the country.
The tennis star argued that he was exempt from being vaccinated due to a recent COVID infection, but ultimately had his visa revoked by Immigration Minister Alex Hawke under the basis that he could pose a risk to public health and order. On Sunday, a panel of judges upheld Hawke's decision and ruled that the Serbian player could no longer participate in the Australian Open.
The battle has prompted a wave of mixed emotions, with some condemning the athlete for attempting to bypass coronavirus measures, while others have slammed the situation for being too political.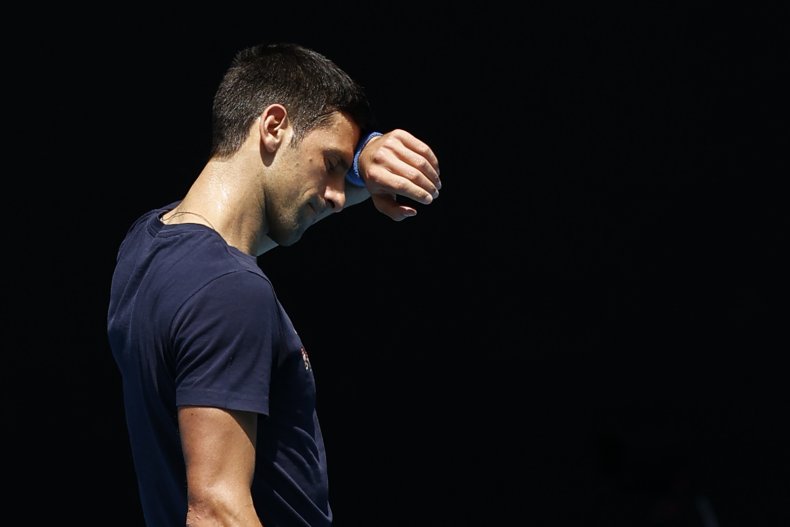 Serbian President Aleksandar Vucic said Sunday that the hearing was "a farce with a lot of lies" and condemned Australia for "harassment." Serbian Prime Minister Ana Brnabic added: "I think that the court decision is scandalous, I am disappointed, I think it demonstrated how the rule of law is functioning or better to say not functioning in some other countries."
Several tennis players, including British star and former world number one Andy Murray, also defended Djokovic.
"Novak is someone I have known since we were 12 years old, he is someone who I respect and have competed against. I don't like he is in this situation and I don't like he has been in detention," Murray told the BBC. "The situation has not been good all round for anyone. It feels everything here happened extremely last minute and that's why it became such a mess."
Canadian tennis player Vasek Pospisil also defended Djokovic: "Novak would never have gone to Australia if he had not been given an exemption to enter the country by the government. He would have skipped the Australian Open and been home with his family and no one would be talking about this mess. There was a political agenda at play here with the elections coming up which couldn't be more obvious," he said, according to Reuters.
Former Australian Prime Minister Kevin Rudd added that the situation was a "political circus," while other said the event marked a "sad day for tennis."
"A very sad day in history of tennis. It's sad when politics beat common sense...The law is one for all, but interpretations are different for all. Shameful to target one because of his beliefs, which are different from others," said Ukrainian tennis player Sergiy Stakhovsky.
However, not everyone was came to Djokovic's aid. Former world No. 1 tennis player Martina Navratilova slammed the athlete for his actions, telling the New York Times that they were indefensible.
"I've been defending Novak for many years," she said, "but I cannot defend him on this one."
"He made his own decisions, and everybody is free to take their own decisions, but then there are some consequences," said Spanish tennis star Rafael Nadal, according to NPR.
British broadcaster Piers Morgan took to twitter on Sunday to praise the court ruling, writing: "Covid rule cheat, immigration form liar, & anti-vaxxer icon Novak Djokovic loses final appeal against deportation & will be thrown out of Australia without being able to compete in Aus Open. Good."
Australian Prime Minister Scott Morrison responded to the news on Sunday by stating, "I welcome the decision to keep our borders strong and keep Australians safe. I thank the Court for their prompt attention to these issues and the patience of all involved as we have worked to resolve this issue. It's now time to get on with the Australian Open and get back to enjoying tennis over the summer."