Opioid Crisis Cost U.S. Economy $631 Billion in Four Years, Study Shows
The Society of Actuaries released a report Tuesday examining the economic impact of non-medical opioid usage in the United States, and it concludes that from 2015 to 2018 an estimated $631 billion was spent dealing with the crisis, with more to come.
The report, authored by Stoddard Davenport, MPH; Alexandra Weaver, ASA, MAAA and Matt Caverly, examines the cost of opioid misuse on a variety of areas, including health care expenditures, law enforcement and criminal justice programs and early mortality.
Opioid-related deaths increased dramatically in the period the study surveyed. According to the Centers for Disease Control, 33,091 opioid overdose deaths were reported in 2015, a figure that jumped to 42,249 the following year.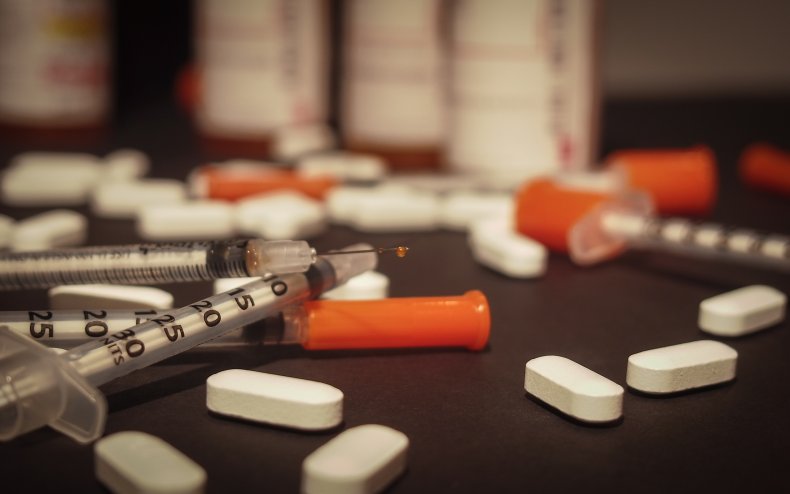 Newsweek subscription offers >
Early mortality represents the largest economic force in the study. The authors estimate that $253 billion of potential productivity and earnings are removed from the U.S. economy as a result of premature death as a result of opioid usage.
The second largest cost area is $205 billion in health care, which includes providing emergency services for overdoses and care for infants born with opioid withdrawal and abstinence syndromes.
The government has been saddled with a third of the total cost, primarily paid through Medicare and Medicaid, according to the report.
The authors also warn that the $631 billion figure is most likely underestimated, as they did not include any financial estimates from things they could not reliably measure including lost workplace productivity and diminished quality of life.
The study uses available data to project an estimate for 2019. The midpoint cost estimate of that data is $188 billion, indicating that the economic impacts of the opioid crisis are likely to continue to increase.
Many state and local governments are turning to the courts to address the crisis and hold the companies who made these products responsible.
The first high-profile trial of that nature begins this week, as Ohio's Cuyahoga and Summit Counties are bringing drug company Teva Pharmaceutical; distributors McKesson, Henry Schein, Cardinal Health and AmerisourceBergen; and retailer Walgreens to court. Several other defendants in that case, including Johnson & Johnson and Allergan, have already agreed to settlements with the counties.
One of the largest manufacturers of synthetic opioids, Purdue Pharmaceutical, announced in September amidst multiple lawsuits that they were filing for Chapter 11 bankruptcy. They estimate that after the proceedings the company's assets will bring $10 billion to settle lawsuits across 24 states.
Opioid Crisis Cost U.S. Economy $631 Billion in Four Years, Study Shows | News