Doctor Arrested in New York on Opioid Charges Signals Federal Crackdown on Pill Epidemic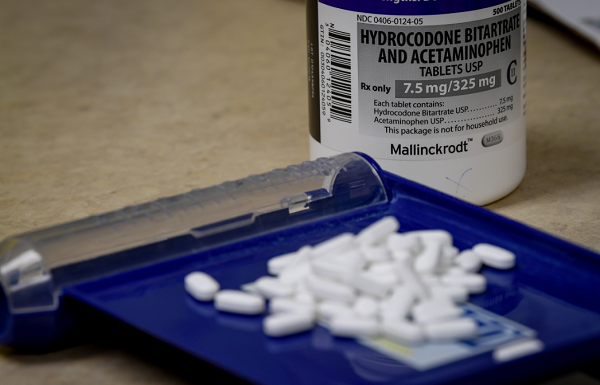 A doctor in New York City could face up to 20 years in prison after allegedly selling 4 million opioid pills to fake patients, according to New York's Fox 5 News.
Dr. David Taylor, a 74-year-old pain management specialist who allegedly ran a pill mill on Staten Island, was arrested by federal agents Thursday along with two other men accused of distributing the pills.
DEA Special Agent in Charge James J. Hunt told reporters Taylor gave oxycodone and Xanax prescriptions to locals in exchange for money and goods, including single malt whiskey. Taylor was also accused of directing clients to Victory Pharmacy in Staten Island to have prescriptions filled.
It's unclear how many fake patients received Taylor prescriptions or how long he had been operating with partners Vito Gallicchio, 48—the alleged drug distributer—and Daniel Garcia, 57—the man who allegedly directed fake patients to Taylor. However, federal agents said the trio pumped out $40 million worth of opioids on Staten Island.
"It is alleged that millions of dollars' worth of pain medication was diverted onto the streets of Staten Island, enabling addiction and overdoses on the borough. These arrests will impact Staten Island's opioid market by shutting down an illicit pill distribution operation located at the heart of the borough," Hunt said during a press conference.
The pharmacy was shut down Thursday.
If convicted, all three men could see up to 20 years in prison.
The Staten Island crackdown is just the latest signal of the federal government's aggressive stance on the opioid crisis, which the Centers for Disease Control said claimed the lives of more than 33,000 people in 2015. Although official CDC data on 2016 figures won't be released until December, a recent report by The New York Times said the number of opioid-related deaths more than likely increased to 59,000 in 2016.
In Missouri, Attorney General Josh Hawley recently filed a lawsuit against three pharmaceutical companies—Prdue Pharma, Endo Pharmaceuticals and Janssen Pharmaceuticals—for Medicare fraud and violation of the state's consumer protection statutes, according to a Wednesday CNN report.
Some 500 people in that state died due to opioid-related overdoses in 2015, while more than 300 died from heroin overdoses. According to Hawley, the companies cited in the lawsuit contributed to those deaths by misleading doctors about the highly addictive nature and life-threatening side effects of the drugs they sold.
"These companies knew that the drugs they sell and market are highly addictive, even life-threatening if misused. And yet they have engaged in a deliberate campaign of fraud to convince Missouri doctors and Missouri consumers otherwise," Hawley said during a news conference. "They used bogus front organizations and fake research; they used fraudulent advertising and deceptive trade practices. And they repeatedly lied about the risks and true nature of the drugs they sold. Their fraud has been devastating."
Similarly, in Ohio, where 3,310 people died from opioid overdoses in 2015, five big pharma companies are facing lawsuits filed by the state's attorney general.