Opioid Crisis: Is Arkansas Paving The Way for Big Pharma, Not Taxpayers, to Pay for Addiction?
A group of cities and counties across Arkansas are uniting to sue 65 opioid makers and distributors, arguing that those companies should pay for the the costs of drug abuse and addiction to their state.
In an unprecedented move, the state of Arkansas, 72 counties and 210 cities representing 90 percent of Arkansas's population have joined together to fight for what they say is billions of dollars in damages caused by the companies. And, advocates say, other states may follow suit.
"Though other lawsuits have been filed in federal courts across the country, Arkansas is the only state that has united in this fashion," said Chris Villines, executive director of the Association of Arkansas Counties, wrote in a statement. "Instead of fighting and competing with each other on critically needed settlement dollars for our cities and counties, all of the cities and counties are working together to do what's best for Arkansas."
The model was born out of need, Don Zimmerman, Executive Director of the Arkansas Municipal League, told Newsweek. "Our state is small in population, we only have 3 million people," he explained. "Our largest city is Little Rock and that only has 200,000 people. Going together is the only way we can make an impact here."
Fatal overdoses have increased in Arkansas by roughly 300 percent over the last 18 years; In that same period, opioid sales quadrupled. The state has the second highest rate of opioid prescribing in the country, behind Alabama. More prescriptions are filled in Arkansas each year than there are people.
The suit claims that opioid makers and prescribers purposely mislead Arkansans about the risks of long-term drug use and make deceptive statements to advertise the drugs.
Robyn Walters, a resident of Northwest Arkansas, lost two loved ones to Opioid overdose and supports the lawsuit. It doesn't make sense to punish the addicted, she told KFSM-TV. Instead she wants to see the companies making and distributing the drugs punished. "They're basically legal drug dealers and they need to be held accountable for what they are doing and I would love to see the money from this lawsuit go towards prevention and maybe also for those who are addicted to get them some help," she said.
"It's very clear that these companies were at least willing to profit on the carnage that has taken place as a result in Arkansas," Jerome Tapley, who is representing Arkansas on behalf of Cory Watson Attorneys, told Newsweek.
The Association of Arkansas Counties, the Arkansas Municipal League and the State of Arkansas brought the suit in the Crittenden County Circuit Court on Wednesday.
The lawsuit was filed on the heels of President Trump's opioid plan rollout, which focused heavily on punishing drug dealers and stopping drugs from entering the US illegally. At a speech in Manchester, New Hampshire Monday the president said he was also considering bringing a lawsuit against pharmaceutical companies.
"Our Department of Justice is looking very seriously at bringing major litigation against some of these drug companies," he said. "We'll bring it at a federal level. Some states are already bringing it, but we're thinking about bringing it at a very high federal level and we'll do a job."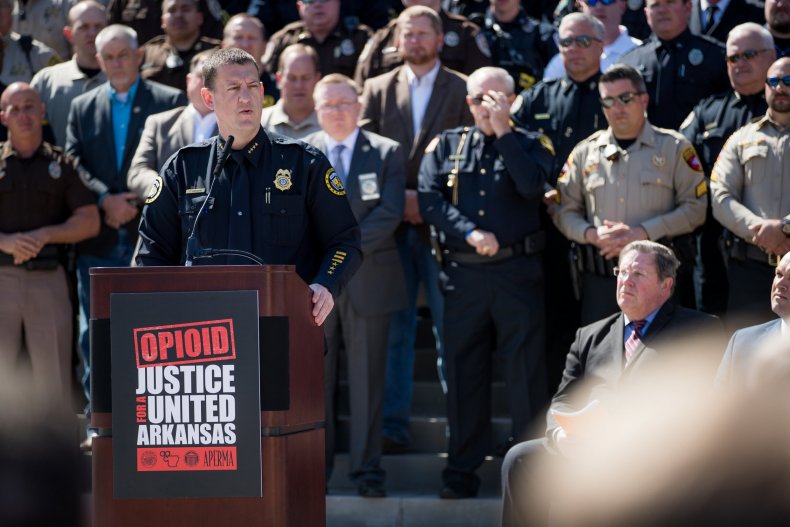 Shares of opioid-producing companies dropped after the speech: Endo International and Depomed shares dropped nearly 4 percent and Mallinckrodt fell 5.5 percent.
Pharmaceutical companies named in the case told Newsweek that while they deny the allegations, they recognize that opioids have been misused in the past and are taking steps to prevent that.
Healthcare Distribution Alliance, a national trade association representing wholesale distributors of opioids, told Newsweek that "[T]the idea that distributors are responsible for the number of opioid prescriptions written defies common sense and lacks understanding of how the pharmaceutical supply chain actually works and is regulated."
"Those bringing lawsuits would be better served addressing the root causes, rather than trying to redirect blame through litigation," the alliance said.
Last month, Attorney General Jeff Sessions said he would create a task force "to examine existing state and local government lawsuits against opioid manufacturers to determine if we can be of assistance."
But Arkansas officials are worried that the Federal government's lawsuit won't properly allocate money at a local level.
"We applaud the Federal government for weighing in, but recognize the brunt of this is at the local level," said Tapley. "This is a problem for county and city personal. We welcome any help that might come from the Justice Department in the form of aid, but this is really primarily our problem."
The lawsuit asks specially for "past damages and restitution for monies spent by state, counties and city for those extraordinary and additional services provided which they would not have otherwise incurred but as a result of the Arkansas Opioid Epidemic and their past efforts to abate it." It also asks for funding for Naloxone kits, the creation of mental health and Opioid abuse treatment clinics, and overdose response teams.
"We want funding to create programs to restore Arkansas and that means drug treatment and prevention. We don't just want money that would go into the county or city treasury," said Tapley.
States like Iowa and North Carolina has expressed interest in copying Arkansas's method into similar suits, Chris Villines, Executive Director of the Association of Arkansas Counties, told Newsweek.