Opioid Crisis: Use of Elephant and Elk Tranquiliser Carfentanil is Killing Ohio Drugs Users
Coroners offices in Ohio have issued warnings about surging use of animal tranquiliser Carfentanill, which is so powerful even a small dose can be fatal to humans.
Cuyahoga County Medical Examiner Dr Thomas Gilson in the northeast of the state issued a public health warning Thursday over a spike in the use of the drug, reported the Associated Press.
He said that in January 58 people died of drug overdoses, one of the highest numbers ever recorded by the county.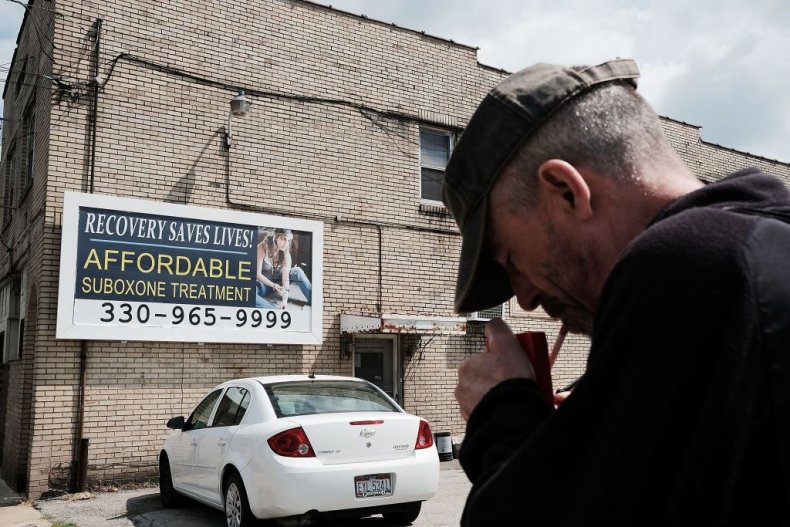 He said that tests were pending to determine how many are linked to Carfentanil, but said that there had been a significant increase in seizures of the drug by police in the Cleveland area.
"The re-appearance of carfentanil in the local illicit drug supply is alarming," Gilson said. "This is a very lethal drug and anyone using illicit or diverted drugs needs to be aware of the possibility of being exposed to it."
And on Friday Dr Anahi Ortiz, the Coroner of Franklin County in central Ohio, also issued a public health warning about the drug, and said that three deaths had been linked to its use in January.
According to a coroner's office news release cited by ABC6, before the deaths the last fatality linked to the drug had occurred in September, with six death overall caused by Carfentanil use in 2018.
"Carfentanil has surfaced once more and it is important that our residents are aware of the lethality of the drug. Persons who use illicit or diverted drugs should never use alone, have someone there who can call 911 if needed. They should also carry naloxone," said Dr. Ortiz in a press release.
Carfentanil is a synthetic opioid used to sedate large animals, such as elephants and elk. It is extremely hard for users to detect its presence, as it is usually takes the form of prescription medicine tablets or is mixed with other drugs including heroin or cocaine, said Dr Ortiz in the statement.
Antidrugs charity Sink or Swim has the drug's potency "is approximately 10,000 times stronger than morphine and 100 times stronger than fentanyl."
The use of synthetic opioids such as fentanyl is partly blamed for the highest ever number of drugs death recorded in the United States.
The Centers for Disease Control said that 72,000 people had died of drugs related deaths in 2017, with 49,000 of those deaths caused by opioids.
Ohio has has one of the highest numbers of synthetic opioid use in the country.