Opioid Overdoses Are More Likely to Kill Americans Than Car Crashes: Study
For the first time in recorded history, the chances of an American dying from an opioid overdose has exceeded the odds of death from a motor vehicle accident.
In a new report, based on data collected in 2017, the National Safety Council (NSC) found that opioid deaths have risen to 1 in 96, a figure now higher than the 1 in 103 probability of dying in a car crash. Odds of deaths resulting from the country's most fatally abused drug also surpassed the chances of perishing from a fall, drowning, gun assault and pedestrian accident.
"The nation's opioid crisis is fueling the Council's grim probabilities, and that crisis is worsening with an influx of illicit fentanyl," the NSC said in a statement on Monday.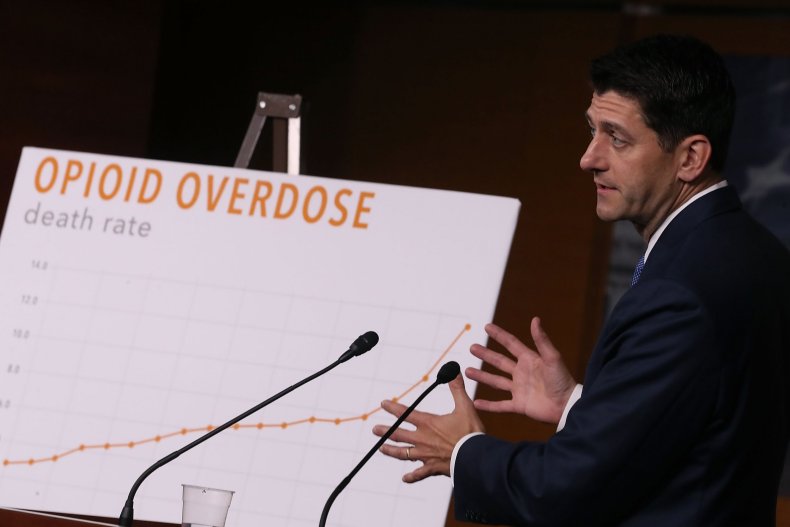 Opioid pain relievers have become the most fatally abused drug in America, with over 130 U.S. deaths from overdoses occurring each day, according to the National Institute on Drug Abuse, who reported over 49,000 opioid-related deaths in 2017. The Centers for Disease Control and Prevention recently found that between 1999 and 2017, opioids, including fentanyl and heroin, dramatically increased the number of overdose deaths among middle-aged women across the country.
"The opioid crisis remains an abstract issue for many people; they still believe it will not happen to them, or it isn't a risk facing them or their family," National Safety Council spokesperson Maureen Vogel told CBS News. "These numbers show the gravity of the problem our country is facing. We need to reprioritize and regroup because all these deaths are preventable."
Within the analysis, the NSC also found that the chances of dying from a fall increased from one in 119 last year to one in 114, making it the third leading cause of preventable deaths after drug overdoses and motor vehicle crashes.
The most recent U.S. overdose case that highlighted the negative impact of opioid abuse occurred over the weekend. On Saturday, in Northern California, a mass fentanyl overdose incident left one dead and at least a dozen others hospitalized. Chico Fire Department Division Chief Jesse Alexander said he witnessed six people being treated with CPR at the same time and described the scene as the biggest mass casualty he's seen of the same nature in many years.
Preventable injury deaths across America rose to 169,936 in 2017, a figure 5.3 higher than the previous year. However, the NSC pointed out that the calculated odds represent the statistical average for the entire U.S. population and should not be read to reflect any given individual's chances of death.
In December, the U.S. Centers for Disease Control and Prevention revealed that the average American's life expectancy fell from 78.7 years in 2016 to 78.6 years in 2017, largely due to a rise in suicides and drug overdoses.