Opposition to Jackson Ticks Up After Hearings But Support Remains High
Voter opposition to Supreme Court nominee Ketanji Brown Jackson increased slightly after her confirmation hearings before the Senate Judiciary Committee.
A new poll from Morning Consult/Politico found 26 percent of all voters said Jackson shouldn't be appointed to a lifetime position on the bench—an increase of 7 percentage points from before her appearance in front of the panel, where she faced scrutiny on her record from Republican senators. If she is approved by lawmakers, she will be the first Black woman to serve on the bench.
The jump was driven by Republicans and Independents. Nearly half of GOP voters said Jackson shouldn't be confirmed, a spike of 13 percentage points. A quarter of independents polled opposed her nomination, an increase of 7 percentage points.
Still, most voters want to see Jackson confirmed to the Supreme Court: 47 percent support her nomination. Roughly a quarter of voters said they didn't know whether or not she should be confirmed.
Jackson was pressed during her public hearings last week on her record as a federal judge and public defender. The nominee pushed back on claims from some Republicans that she was too lenient when sentencing defendants in child sex abuse cases and defended her work representing Guantanamo Bay detainees.
She also faced tense exchanges from Senator Lindsey Graham on her religious views and from Senator Ted Cruz on critical race theory. Nearly half of voters who had heard about the hearing described the behavior from Republican lawmakers on the panel as unkind.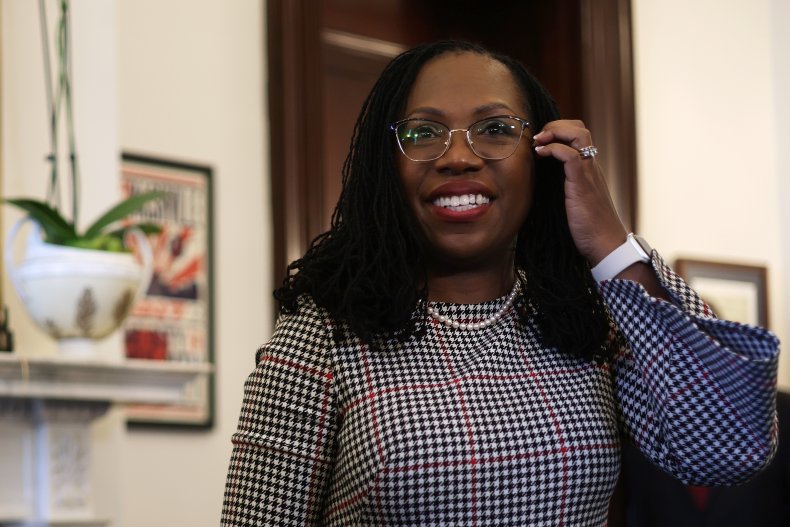 Following the hearings, most voters said Jackson came across well. Roughly two-thirds of voters described her as respectful, careful, competent and kind. Sixty-one percent of respondents said Jackson was honest.
Senate Judiciary chairman Dick Durbin announced Monday that the committee will meet on April 4 to vote on Jackson's nomination. If her nomination is advanced, it will then go to the full Senate for a vote. Democrats in the chamber can appoint Jackson without any Republican support.
Durbin also criticized the Republicans who pressed Jackson on her child pornography cases, accusing them of playing to the "QAnon crowd."
Most voters said Jackson should be confirmed based on her qualifications as opposed to her personal political and social views. Democratic Congresswoman Joyce Beatty said the Senate should confirm her because she is "qualified."
"More qualified than most we've seen in this room," Beatty added.
Morning Consult/Politico polled 2,006 registered voters between March 25 and March 27, 2022. The survey has a margin of error of plus or minus 2 percentage points.