Watch: Oprah Finally Gets a Sign From God. Now Will She Run for President in 2020?
Despite an outpouring of calls for Oprah Winfrey to run for president in 2020, the legendary talk show host shot down the idea last month. Her reasoning? She hasn't yet had a sign from God that she should run.
Well, all that changed Tuesday night when Winfrey dropped by The Late Show with Stephen Colbert.
Colbert's interview with Oprah was interrupted by an unexpected surprise guest: Lord Almighty himself. If Oprah needed a clear sign from God, she got it.
"I'm a huge fan," said the cartoon of God projected on the stained-glass dome atop the Ed Sullivan Theater in New York. Oprah responded, "I'm a big fan of yours, too."
Pleasantries aside, Colbert pressed God to explain the purpose of his unannounced visit.
"I hear thou seekest a sign?" God asked Oprah before proceeding to hold up an actual sign reading, "Run!"
Oprah responded with a laugh that conveyed a mix of bemusement and confusion.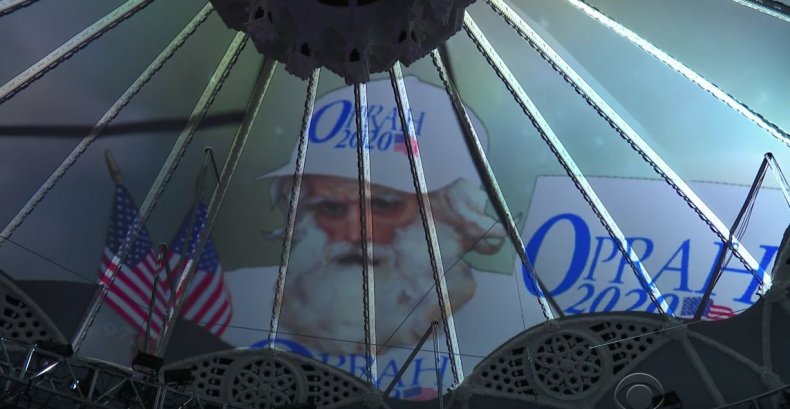 "Hmm. How can I make this clearer, Oprah?" God continued. This time, he pulled out a sign reading, "Oprah 2020," along with a matching T-shirt and baseball cap.
"Let me just say this to you," Oprah said, beginning to appear somewhat uneasy with the whole charade. "It's not something I've ever seen myself doing. It's not the kind of job you can have without fully devoting yourself to it 100 percent."
God hit back with a Donald Trump zinger: "Not really...have you seen this White House?"
Bringing the segment back to some semblance of normality, Oprah delivered the kind of hopeful message that she often closed her eponymous talk show with: "Take it from me, it's going to be OK. Everything's going to be OK. And I'm sure you're going to find someone who you are just as inspired by in 2020."
In an interview with 60 Minutes Overtime in February, Oprah said that her rousing speech at the Golden Globes a month earlier wasn't intended to be a political rally cry, following speculation that it may have been the start of a presidential bid.
"Wouldn't I know? Because if God actually wanted me to run, wouldn't God kinda tell me? And I haven't heard that," she said.